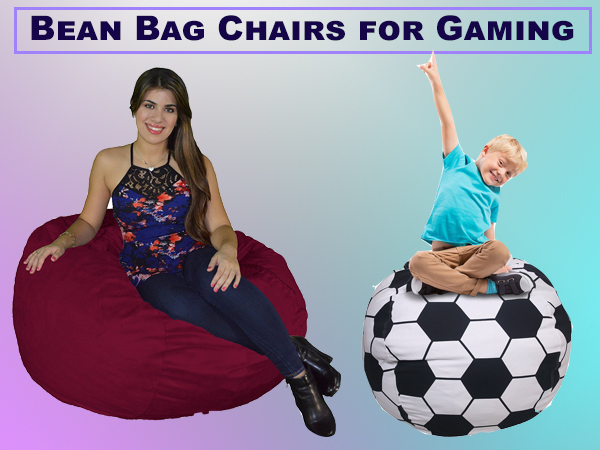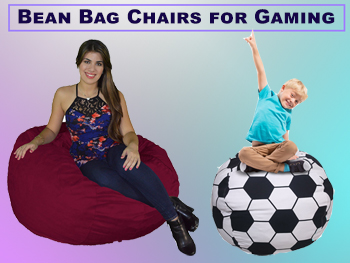 Comfort is an important aspect for every gamer. Comfort is a necessity to fully enjoy the video games we love. Comfort is what drives us into playing endless hours of electronic gaming.
What do you think is the first object you need to find so you can dive in all day and night in your video game? A source of comfort, right? And of course, nothing else assures the gamer than with a commodity to sit on; whether it's a couch, a recliner, a foldable chair, or even a soft rug on the floor.
Now let's talk about bean bag chairs. You know, those giant fluffy comfortable seats that literally feel "beany" yet doesn't feel askew when sat on and slowly getting your butt sucked into its soft abyss? Some love it, some hate it – honestly, bean bags are like the debate on whether or not pineapples should exist on pizza.
Bean bags are still the choice for
console gamers
. No, not the PC players, unfortunately. Could you just imagine playing PC while slouching on a bean bag? Try to visualize having to play competitive multiplayer games in Ranked Mode…while playing on a bean bag chair? Unless you play on PC with a controller, then my point is invalid.
If you happen to desire a bean bag for your home or maybe even a set but do not know which seats you want to buy, then you are definitely in the right place!
In today's article, we will be going through, what I would say, potentially best bean bag chairs for gaming. Take note that this list has 10 various bean bags, but separated into two categories with five items each: five for the adults and five for the kids. For teenagers looking to buy, you may want to consider purchasing bean bags for adults.
Each item is carefully reviewed and analyzed if it suits to your liking. Prices for each item on the list differ. There are no exact prices for these since each variant uses a different type of material and means for color and texture. Also, take note that all of the following bean bags come in different colors. Whatever color you pick is up to you, not mine. I'm just here to guide you on what bean bag you want to buy, not to be your interior designer.


Image

Model

Capacity

Foam

Machine Washable

Check Price

TOP 5 Best Bean Bags For Adults

1 Child or Adult

Memory foam

Check Price

1 Child or Adult

Memory foam

Check Price

1 Child or Adult

Memory Foam Blend

Check Price

Fits the Whole Family

Foam filled

Check Price

1 Child or Adult

UltimaX Beans

Easy to clean

Check Price

TOP 5 Bean Bag Chears For Kids

1 Child

Stuffed animals, Blankets or Towels

Check Price

1 Child

Sstuffed animals, Old blankets and Pillows

Check Price

1 Child

Stuffed animals, Blankets or Towels

Check Price

1 Child

Memory Foam Blend

Check Price

1 Child or Adult

UltimaX Beans

Check Price
TOP 5 Best Bean Bag Chairs for Adults
1. Cozy Sack 3.7-feet Bean Bag – An original in bean bag brands that you need to have for your home
The name of the brand vouches for the quality of their bean bags. They are really…cozy. And in the dawn of American buttocks wanting to sit on non-polygonal chairs since the creation of bean bags in 1965, one company stood out in 1971, the all-American bean bag company, Cozy Sack. With that reputation, does it live up to their name? Yes, their 3-feet bean bag really IS a cozy sack.
Keep in mind that to achieve that sense of comfort, a designer must figure out which material should be used for both the interior of the bag as well as the coating of the seat.
Cozy Sack provides a memory foam, or in this case, the so-called "virgin urethane" foam, for the chair's inner material, which is the best to prevent strenuous positioning for the human body, especially when slouching on it, and the outer layer is sheeted with micro fiber fabric, which makes it very friendly for laundry.
It weighs in at a considerable 14 kg, with a dimension of 44 x 44 x 24 inches. According to the brand, this particular bean bag is recommended for a room that has enough space for a 3 x 4 feet furniture. That is, of course, you don't have additional materials inside the room too. May I remind you that the dimension will expand once you sit, depending on your own weight. This is a pretty large bean bag, so if I were you, I'd plan out my room first, know where to put the game set-up and the rest of the household items because this will eventually eat up a lot of space.
The bean bag fits quite well for the gamers with not much stuff inside the room, except for a space for the bean bag and the console. In terms of comfort, this feels more of a foamy feeling, like a bed that was rolled into a more compact equipment to sit down on, which anyone would definitely love. The comfort level is similar to a bed, but made to complement for entertainment purposes, and in our case, gaming. Just remember that when slouching on this bean bag, try not to let your head linger too much over the chair. No headrest means it will strain the back of your neck. So just sit back, relax, pretend like you were lowkey lying on a bed while playing video games.
However, I found some flaws in this chair: I know I mentioned that it is made of foam, but it's not chunks of foam (which is supposed to be done to achieve comfort and feeling like a real bed) but rather shredded foam. Because of this type of cut material, do not expect this chair to last very long. Eventually, the shredded cuts of virgin urethane will flat out from excessive use and goodbye bean bag. But the latter depends on the quality of the bean bag that you buy. If I were to guess why it was just shredded, maybe it is for the purpose of making it freeform as possible when being sat down and that is pretty much it.
It comes in different alternative colors to your liking, ranging from plain blue to animal print such as zebra. The solitary colors are obviously the cheaper bean bags than the animal designs.
Pros
Cozy Sack is a tried and tested American brand specializing in bean bags
Made with virgin urethane memory foam, which springs back the chair to its normal shape
Comfortable feel
Plenty of designs to choose from
Cons
Internal material is made with shredded foam, meaning the chair may not last long and stay flat
A 3-feet chair could expand more than expected
So, is this a bean bag
chair for gaming
? It still is, but with that level of concern whether or not it will last long as a round bean bag. This is a good starter bean bag if you are still unfamiliar with the works of it. It's not the best in the list, but it checks out. Still, the shredded materials were a bit of a let-down.
In terms of design choice, I'd say just pick the plain color. The animal print is going to overshadow your whole gaming set-up as well as making the room a bit too tacky. Unless you want to roll as a gamer similar to be like Macklemore on Thrift Shop while playing GTA5 Online as an avatar that looks like Macklemore on Thrift Shop.
2. Cozy Sack 3-feet Small Bean Bag – A good traditional bean bag under $100 that is compact, light, and great for the gamer that rides solo
Unlike the previous Cozy Sack, this one is much smaller, but not to the point of it being a bean bag for kids. But just about everything else, it's all the same: the foam material, the covering, the protective lock zipper for kids and yes, this comes with animal prints too if you desire.
In terms of dimensions, this one is 36 x 36 x 30 with a weight of 9 kg. Obviously, it is lighter and smaller compared to the first bean bag for gaming. You should definitely consider buying this if you want a more compact chair rather than one that is fit for a gamer who wants a king-sized bean bag chair.
Think of this as the previous Cozy Sack's baby brother, except this one, is slimmer and more like a casual sit-down stool rather than a chair made for long hours of gaming and other entertainment shenanigans you wish to do. Again, every single pro and con I have mentioned in the previous one is the same as this: pretty firm on just the right amount, very comfortable to sit your butt down on and has the same springiness of the 3.7 in bean bag chair, but still uses shredded foam.
Although the biggest catch in this particular bean bag is that it does not quite "suck in" your body when you sit on it, it doesn't have the same collapsing feeling just like its big brother. Remember, the other one is 44 x 44 x 24 which means it is large enough to cover your body in from head to toe. This one, however, does not; the only part it will sink in is your butt and back, exposing your neck to becoming still and strained when you play on long hours.
Another flaw I would like to point out here is that it's impossible to slouch down completely on it. Like it was only made for a sit-down position and nothing else. If you are the type that wants to just lie yourself down like a lazy couch potato, you're in for a bad time here.
Pros
Same perks just as its larger 3.7-foot predecessor
Memory foam always helps spring back the chair after usage
Very compact for a single gamer
Cons
Can't lie down or slouch due to its constricted size
May cause stiff neck if playing for a prolonged period since the chair doesn't offer much but for you to sit down on
But if you choose to treat this like the usual chair but with the charm of a memory foam bean bag, then you might want to consider having this. Not to mention it's also much cheaper than the 3.7 feet Cozy Sack.
Just don't try to play some aesthetic games with certain camera controls like Hotline Miami or Battlefield 1. Trust me; you'll get nauseated and uncomfortable at the same time. It's still a pretty decent bean bag chair for gaming.
3. Sofa Sack 5-feet Bean Bag – A size fit for the king or queen of bean bags and gaming
Up next on our list of great balls of butt warmers is the Sofa Sack 5 feet bean bag. Sofa Sack is pretty much the archrival of Cozy Sack; think of Coca-Cola and Pepsi, Genius and Logitech, Defense of the Ancients and League of Legends, Overwatch and Team Fortress 2, or PUBG and Fortnite; that kind of rivalry.
Not much is known about the brand—it's just that it existed as Cozy Sack came into the market. With such rivalry, we should be comparing how this bean bag contrasts from Cozy Sack; which is quite difficult to pinpoint since they are mostly similar—both are made in the USA, both use memory foam (however, Sofa Sack never mentioned what specific foam it uses so let's just assume it's made from the usual polyurethane), both use fabric covers, and both deliver top quality bean bags, in which both brands price their products at quite a high price. But hey, this is memory foam bean bags we're talking about, not just made from tiny styrofoam balls.
In terms of comfort, this would totally defeat Cozy Sack in terms of the "foam filling" inside. Unlike Cozy Sack's, Sofa Sack uses chunks of foam, instead of shredded. Now, this is where the latter brand outshines its main opponent; since they use round pieces of foam instead of thin shreds like coconut, this will mean that the bean bag will maintain its shape and never deflate for a very long time.
In fact, this is honestly cozier than Cozy Sack—don't get me wrong, the previous bean bag is still good, however, because of Sofa Sack's choice of large pieces of foam within the seat, this means your chair will always look puffy and tall even after numerous and long game sessions.
It has a dimension of 34 x 60 x 60 inches, weighing 22 kg. This will take up quite space due to its large 5-ft size, but this does not expand very much when sat on, which is very fortunate. The bean bag is recommended for a considerably large area such as the living room or master's bedroom, depending on where your gaming set-up is.
If you got the budget as well as enough room for your game set-up, do not hesitate on buying this one. Personally, this is the best choice for any adult gamer, especially those that prefer to play in solitude.
If anything, this might be the best bean bag for gaming in this list for bean bags for adults. It has a large enough ratio to occupy your body from your legs up to your neck, never puffs up too much to the point that it expands throughout the entire room, and it will keep you playing for long hours without straining yourself due to its excellent memory foam, which is the best for any mattress or furniture.
Say hello to long hours playing Legend of Zelda: Breath of the Wild, Dark Souls, Cuphead, Shovel Knight, Nioh, Super Mario Odyssey, Super Smash Bros or any challenging game without having a migraine or strained limb, all thanks to the chair's chunky pieces of memory foam.
In terms of designs, however, this one only includes plain colors and no animal prints, but that's not really a huge problem, right? Although there is a major case here: the foam has an odor—this may be a hindrance to the gamer if he or she has a pet peeve of lowkey chemical aromas. Freshly bought furniture always have this certain aroma, whether it's your type or not, but the smell withers away in usually a week or less. But in this case, some who already bought it said that the smell is stuck for a month or two.
I know some people do not mind the smell of certain chemicals such as paint, spray cans or even gasoline, but those who do may want to go for something else like Cozy Sack. It may not have the same sturdiness nor the longevity of Sofa Sack, but at least the virgin urethane foam of the former does not secrete any smell.
No, the smell is not toxic at all, it's just that it could rival the smell of your house, whether I am implying your place smells good like a Victorian age princess' palace or stinks like the usual bum in a cheap apartment.
However, when I talk about the odor, it's not THAT strong like some dinkface you sit beside in a bus suddenly farts silently and stink bombs the whole vehicle; it's more of just a waft of the usual fresh furniture.
Pros
Bean bag is stuffed with chunks of memory foam, which means it will help spring back the chair to its round form after being unused for quite a while
Does not expand too much when sat on
Very comfortable from the back of the neck to the toes
Quality of fabric and foam means good long hours of gaming without straining yourself at all
Fluffy but not too soft to the point that you sink in too much
Cons
Takes a lot of initial space if you haven't planned your room or gaming set-up thoroughly
Foam has usual furniture smell that does not fade away for more than a month
Whether that is a good thing or not, know that this should not be a really big factor in your choosing; again, this is the best bean bag
chair for gaming
in this list for adults—exquisite comfort, lavish design, springs back fast into the usual cute ball of fluff and it really lasts long compared to other bean bags.
So you might be ridiculously wondering, "What if a single bean bag is not enough? I want something bigger; something that I can use as a couch or as a bed at the same time!" Well, you're in luck, because Great Deal Furniture has made an 8 feet long bean bag. Yes, even I was surprised that such size for a bean bag existed. It is reasonably a 3-in-1 type of bean bag—the usual solo seat, a couch or love seat and a bed.
Great Deal Furniture is one of those brands that cater to a vast array of furniture consumers; a jack of all trades in the furniture department.
So how does the quality of GDF withstand against the rest of the bean bags present in this buyer's guide article? Justly, it is the usual quality of a common bean bag but with a good twist of subtle sophistication; unlike the first 3 bean bags in this catalog, this one is filled with microfiber pellets, covered in washable fabric—it does not have the same firm feel such as the memory foam nor does it spring back to a round shape, but it acts as a classic bean bag: squishy, casually fun to sit on or lie down too, and will more or less put you in a snooze at some point.
But the fact that when having purchased this behemoth bean bag, it has a satisfying feel to it; it may not have the best feel to be bean bag furniture, let alone passing the standards of a good coach, but what matters here is that you have a big-ass bean bag sofa that you can totally show off to your friends. But if that is not your intention, you can always keep all that space to yourself, or maybe share it with a family member.
But how about
for gaming
? Does this giant non-polygonal sofa help you enjoy your gaming experience? Based on how you position yourself on this bean bag, I have to say no, especially if you have no one else to join your gaming session.
The David Faux Suede design was intentionally built to be a bag for groups of people, not for solo purposes, unless one of your causes to purchase this is because you have no desire to buy a bed and instead use this as a means to sleep off hours on end.
In the case of wanting to grind for good loot in Borderlands, exploring the never-ending sea in Subnautica, or gaining allies through punishing enemies in Middle-Earth: Shadow of Mordor, these immersive games may be halted because of how the bean bag is going to strain your body, especially your nape. However, if you plan on having quick plays with your friends like having a 1-on-1 split-screen playing Mario Kart, just shutting up and dribbling on NBA 2k or proving who's the best between or your peers on Mortal Kombat, then this bean couch is just right for you.
The David Faux Suede design comes in with a dimension of 30.5 x 27 x 21.5 inches, with a whopping weight of 41 kg. For a size this big, $138 to $143 is really not bad at all. It beats having to buy three $70 bean bags because the 8 feet Great Deal Furniture is enough to create a party. Just don't expect this one to feel like a lavish bean bag to complement your worldly gaming set-up.
Pros
IT IS REALLY HUGE
Great for groups
Just like the traditional bean bag, but quadrupled in size
Can be used as a bed
Definitely hip to look at in your room, especially if it is a modern interior design
Cons
Nothing special in the feel of it
Will most likely not last long to be constantly in shape
Not recommended for the gamers who prefer playing alone in a room
Can stress out the back of your neck if playing for a long period unless you decide to lie down on it while gaming
It is really just a huge bean bag for gaming groups, but not comfortable enough to be a bean bag for the lone wolves.
5. Big Joe Hybrid Bean Bag Chair – The most affordable bean bag chair for gaming you can have under $50
Lastly on our list for the adult's bean bag chair for gaming is another American made casual furniture that is Big Joe's Hybrid Bean Bag Chair.
Unlike the others in this category, The Big Joe bean bag wants to treat itself like a hip recliner, minus the lever to lift up your legs and the fully adjustable backrest. What Big Joe is trying to do here is to create a hybrid of recliner and bean bag. Kind of like a bean bag for the lazy boy; as if drooping on a bean bag was not lazy enough. But does it flaunt that kind of perk?
Big Joe
is quite reputable in America as a good brand for various furniture products, but what makes them stand out the most is their cause for revolutionizing the way brands produce furniture in a very environmental-friendly way. The brand mostly focuses on bean bags with a bit of sideline for other furniture such as poolside benches and even couch sets.
Their bean bags, however, are mostly made from recycled materials, making their products one of the cheapest in the market as well as even supporting their cause for their good go-green ways.
But saving-the-environment aside, at this point you might be wondering, "Why is this so cheap compared to the others?"
Let us look what we have ourselves here:
Clearly, from just the appearance alone, this is a bean bag that wants to be more convenient than the classic freeform bean bag. It's got 2 thoughtful side pockets on the right, including a bottle holder, which makes suitable for the snacking gamer whilst playing his or her favorite recreational activity, and another slot, loose enough to be fit in with a notebook, a bag of chips or a strategy guide (seriously though, I miss video game strategy guides).
If you look at it, it's actually extremely handy and cheap for a bean bag, especially one that looks suitable enough to be a real bean bag for gaming. It is also very ergonomic for the body since it has enough allowance for both neck and back rest.
It has a dimension of 33 x 32 x 35 inches and weighing lightly at 4 kg, which makes it very easy to pick up and move anywhere.
How about the comfort level, though? Unfortunately, this is where the turn-off for this bean bag begins. The covering is made out of thick polymer fabric, meaning if the weather is too hot or if you keep on playing without leaving the bean bag, it's going to leave you with sweat along your back and your butt. Remember that plastic is an insulator of heat, meaning it will gradually store warm temperatures if the surrounding is hot enough.
Their so-called "UltimaX" beans are the very filling for the bag. In short, they're the common bean fillings for the seat, except this one is made from recycled materials. Sure, that's good for Mother Earth, but not too good for your effort to get up and buy if you have the tenacity to go to the store or order online to get a container full of bean refill for the chair. Again, this is another flaw in the product: it flattens up fast, meaning you have to have an ample amount of bean fillings in your house just to maintain the shape of the chair. At least their recycled bean fillings are cheap.
Pros
It looks like a recliner and lowkey feels like one
Good resting area for the neck and back to prevent limb strains
Conveniently placed pockets on the right side for drinks, snacks, remote control and notebooks
Very light and compact
The cheapest bean bags you can find that also offers decent comfort
Cons
The cover is made of plastic, which increases heat and causes you to sweat after long hours of gaming
Beans tend to deflate fast
Will require you to buy bags of UltimaX bean fillings to maintain the chair's shape over time
Does not last long
But is this still recommended as a good bean bag chair for gaming? Sure, it still is, especially on a price that is much lower than the memory foam type of bean bags. For less than $50, you get an uncommon bean bag with convenient pockets that are suited for a gamer as well as providing good resting positions for your body to prevent strains. But the main factor here is that since, again, the cover is made from plastic, you'll soon find yourself sweating because of the seat.
SUMMARY
That wraps up one half of our category for best bean bags for gaming. These are all good seats for adults however it all really depends on your situation and preference.
Do you have more than enough money and would like a really good bean bag for gaming purposes? Go with Sofa Sack's 5 feet bean bag – the best comfort to play for hours on end.
Are 5 feet to large? No sweat, go with either Cozy Sack's 3-feet or 3.7-feet bean bags – because memory foam chairs are the best seats for a gamer.
Need bean bags for large groups of people? Go with GDF's 8 feet bean bag instead – ideal for gaming parties.
But if they're too expensive for you, there is always Big Joe's hybrid bean bag chair – affordable bean bag chair that goes beyond the norm.
Well, that's what we have for the adult section.
Now let us talk about bean bags for gaming just for kids—note that these are intentionally made for children who love both video games and, quite possibly, stuffed toys.
Unless, of course, you're a child at heart, then feel free to check up on this list as well:

TOP 5 BEAN BAG CHAIRS FOR KIDS
Let us face the facts here: bean bag chairs are more focused on a younger audience.
Who wouldn't want to have a fun chair that does not have a solitary shape and moves along with you like a bed, but squishier? It is everything any child under the age of 13 would definitely want in their house: squishy, bouncy, soft and free of any shape. What's not to love about this while playing Minecraft or Fortnite on the console or maybe even playing Clash Royale on mobile?
In this second half of our list for top bean bag chairs for gaming, we will be focusing on the child demographic from ages 3 to 12. Same criteria like the first category—comfort, material, price, and durability.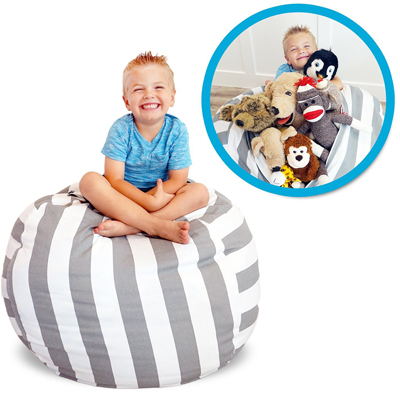 Parents know that cleaning up and storing their children's toys are more of a hassle than cleaning a kitchen or dusting off a living room. Suddenly the child goes, "Mommy! Daddy! Can I have a bean bag?" And you're like "Oh no, another furniture I got to maintain!" But what if I told you, there exists a bean bag that uses stuffed toys to shape up a chair? Heck yeah indeed! It's any parent's hassle-free furniture: it's a bean bag that doubles as a cache for littered stuffed toys.
It will also help bring the child into an initiative to clean up the played stuffed toys inside the bean bag chair if the infant wants to sit on it comfortably. What a perk, is it not?
This comes in a package dimension of 11.5 x 10.1 x 1.9 in, with a light weight of just 0.75 kg. This is because you're only buying the cover – no bean fillings at all. How you shape the bean bag is up to you and how much and how large your child's collection of stuffed toys is. The bag can carry up to a hundred stuffed toys. However, if you are unable to fill the whole bag up with fluffy toys, you can always use other soft materials: blankets, towels, pillows or cushions.
The fill-it-your-own aspect of this bean bag chair is what makes it both a pro and a con: The shape and comfort of the chair depend on how much soft things you have at home, including the stuffed toys.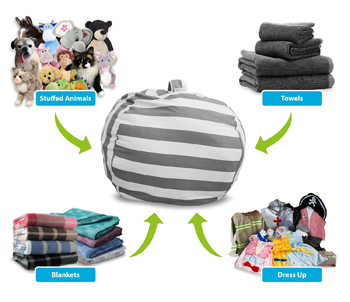 The design also comes in just stripes – which is a bit of a concern in the concept of bean bag chairs; the lines on the stripes tend to tear up if it is not taken care properly. How long the bean bag shall last will depend solely on the soft fillings you plan on piling up inside as well as how the chair is treated—if the child is rowdy and keeps on jumping on the chair, then you can bet your beany butt that it's not going to last long. Take care of it, and it will take care of your comfort.
Speaking of comfort, the cover is made from cotton, making it ideal for the kiddies to sit on. The fluffiness and bounciness of the bean bag chair rely on the softness of the objects you put in. That means do not expect this bag to be like any in the previous list or the traditional bean bag because this will, quite frankly, not be able to become totally freeform in its shape when sat on.
Therefore, if the fillings are not soft enough, it will just end up like a round leg rest or a small isolated stool. That is what the bean fillings are for – to deliver that authentic feel of having to sink your body into the chair, and in this case, it just won't since the filling is not made with styro pebbles, chunky memory foam pieces nor cotton balls. But if your purpose is to store lots of stuff inside it, then, by all means, go ahead and purchase this since the cotton sheet helps in softening up the chair.
Pros
Ideal for children who have plenty of stuffed animals
No need to buy extra bean filling because you fill up the chair with any soft material within your household
No scattering of any bean whatsoever
Great for storying stuffed toys, bed sheets, curtains, and blankets
Made of cotton, which makes it ideal for children to sit on
Cons
Not quite squishy and fluffy as the usual bean bag chair
Stripe design can mean tearing along the lines if not taken care of properly
Not really suitable for buyers who don't have plenty of stuffed toys or blankets inside the house
If you happen to not have much pliable object at home to fill up 2 feet worth of bean bag chair, then there is no point in purchasing this. Otherwise, if you want a huge stockpile for all the scattered stuffed toys inside the house and can double as a bean bag chair, then you should definitely get this, especially since the price is affordable in just under 30 bucks. Is it a good bean bag
chair for gaming
? Yes indeed.
Just like Soothing Company's bean bag, this chair created by AUO does pretty much the same, but with a twist of football. This is especially a great look for a bean bag chair for gaming, especially if your kid loves to play sports-based video games such as the always-famous FIFA, NBA 2k, Madden NFL, or racing games like Forza or Gran Turismo.
Overall, the look is, as obvious as it already is, very sporty; a round fluffy football if stuffed with the same materials just like the previous one in the list. It comes with a dimension of 12.2 x 11 x 2.4 in, weighing in at 0.87 kg. The cover is also made with cotton for the soft touch, and since this is stuffed toy/soft material-dependent, the biggest perk here is that it will not spill any fussy beans. This bean bag chair definitely complements a snazzy entertainment room built for the sports freaks.
However, just like the previous child's bean bag chair for gaming, this one is also prone to tearing due to the lining of the cover design. If you or your infant is not careful, it will tear up an opening. The durability of the bean bag chair will rely on how properly you treat it. And in the case of comfort, this, again, depends on whatever is stuffed in the bag. How soft the materials are will determine the overall shape too. Just don't expect the bag to be very squishy and bouncy as traditional bean bags.
But hey, in case of damage, take note this has a lifetime warranty. AUO is very confident with their design and guarantees that you will be very satisfied with their bean bag chair if you purchase from them.
Pros
Cool sporty design that complements any entertainment room
Made from soft cotton
Double stitched canvas to ensure minimal tearing
Great storage for stuffed toys and other soft materials in the household
Has a lifetime warranty
Cons
Despite the double-stitch design, this could still be prone to tearing when not treated carefully
Not a great buy if you don't have a child with lots of stuffed animals.
And similar to the previous bean bag chair, this is ideal if you have so many stuffed animals lying around the house to keep as well as being additional storage for blankets, pillows, bed sheets and even clothes (just not denim pants or any clothing with hard materials).
In the sub category of stuffed toy bean bag chairs for kids, this is definitely the best choice for gaming. It really blends so well with any gaming set-up, especially the ones who adore sports games.
3. Corduroy Bean Bag Chair for Stuffed Toys – Compact lavish seating that will last very long for any solo kid who loves bean bag chairs and video games
Last on our list of stuffed toy chairs but not the least in this category for bean bag chairs for gaming is the self-proclaimed "soft and snuggly" stuffed toy-based seat.
Compared to the previous two bean bag chairs, this one is particularly petite for its default size: 10 x 12 1.2 in, with a weight of 0.5 kg. Despite the size, however, this one is made with polyester corduroy fabric – unlike the other two stuffed toy bean bag chairs, this one can stretch to even large proportions even if you keep on stuffing soft things inside it.
Perhaps the biggest perks here are the flexibility, sturdiness, and touch; Again, this is made of polyester corduroy fabric—very stretchy and highly resistant to any form of tearing. You would be surprised at how much stuff this thing can keep inside because it just keeps on stretching without breaking at all. This bag feels a bit more on the silky side when it comes to the texture of the surface rather than having that generic fabric feel, just like any household furniture.
Honestly, out of all the stuffed toy bean bags mentioned in this article, this one certainly has the best feel and touch, based on the covering itself, adding more fluff and even some bounce to the bean bag.
But of course, this does not get to walk away without some flaws: in this case, the biggest con here has to be the size it covers—contrary to what I said about this being very stretchy, the overall shape does not treat itself like a real chair; sure, it's a bean bag, but not an actual "chair" kind of bean bag.
Also, it does feel a bit stiff when sat on since, despite the polyester fabric, it does not adapt and stretch much when you sit on it. In fact, you will have to need some form of back rest behind it just to fully appreciate the bean bag—like being positioned just in front of a couch or right beside a wall. As much as this does have the best comfort in terms of the material alone, the seating feel of it is pretty awry unless you back it up with something else to support it like the ones I previously mentioned in my last sentence.
Pros
Just like the first two kiddie bean bags, this is great for storage of stuffed toys, sheets, towels and pillows
Covering is not made of canvas, but polyester—great material so it can flex out as you keep on filling it up with soft materials
Best texture for a bean bag chair for kids; silky to the touch
Compact and very light
Very durable and highly resistant to tearing
Cons
Feels awkward to sit on without anything to lean on it like a large sofa, bed or wall
Has to rely on other furniture or surface to fully enjoy the seat
But does this make it a good bean bag chair for gaming? Of course, it still is, but you really won't get the best out of it if your purpose for this is the main chair for your child. This seat will have to rely on other furniture such as a bed or recliner beside it.
It CAN strain the kid's back if he/she sits on this while playing video games even for just an hour since the chair doesn't even absorb the body like a usual bean bag chair. Naturally, a gamer will always lean forward or slouch down whenever he/she plays, as this is normal behavior of the human body needing rest. This bag will definitely present itself as quite uncomfortable without a supporting surface behind it.
If your gaming set-up is in the living room, this is a good choice. But as a solo chair with nothing else? Not a good idea. And hey, this works well as a leg rest for the sofa. Also, look at that price: just $29.97. Not a bad deal at all.
Three kiddie bean bags in and finally we come back to the non-stuffed toy-based chairs. Now let's move on to the next on our list: The Chill Sack 2-feet bean bag. Chill Sack, Cozy Sack, Sofa Sack, they all sound the same at this point, no? Right now, the brand does not matter because we will be focusing on how this chair delivers.
2 feet of bean bag is all you need to get a child happy to have a chair for his/her gaming room, and quite certainly, Chill Sack's product will help fulfill your toddler's desire. Just like Cozy Sack and Sofa Sack, this one is filled with memory foam for that firm yet not so stiff feel which helps in maintaining posture and prevent the child from straining his body if he/she goes on a gaming spree.
It also has enough room to rest your child's neck if he/she wants to relax on it while playing. The dimensions are 24 x 24 x 20 in, with a weight of 6 kg, making it the heaviest among the kiddie bean bags. Take note that this is American-made so, without being biased, expect good quality design.
Think of this one as the "Mini Me" of the bean bag for adults with the same quality of Cozy Sack's 3 feet chair, and if you are into memory foam-based bean bag chairs and you would like one to share for your child to have, then look no further than this one.
Chill Sack emphasizes how their chairs are pretty good for gaming. According to them, "ChillSacks are great for Home Theaters or just relaxing, napping, cuddling, playing video games, watching TV, and just plain fun. It's the perfect furniture for your living room, theater room, play room, kid's room, dorm room, just about any room. They are perfect for you!!"
With that statement, you know they do care about the video gamer demographic, be it child, teenager or adult. And for the players, this bean bag is a good treat, especially gamer kids. Whether you slouch, sit erect or lean forward while playing an intense game, this bean bag chair literally has your back. Play all you want without having to suffer any limb strains.
There is, of course, a bit of a backlash; as similar to Cozy Sack's product in this article: the dreaded shredded memory foam. Again, the main purpose of putting these to shreds is for your body to collapse into the chair as it expands. Nonetheless, this also sacrifices the maintaining stability of the chair – meaning it can get flat within a matter of months. Unless you have budget to buy memory foam filling, this may not be suitable for both your wallet and your child that keeps on sitting on it.
Yet contrary to its own flaws, this right here is the utmost best bean bag chair for gaming on the kids' list. Why? Because, again, this is memory foam—the best kind of furniture material to get you sitting down without straining yourself too much while in front of a television watching movies or playing video games. Not only that but also the covering fabric of this is very sturdy and top quality, making you free of worries from any sort of tear damage anywhere in this bag.
Pros
A very durable fabric covering
Memory foam-based filling
Great for hours of gaming without getting muscle strains
Easy to set up
Chill Sack considers their bean bag chairs to be gamer-friendly
Cons
Shredded memory foam which can shorten the lifespan of the chair when used too often, unless you have the money to buy additional foam
Quite pricey especially for its size and being a kid's furniture
This is highly recommended for your kid who is very passionate about video games. Not only will he/she get to play for long hours enjoying the game, but also prevent stiff neck and the "pins and needles" feeling when you don't move your body for quite some time. If you have the budget of around $100 or more, go ahead and purchase this because the value is really worth the money.
Oh hi, Big Joe. Haven't seen you since the review for the hybrid chair.
Among all the chairs in the entire article, this has to be the most traditional bean bag chair for gaming. If you need an example or maybe even a starter pack to get you diving into the bean bag chair gaming experience, I suggest you buy this one.
Again, Big Joe promises to make environmental-friendly furniture products, as well as keeping the tradition alive. Purchasing this particular bean bag will help them support their cause. One step closer to supporting the environment, if I do say so myself.
Now back to the bean bag:
This one has a measure of 33 x 33 x 20 in, with a weight of 2.7 kg. This makes it the largest bag for kids. Actually, this one can also be for adults because of the size itself, but it's just not the "big boy" type of bean bag chair that is why Big Joe's 8 feet seat rests in this 2nd half of the bean bag category.
If your kid wants a bean bag chair for gaming – especially one that does not own a lot of stuffed toys, or maybe you can't afford a memory foam-based bean bag chair and just want to give your child that bean bag experience, you might as well buy this one. Sure, it's not the best in the list, but what more could you ask for that is cheaper than $40?
Filling is made up of the evergreen styroballs – in which Big Joe calls it "UltimaX" bean fillings that are not strolls per se but are made with recycled materials. And this filling will spill a lot…and I mean A LOT, if you are definitely not careful or if your child is too rowdy over the chair like stepping on it, slamming himself on it or even using the chair as a beach ball.
Yet it has both the gift and curse of a classic bean bag: the squishiness of a classic bean bag, the absorption of your butt like a classic bean bag and the flaws of a classic bean bag – the spillage of beans and random scattering of these for whatever reason (like how bananas always look bruised the morning you wake up even if they looked fresh last night), the hasty deflation within months and having to purchase mounds of bean bag filling packs just to keep it surviving.
And just like the material from Big Joe's hybrid bean bag chair, it is water and stain resistant but it acts as an insulator, meaning if the weather is too hot or if you keep on playing without leaving the bean bag, it's going to leave you with sweat on your back and your butt.
Pros
Traditional bean bag chair we all know and love
Still compact despite its 8-foot wideness
Very affordable for a bean bag chair
Great starter chair for anyone who is both on a budget whilst looking to have an experience owning a bean bag seat
Cons
Beans will spill frequently especially if it is not treated well
Covering has a high chance of tearing just like any usual bean bag
Will require you to purchase additional bean fillings to keep the chair longer
A chair will eventually cause you to sweat especially after long hours of gaming
But all in all, this is still a good bean bag chair for gaming, especially for the ones who want to have a first time having a bean bag chair at home. Your kids are still going to love the heck out of it and a good starter seat for any young gamer.
Summary
In the case of buying a bean bag for kids, it is a very simple question: does your child have too much-stuffed toys or do you have a lot of cottony sheets and blankets? If you happen to do so, focus on buying the stuffed toy-based bean bag chairs such as Soothing Company's 2 feet bean bag, AUO's 3 feet bean bag or the polyester-based corduroy fabric bean bag.
Among the three, personally I would definitely go with AUO's bean bag: it has the perfect fit to any entertainment room, it has quite a large space to fill in with soft materials, comfortable enough to sit on its own and it blends well with any child who loves sports and sports gaming.
If you're looking to be casual and not being too serious when it comes to a stuffed toy bean bag except for the purpose of wanting storage for your child's cluttered fluffy animals in addition to keeping clothes, towels, pillows, bed sheets or blankets, Soothing Company's chair is the one to buy: great storage and looks good enough for any house.
If you want to add more style and pizzazz to your room, especially the entertainment room with a large sofa, purchase the corduroy fabricated bean bag for stuffed toys. The covering is made of very durable polyester fabric that scales with even how many stuffing you put inside the bag, a great soft and bouncy touch and a very silky and sophisticated look. You can also use this as a leg rest on the couch.
But if your child does not collect a lot of stuffed toys or you don't have enough stored pillows or blankets, go with the standard bean bags—the ones that were intentionally made for children. In this list, you either have a choice between Chill Sack's pricey yet very valuable memory foam-based bean bag chair or Big Joe's classic bean bag that is 8 feet wide.
In my personal opinion, Chill Sack is the best bean bag to purchase for your child's gaming hobby since it is beneficial in many ways: the memory foam will keep your child from having any stiff limbs especially the neck, the covering is extremely durable, and it is simply just very comfortable to sit on. Gaming on hours end will not be hindered by a bad bench since Chill Sack's bean bag chair is definitely for gamers.
Again, a lot of people have mixed reviews when it comes to memory foam-based bean bags – some love it because of how comfortable it can be and springs back the bean bag naturally without having to do any effort to bounce it back to its real shape but at the same time, some don't enjoy this kind of chair because, unlike the common bean bag, this is one is much firmer and not quite bouncy or bubbly at all.
Yes, the memory foam still slowly collapses your butt into its hugging warmth, yet it does not quite have that "yippee" squishy feeling as the styroball-based bean bag chairs. Should you choose comfort over the simple existence of a bean bag inside your house, Chill Sack should be your top choice for your child who loves video games.
But if you honestly do not have the bucks to buy a Chill Sack and just want to have a normal bean bag chair at home, there is always Big Joe. And with Big Joe's chair, it screams everything classic bean bag: the styroballs (which are recycled, in Big Joe's case that is), the thick polymer fabric and the squishiness of any bean bag that anyone had experienced since 50 years ago when bean bag chairs existed.
And so that ends our discussion about bean bag chairs for gaming. Whatever and however you choose is totally up to you, based on your own personal preference. Just follow the links to get started on your bean bag shopping.