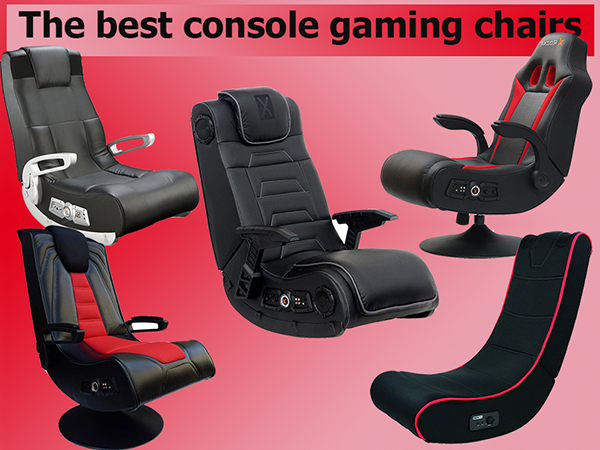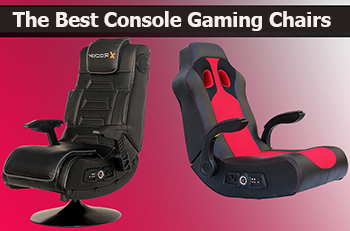 You will agree with me that choosing the best console gaming chair is a very difficult process? But modern console gaming chairs are taking over.
This is because, besides comfort, they offer a great audio experience which is an integral part of the entire gaming experience.
However, with the hundreds of brands, each offering their product, it may be hard for gamers to shop for the best console gaming chairs. For this reason, we sampled over 20 chairs and came up with this review of the very best chairs in this category.
Here is Console Gaming Chairs Comparison Table.
Image

Model

Dimensions

Material Type

Audio

Check
Price

22.05 x 29.13 x 20.87 in

Durable Wood and metal frame covered with padded vinyl for easy cleaning
Built-in speakers and powered subwoofer
Check Price

18.5 x 27.75 x 17.5 in

Foam
Two Forward Facing Speakers with Powerful Subwoofer
Check Price

30.7 x 22.6 x 37.6 in

Synthetic
2.1 Sound System with 2 built-in Speakers and Subwoofer
Check Price

23 x 29 x 22 in

Metal frame
Two speakers and a subwoofer
Check Price

64 x 32 x 40.5 in

Powder coated heavy gauge steel

No built sound system
Check Price

18.3 x 25.7 x 16.6 in

Vinyl

Has two wired receiver audio speakers
Check Price

23 x 28.5 x 23.5 in

Vinyl, Arms, Foam, Audio, Subwoofer, Metal

Two speakers and a subwoofer
Check Price

27.56 x 33.16 x 16.14 in

Fun Checkered Flag Screenprinting with Upholstery Grade Vinyl

Two speakers and a subwoofer
Check Price

40.55 x 33.86 x 23.62 in

Ergonomic design

Two speakers and a subwoofer
Check Price
For the real sound maniacs, this 4.1 Channel X Rocker gaming chair will be the perfect hack. It delivers the best surround sound and the quality is similar to what you get in open back headphones. If you are on a budget and you want comfort and quality sound, just get this chair instead of a cheap PC gaming chair and separate gaming headphones. Together with vibration, it delivers a full body experience; you will be playing your last game until the sun comes out.
By design, it sports a high back and spacious seat that makes long hours of sitting very comfortable. The headrest is cushioned and well positioned to support the neck and head while the high back supports your entire back column. With a ribbed design in the middle and an all-black PU leather cover, you might mistake it for an executive office chair – the difference is it sits low on the ground. I used it for like a month and I can attest to its superior comfort even during those long gaming sessions.
The adjustable rails give you the freedom to find your perfect position, especially for the tall guys. However, if you have a hardwood floor or tile, I won't advise you to buy this chair. While I was using it, I had to find a rug to cushion the floor as my 210 lbs. on the rails was slowly damaging the tiles. On the sides, there are gun stock arms that are foldable as well as the entire chair for easy carrying and storing.
Regarding durability, I can't comment much on it but one thing I know for a fact, its sew quality make the PU leather durable; no tattering or wearing even with heavy use.
Perhaps the best thing about this chair is the 4.1 Channel audio with vibration. I really liked its performance when playing sound-intensive titles like Call of Duty, Black Ops, Forza, FIFA and other new titles that have been optimized for real lifelike sound. It comes with a subwoofer under the seat with two speakers on each side. There are also two more speakers on either side of the headrest. Together with the AFM technology, it delivers excellent natural sound just like the Audio Technica AUD ATHAD500X.
In terms of compatibility, it doesn't limit you; it's compatible with Xbox, PlayStation, Wii, Nintendo, and even MP3s. For music lovers, you can always connect your Smartphone via Bluetooth and listen to your music when relaxing and rocking courtesy of the inbuilt wireless kit.
Another great feature is its ability to connect with other gaming chairs for multiplayer gaming.
Verdict
For gaming audiophiles, the X Rocker H3 will be real value for money. Besides its comfort and durability, it delivers exceptional natural sound with a clear distinction between all the sound drives; whether high or low.
Modern architecture has not yet recognized gaming so most gaming enthusiast will find room in the bedroom, study room or even in the living room that is mostly packed. For those with minimal space, the X Rocker 5143601 II will surely fit their needs. It has a compact design and is easily portable. Besides this, it is compatible with a range of consoles and delivers exceptional sound.
What I liked most about this chair is the space-saving design. The package is very small compared to how other similar gaming chairs come. The trick is in the design that can be folded in half when carrying or storing it. I still have mine tucked in the balcony now that I only need a single chair in the study room that doubles up as my gaming lounge. Apart from the design, it is also comfortable and that's why I've kept it to date. It has a well cushioned back and headrest covered in clean vinyl and partly in mesh material. The foam cushioning is quite long lasting and helps absorb the pressure from your body's weight.
Remember, this chair is not pedestal; instead, it is a V-Rocker that offers quite some good relaxation after those intense gaming sessions. It's also good to be aware that in as much as the armrests look like stainless steel, they are high-grade plastic and tend to get scratches easily.
This chair is well equipped in terms of audio performance. The 2.1 Channel audio adds thrill to your gaming. It takes you from your immediate setting deep in a surreal realism of your gaming context. If it's a battleground, the 2.1 surround makes it feel real whereas, for Forza fans, you will hear the revving, brakes screeching and the tires drifting. There are two speakers on either side of the headrest and a powerful subwoofer under the seat. However, I find the sound balance quite wanting. The subwoofer seems to be overwhelming the speakers because of the close ground contact. This chair is compatible with a range of consoles including PlayStation, PSP, Xbox, Wii, Nintendo and other devices. However, for PS4 owners and Xbox, you still have to buy the HDMI extractor to use this chair. Controlling the volume or connecting the cables is very easy on the right side. If you hate standing up to have to control the volume and bass, you will just do that from the comfort of the chair.
Verdict
The X Rocker 5143601 II is a great console gaming chair for gamers who have small space for setting up their gaming stations. Besides this, the foldable design also makes carrying, moving it and storing easy. The sound is great and so is the price!
I'm not a huge fan of X Rocker but to one of my college friend and deep FIFA rival, it's a household name. I remember he bought it during last year's Black Friday at a discount and him being a daily user, it's still quite intact; clean upholstery, strong cushioning, and a sturdy pedestal base. Besides the build quality, it is well endowed in terms of compatibility as well as audio performance.
I didn't have the privilege of opening this chair so I can't say much about its assembly and appeal at first glance. I will, however, assume that just as the X Rocker 51396 Pro Series and X Rocker 51259 Pro H3 that I have personally set up, it shouldn't be a bother. If you are deep into aesthetics, this chair won't move you; it's just plain, but covered in elegant and classy vinyl material that I find easy to clean and doesn't get tattered or scratched like your average faux leather. If my buddy's reaction is anything to go by, it must be much comfortable than the other chair he owns, a Furmax high-back PC gaming chair. Whenever it's game time, he jumps on the X Rocker leaving me with no option but to use the Furmax. Even though I haven't tried it, I have to mention the fact that user reviews and even the direct opinion of guys in my gaming club is that for guys taller than 6'2, it can be quite cumbersome when you sit for over 4 hours. One thing I noticed is that the pedestal is very heavy and all the weight is evenly distributed on the floor. Though it may make noises on some types of floors, applying WD40 solves the problem; no more squeaks!
In as much as most brands focus more on just PlayStation and Xbox, I was impressed that it's compatible with other consoles. I thought my mate's kid was joking when he told his Dad to connect his Gameboy. I later inquired about this and even confirmed from the manufacturer that it is also compatible with Gameboy, Nintendo, Wii and select MP3 players and DVDs. Unfortunately, it is selective on Nintendo and doesn't have Bluetooth like the X Rocker 5172601 Surge. When it comes to sound, I like its performance and how it's able to filter out different notes; perfect for sports titles like FIFA and NBA as well as combat games. This is courtesy of a 2.1 Channel sound system.
Verdict
With over a year of heavy use, the X Rocker 5127401 doesn't show any signs of wear and that's why it featured on this list. If you want a durable chair that will stand the test of time, this is a great option. It is perfect for the everyday gamer of commercial gaming operator.
I'd recommend the X Rocker 51092 Spider to the advanced gamers doing immersive titles like Call of Duty, Forza, FIFA, and so on. A zap in your seat and every impact, bump, jolt, punch or shot is felt throughout the body courtesy of the new addition, vibration. Even though it retails $50 more than the likes of X Rocker 51396 Pro Series and X Rocker 5143601 II, I would challenge you to feel the pain of the few extra bucks and on your side, get ready for an immersive gaming experience!
At a first glance, you will realize that Ace Bayou came out of their regular plain style and tried out a new design on the Spider. The back has an attractive spider web-inspired finishing with the traditional black but PU leather now with a red breathable mesh strip in the middle to reduce sweating. This chair is very comfortable; high backrest and a comfortable cushioning all the way up to the headrest. I used it for a straight week, sitting for an average of 6 hours. Everything went on fine but on the fourth hour, pressure started mounting on my lumbar area. The curve between the back and the seat somehow forces you to sit on your lower back and thus the discomfort. Fortunately, the hamstring and entire back column are supported well. On durability, I don't have a major issue apart from the few comments regarding the stitches coming off. This chair also has a pair of adjustable armrests, padded with breathable mesh material too. The pedestal is just as solid as you'd expect but it's fixed so you can't adjust the height.
When it comes to compatibility, it works with Xbox, PlayStation, PSP, Nintendo, Wii, DVDs, MP3s and so on. My only concern is that most new TVs don't have audio out connections. An HDMI slot would be best because now, you have to spend about $30 more for an adapter. In terms of sound, I was impressed; I could clearly hear fans chanting and player calls. There are two powerful speakers on the headrest and a subwoofer for a complete 2.1 Channel audio experience. Worth mentioning is the AFM technology that magnifies sound for a virtual gaming experience. However, what puts this chair on the map is its vibration. It has been engineered with vibration motors that sync with the bass drivers for a full body experience. If you are moved by the vibrations on the pads, this one will take you to the next level. In Call of Duty, you will feel the bullet tearing through and if you are a FIFA guy, that clean tackle and injury will be felt and so is the adrenaline of hitting the woodwork.
Verdict
I would recommend the X Rocker Spider to any gamer looking for full body experience. With vibration sensors and high-quality sound, you get immersed in a more surreal realism in the world of gaming.
5. Openwheeler OW-GV1FG Cockpit Frame and Seat – Real Racing Simulation
Though not quite popular, this is an amazing frame and seat compatible with a wide range of popular joysticks. What I like about it is that it offers a real car racing setting. If you haven't played Forza on this beast, here's a great video of the action. Please note that this set comes with only a frame and the seat.
The Openwheeler OW-GV1FG features a strong frame, and a very comfortable racing style seat. The most interesting bit is the fact that this is a full-size gaming chair. The parts are highly adjustable to give both big and small gamers the perfect racing experience. For purposes of this review, we set it up with the Logitech G920, Saitek X52 Pro and keyboard tray with shifter and shaker adapters. Trust me when I say, this is the best gaming experience you should have in 2018. The chair is quite comfortable and has been covered by breathable mesh to help in air circulation and reduce sweating. The most important part of a cockpit frame and seat is compatibility. This one is compatible with several consoles including PlayStation, Xbox, and Nintendo. I particularly liked the fact that PC and MAC gamers can also join the thrill. It is available in blue, green, red, yellow, black and orange.
Verdict
The Openwheeler OW-GV1FG is the perfect frame you need for a perfect real-life gaming setup. What makes it the best choice is the fact that it's compatible with almost all joysticks; whether steering wheels or gear shifters. Above all, it offers an out of this world simulation of real car racing.
There's a common notion that console gaming chairs are very expensive. No, you can get a good chair for less than $100 and here is one that will leave you with some huge change; the Cohesion XP. It boasts a very simple and compact design. Most of the college lads in our gaming club speak volumes about it. I've been there before and I understand they like it because of the compact size, and it's pocket-friendly, nothing else.
By design, the first thing you will notice is the compact size. I know a couple of college guys who keep it in their small rooms. It is very portable courtesy of the fold design and besides, it is very lightweight. This chair has a contoured design with quite some good cushioning but not as long lasting as we'd expect. The curve also encouraged slouching which might be a bad posture, especially for children. One thing I'd like to emphasize is that the Cohesion XP is not for big-bodied gamers. To put it into perspective, if you are over 5'8, it will be quite uncomfortable. However, for kids and at least average teens, it works best! If there's one thing I personally loved, it's the PU leather and mesh finishing; very easy to clean and doesn't get stains.
I wouldn't say the Cohesion XP is such an advanced gaming chair. As a matter of fact, I don't see much difference from the Crewe Furniture; only the audio feature brings the $20 difference in price. Unlike X Rocker that has RCA and other ports, this is a basic console gaming chair with only two speakers. Honestly, this chair is for starters and not avid gamers like me. I wouldn't say the sound is bad; it's safer to say that's what you paid for, $58. Compared to what the likes of X Rocker offer, this is average. Another thing, it is purely wired so if you thought you would find a calm corner away from the screen, I'm sorry. You will need to think about getting a longer cable. The good thing is that these cables are readily available. Another feature that moved me is the multiplayer connectivity. If you have a gaming buddy, you'll need just less than $120 and you will have a pair of this.
Verdict
Looking at its price tag, the Cohesion XP is not a bad gaming chair after all. If you are looking for something cool on a budget, I would recommend this chair. Retailing at around $58, it is not a bad point to start from if you are climbing up the ladder of gaming equipment.
Gaming is fun when you have your rival right there. This chair has been built for such gamers as it can pair with a similar chair. With the likes of the X Rocker Spider, only one player will have the full thrill of its sound. Besides this, it has great audio and is more comfortable especially to tall people over 6'2. The only problem is that its cushioning gets very thin after long use.
I got this chair as a Santa gift last year and I liked its comfort. It has a strong pedestal that supports the entire weight of the chair and allows swiveling and tilting. With a very high back and spacious seat, I didn't feel uncomfortable like its sibling, the X Rocker 5127401. I must also mention the ribbed back that allowed for air circulation while the gunstock armrests give you a more comfortable and steady posture. As usual, X Rocker covered it with a leathery material that greatly resembles real leather even though it's just PU leather. One thing I noticed is that the cushioning gets thin very fast so it's not a great purchase for heavy duty use. You can, however, spend $15 or $20 more on an outer seat cushion for extra durability. It's also quite bulky so the thought of having two of them in my small living room for pairing is a big deal. By the way, by bulky I'm referring to space it requires because I never felt it being heavy, just the usual weight.
What's compatibility and audio performance like? I wouldn't want to dwell much on this one because as usual, Ace Bayou delivered; a standard 2.1 Channel audio well accentuated by X Rocker's AFM technology for a more robust 'surround' atmosphere. The two small speakers are on either side at the top near the headrest area. To get the best bass resonance, the subwoofer is under the seat; all the power of the shot in FIFA is felt while low engine revving in Forza is almost real. What's interesting is that it supports multiplayer gaming. It doesn't come through as better when playing Call of Duty or Black Ops. You all get to hear enemy footsteps very clearly and you definitely get to know the direction for a timely ambush. Worthy to mention, it is wireless and supports several consoles including PlayStation, Xbox Nintendo, Wii, and so on. On the downside, with Xbox One, there's an HDMI extractor you will need because it has no RCA.
Verdict
The X Rocker 51396 Pro Series is a great chair for multiplayer gaming fans. I find this a great add-on that comes at no extra cost; it comes with the standard features mid-range X Rocker console chairs have at almost the same price; just under $200.
The Drift is among the flagship X Rocker gaming chairs for specific gaming niches. As the name suggests, the Drift is a 2.1 Channel chair that is customized for racing enthusiasts. What I'd like to stress about niche gaming chairs is that they are mostly customized for a particular niche by their 'look and feel' as opposed to functionality. For example, the X Rocker 5171101 Drift is for racing because of the checkered flag accents only, look and feel, and that's it.
By design, I don't think there's something new the X Rocker Drift bring on board. It is very similar to the X Rocker Surge and X Rocker II. Quite a high back and a PU leather midsection. The upper part of the headrest and the midsection of the seat have been covered with a checkered Nascar finish. One thing I liked about this chair is its compact design and portability. At slightly over 20 lbs, it's is half the weight of the advanced X Rocker chairs. Just like the other small X Rockers, I wouldn't advise you to buy this one if you are over 6'2, it can be quite uncomfy!
When it comes to audio, I won't shy off from saying that it's just average. Personally, I expected the racing version of the X Rocker to have good sound, especially deep bass. I tried it when playing Forza and the deep revving didn't quite come out clear as expected. In fact, I didn't notice much from what the Cohesion XP offered and considering it's an under $100 console gaming chair, X Rocker should have done better to move racing gaming enthusiasts. It packs two speakers on either side of the headrest and a subwoofer beneath the seat. The good thing is that it has a wireless receiver so, if you are the type that likes a quiet corner for yourself, this will be a great companion.
Verdict
I would go for the X Rocker Drift only if I wanted a cheap X Rocker because of the comfort and most importantly, it's a top brand. Otherwise, for the sake of just owning a console gaming chair, I'd rather take the Cohesion XP at half the price. However, for a real Nascar fan, it's such a great bargain!
The X Rocker Audi is just like the Audi; a symbol of perfection. If you are looking for the ultimate console gaming chair, I beseech you to go for this masterpiece. It sports a great racing style design bringing you to the level of a racing driver, in an Audi actually. The high back design and wide seat make it a great avenue for playing games for long hours without fatigue.
In wouldn't say there's much to speak about this chair's audio performance and compatibility; we've so far talked more than enough about X Rocker. However, what makes the X Rocker 5125401 stand out is its comfort. It has a body-contouring design that allows the fluffy cushioning to adapt to your back. At the top, the headrest has been designed to allow your shoulders comfortably sink in the seat as opposed to forcing themselves on the cushioning. Just below the neck area, there are two large symmetrical holes that ensure there's enough air circulation. For us gamers with hyperhidrosis, it really works well; no sweating even during hot weather or intense and adrenaline filled gaming encounters. I also liked the design and its entirety. It has been elegantly finished in black PU leather that makes it stand out in regards to elegance and class. In the middle, there's mesh material for breathability and some red accents that bring the gaming fusion into a rather executive look. On the base, it is a pedestal which in fact is adjustable. While it doesn't fully adjust the height perpendicularly, the pedestal base allows you to elevate it to some considerable level. This feature is targeted for the guys above 6'1; no tight knee folding.
Besides the comfort, its audio performance is up to the mark considering it has a 2.1 audio system backed up by X Rocker's Audio Force Modulation (AFM) Technology that enhances the sound quality. So, regardless of the room you are in or the title you are playing, you will hear everything just as the sound director intended. There's a subwoofer under the seat and two speakers on either side of the headrest. I liked the sound quality considering it is a pedestal; the bass performance is up to the mark because of optimal resonance unlike rail rockers like the X Rocker Drift that has quite some distorted bass because of too much proximity with the floor. The good thing is that it is wireless and Bluetooth enabled. So, besides gaming, you can listen to music from your TV or any other wireless device around.
Verdict
You want comfort, this is where you will get value for your money. The X Rocker 5125401 Audi has been built to offer the best comfort. Besides fully supporting and taking the pressure off the entire back column, you can adjust it a little bit just like an ordinary PC gaming chair.
Buying Guide; What to Look for in the Best Console Gaming Chairs
For most gamers, the hassle ends at buying the latest console, gaming pads, and the favorite title. However, there's more; your comfort contributes greatly to the overall gaming experience. For this reason, we recommend console gaming chairs.
What are Console Gaming Chairs?
There is a big misconception when it comes to gaming chairs. A lot of gamers can't seem to understand the difference between PC gaming chairs and console gaming chairs; these are the two common types of gaming chairs.
PC gaming chairs are typical office chairs with caster wheels and adjustable heights as well as armrests. Even though most people would just choose an ordinary office chair like Merax or Office Chair, brands like DXRacer and Homall are now building PC gaming chairs specifically for gaming.
On the other hand, console gaming chairs have the design of the big executive office chairs but now, they have a lower ground clearance. The main distinguishing feature is the compatibility with consoles like PlayStation, Xbox, Nintendo, Wii, and so on. Basically, you can connect these seats to your console via the TV with cables or use the wireless feature.
So, What's the Catch in Gaming Consoles?
By now, you must be wondering, why console gaming chairs and not your sofa or just any other plastic chair. The answer is pretty simple.
First, console gaming chairs are very comfortable. Unless you only play for a few minutes, a real gamer will tell you that at times it gets very serious and the last game is never the last. These chairs are very ergonomic and have some of the best cushioning and most importantly, adjustability.
Besides the comfort, the audio capabilities take gaming to a whole new level. Imagine playing on your 3D glasses with a surround sound system.
Console Gaming Chairs vs. PC Gaming Chairs
Lately, there has been a debate on which is the best chair between PC gaming chairs and console gaming chairs. For me, this is hard to call because each has been specially designed to perform under different conditions. However, in terms of comfort which is the primary reason for having a gaming chair and not just any other seat, console gaming chairs carry the day. This is for one reason; PC gaming chairs are aimed at achieving the right sitting posture while console gaming chairs are directly intended to enhance comfort.
Factors to Consider when Buying Console Gaming Chairs
In case you are not sure which is the best console gaming chair for you, here are a few aspects that you should consider.
1. Size and Portability
Like earlier mentioned, most architectural designs don't acknowledge gaming. For this reason, you will have to squeeze a gaming station out of your bedroom, study room or living room. With this in mind, you should look for a compact and space-saving gaming chair. It should also be lightweight to make moving it around easy. Most reviews will mention the size or even the specifications. Besides this, look out for extras like folding. For example, X Rocker has some good foldable chairs that make storage and portability quite easy.
2. Comfort
The main reason why we have specially designed gaming chairs is to facilitate comfort. Avid gamers spend over 8 hours on average behind their screens. This can be very tiring so in as much as you are looking for a chair compatible with your console; comfort should still be a concern. Here, there are several factors to look into. First, check the cushioning; it should have a fluffy cushion and the headrest, as well as armrests, should at least be padded. Above all, the backrest should be able to support your entire back and the seat should accommodate even the hamstrings. Also, check out for extras like lumbar support, detachable neck supports, tilt, swivel, caster wheels and so on.
3. Compatibility
Nothing can be disheartening like buying a chair that is not compatible with your console. This is however rare as most gamers invest in chairs for their Xbox and PlayStation. Most reviews will tell you what consoles a particular gaming chair will work with. So, this should not be a major concern. However, the elephant in the room is these new consoles like Xbox One and PlayStation. With most of these chairs, you will be required to buy an HDMI converter as these chairs have RCA, an outdated connectivity feature.
4. Wireless or Wired?
A lot of people never want to go beyond the fact that a gaming chair supports audio. It is important to consider whether a chair is wired or wireless. To get the most out of your chair, I would encourage you to go for one that has an inbuilt wireless capability. I'm saying this because there are some gaming chairs that can use external wireless installations while other low-end chairs like Cohesion XP totally won't support wireless.
5. Leather or Fabric
Just like in furniture, the debate of leather vs. fabric is also in gaming chairs. Fabric and leather remain the most common material that's used to cover these chairs. Each of these materials has advantages and disadvantages. Leather is more classy and easy to maintain. On the other hand, fabric gets stained, is hard to clean but very durable. In as much as this is a choice of preference, it's important to look at aspects of maintenance and durability.
6. Durability
Just like when purchasing any other item, it is important to check the durability of a gaming chair. Remember, this is worth a fortune so whatever amount you pay, you should see its value for quite some time before opting for an upgrade. In console gaming chairs, what I would advise you to first check the material used. It should be able to withstand the test of time, being seated on under different conditions. I wouldn't lie to you that there are many real leather gaming chairs out there. However, you can trust the quality of materials these popular brands use.
Editor's Choice
Before I pen off, I will have to tell you what my best console gaming chair is and it is certainly the X Rocker 51259 Pro H3. Since I bought it, it has remained a favorite, a fortress that I don't lose a game in. What I liked about it is the value for money. Retailing at around $170, it is very affordable for a console gaming chair with 4.1 Channel surround audio that matches an open-back headphone. Besides this, it is very comfortable and durable. 9 months down the line, it still serves me well; I even watch TV and listen to music while relaxing on it!
Wrap Up
For me, console gaming chairs remain the best types of chairs for a wholesome gaming experience. They are well made to guarantee comfort and not just the sitting posture. Besides their comfort, they offer great sound and cancel the need of having to wear or buy headphones. Right now, they are the in thing as far as gaming is concerned and that's why you need to grab one today to keep abreast with other gaming enthusiasts!