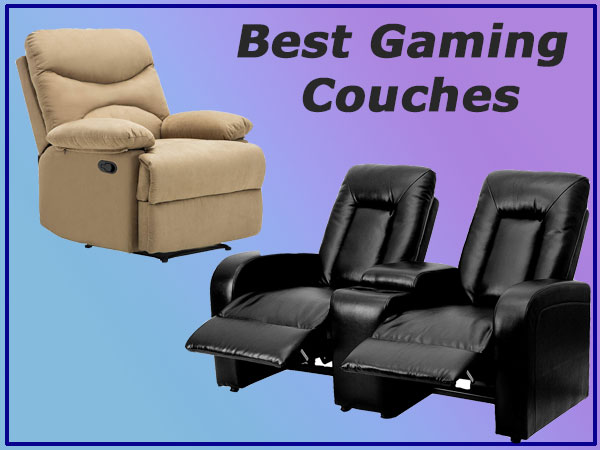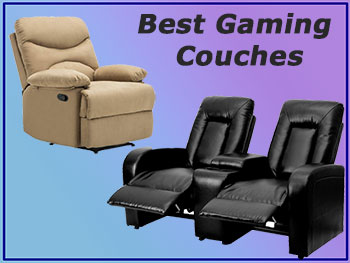 Nothing is better than sitting on your couch playing video games all day. In this list, take a look at everything under the best gaming sofas category.
We have everything from the fanciest seat to the more affordable couch for the gaming junkies. We will be covering each couch based on their budget, pros, cons and which is the most suitable for your environment.

Image

Material

Features

Weight

Check Price




Leather

Rocking

100 lbs

Check Price



Microfiber

8 Vibration Motors
Padded armrests
Remote control included

250 lbs

Check Price



Pu Leather

Relaxing foldable
5 position adjustable backrest

38.6 lbs

Check Price



Leather

2 Push Back Recliners
Storage Console with 2 cup holders
Plastic Floor Glides

162 lbs

Check Price



Leather

Two reclining seats
USB port to charge digital devices
Adjustable Headrests
Storage in Armrests
LED lights

97 lbs

Check Price
1. Divano Roma Furniture – For the ones that enjoy great gaming and elegant comfort at the same time
Divano Roma's single seat recliner is designed for those that fly solo and play solo. Its large design was made for players who want to become lazy and relaxed after a hard day's work.
It is no memory foam chair but it does have that good share of softness. Everything here is double-padded so it should become a secondary bed for you too. It is also a great chair for when you want to close your eyes and rest after a tiresome game.
While it may be quite large in size, its smooth upholstery and soft pads make this the most comfortable single-seat couch in the category. It even serves as a rocking chair to help you rest easier.
But due to its large size, it occupies so much space. If you happen to live in a small apartment, this will eat up a lot of ground. The Divano Roma couch is best for large houses and wide living rooms.
Another hindrance is its weight. Shipping weight alone is 100 lbs and moving this around the house is no easy task.
Pros
Softest pads in this category
Can serve as a rocking chair too
Leather upholstery for the smooth surface
Reclines completely into sleeping position
Cons
Very heavy
Can take up a large space inside the home
Price Range: Around $199.99
Overall, it still is a great couch. It may not be designed
for gaming
, but it is still a great furniture for general entertainment.
2. Mecor Microfiber Recliner Chair — For gamers that prefer first-class-flight quality seats while playing
Just like any massage therapy, Mecor's recliner chair is for the long-lasting game sessions. It's not as thick as the Divano Roma couch but this checks out as one of the best-ever single-seat couches available in the market right now.
This is more than just a recliner. This is a recliner that massages the vital areas on your back area. These include the nape, back, thighs and calves to name a few. Its exclusive 8-point node system backs up the whole skeleton and cushion of the chair. This itself makes it the best chair to sit on after a daily grind at work.
The best part here is the inclusion of a remote-controlled massager. This is definitely the best massage chair you can have for less than $225.
The upholstery is leather so this makes the furniture covered with smoothness and that sense of finesse.
The fluffy foam makes for the cushion of the chair. It may not be memory foam but this is as close as you can get.
Another feature that makes this a really good chair is the simple pockets: 2 small ones at the front and 1 on the right side. This is great for keeping controllers and remote controls. The right pocket is also large enough to fit in your favorite hard-copy games.
33" x 38-67" x 40" is the dimension of the Mecor microfiber chair. It weighs at 250 lbs, making this a chair for anyone of any size.
When it comes to its flaws, it is the swiveling of the chair itself. Contrary to its first-class flight quality, excessive use may result in this chair to be lumpy.
Also, the lever can be a bit stiff at times. A gamer should always feel comfortable, not having to struggle with the lever like Dark Souls' PC port. You might need a bit of strength just to pull it.
Pros
Looks and feels like a flight on first-class
Size is much more convenient than Divano Roma Furniture
Softness of cushion is not too stiff nor too soft
It has a massage-controller
The extra support for the back makes this ideal for long gaming sessions
Very affordable for its quality
Cons
Swiveling of the chair becomes rocky and clumsy as it ages
The lever for the leg rest feels a bit too stiff
Overall, this is still a defining quality of
a good chair
. For its price, it is much more valuable than that of a high-end La-Z-Boy. For a single-seat chair, this is one of the best gaming sofas.
Merax introduces its inexpensive love seat on the market—a sofa bed hybrid that is catered to a young demographic. This is the best sofa for teenagers looking to have an all-day game session. This is also the best for party sessions and split-screen gaming with friends or family.
The most notable feature in this product is the flexibility. You can roll it into a sofa, lay it halfway to make a recliner or flat out everything to make a bed. Whether it is 90 degrees or 180 degrees, its cushion is very satisfying to sit or lie down on. It even comes with two fluffy pillows that is best for both backrest and sleeping.
Another feature to mention here is the accessibility of this couch. Think of this as like a camping mattress that you can bring anywhere. You can do the same within your home, whether indoor or outdoor. Such perk makes this an ideal couch for mobile gamers, Nintendo Switch players, and laptop users.
If moving from one place to another is not in your plans, you can always use this as a mainstay furniture for the gaming room. It is large enough for 2 to 3 people to sit on or lie down on.
Premium leather cover is what covers the sofa so that means it is waterproof. The Merax sofa bed is also great for eating and drinking while playing video games.
Its dimensions are 87" x 7" x 43" and can even expand or decrease depending on your seat of preference. The Merax Pu Leather Love Seat Sofa Bed is also the lightest in this article. It weighs in at just 38.6 lbs.
However, this does not go without its flaws. Despite the squishy comfort it proves, its leather cover is a real heat-inducer. Prolong sitting on this couch while not in a cold environment will definitely make you sweat a lot at some point. But other than the excessive warmth, this is an excellent couch.
Pros
Very flexible
You can bring it anywhere you want
Very light yet comfortable as a normal couch
Use it as either a sofa, bed or both
Can also be used outdoors
Waterproof leather cover
Very cheap considering this is an all-in-one sofa bed
Cons
Tends to be extremely warm when sat on or laid down too long
Very affordable for its price
If you are looking for the best gaming sofa that caters to casual gamers, then this is definitely the sofa for you.
4. Flash Furniture Eclipse Series 2-Seat Recliners — Best for the household of 2 that both loves to play games. This was built for gaming pleasure.
Flash Furniture brings you the Eclipse series: a model type designed for watching movies and playing video games.
Whether you're a movie junkie or a video game addict that has a large budget, this seat is just for you. This is most ideal if you have a family or roommate that loves to play games as much as you do. Works best with co-op games, competitive games, and fighting games.
If you want theatre-quality seats, then this is certainly the sofa for you, especially if you have a partner, best friend, family member, or spouse in your house.
This sofa has several key features:
It has a push-back recliner feature. No need for a lever. Just lean down and use your back against the backrest and you have yourself a mini bed.
Cushions are what make up the whole comfort of this loveseat. They're quite bouncy but not as elegant as memory foam.
Its cushions are fire-resistant too, making this a very safe chair to sit on and not have to worry about fire damage. It is what mainly makes up for the price.
The leather cover is polyurethane resulting in a durable and very comfortable surface. It doesn't even get very warm too if sat on for a long time. This also means it is waterproof which makes up a lot for the cupholder.
The cupholders in the middle look very classy and emulate the same feel as that of a movie theater. It even has a slider cover in case you want to use the middle as either cupholders or an armrest.
The dimensions are 68" x 43.5" x 43.5" and weighs in at 162 lbs. Quite heavy and quite large, this is most recommendable for the living room or entertainment room.
Now onto the cons:
If you happen to be the only one in the household who enjoys movies and games, this is too pricey. This is specifically designed for 2 people who share the same interests. You might want to look at Divano Roma or Mecor instead if you need a single chair.
Another flaw I need to bring out is its thin leg rest. Sure, it has metal support but it does feel a bit too light for its feature. Leg rests are supposed to be added cushions for the lower limbs, not just a plated surface.
Not to mention if you recline it, it is not as comfortable as the single-seat sofa counterparts. This is best when it is in a chair mode.
Pros
Great for gaming partners
Theatre-quality seats
Cool and comfortable cushions and cover
Armrest in the middle can be cupholders by using the slider
No need for a lever to recline the chair
Cons
Not ideal for solo gamers
Does tend to be very expensive if only one person uses it
Thin leg rest that feels more like a lazy design than a real feature
Annoyingly uncomfortable recliner mode
Otherwise, the Flash Furniture 2-Seat Recliner is still one of the most well-designed loveseats ever created. It truly is a seat made for gaming partners. But if you are on a solo flight, look elsewhere.
5. Coaster Home Delange Luxury Sofa — the mother of all entertainment loveseats. Best for the gamers with high budget and with a gaming partner.
Last on our list of best gaming sofas, we have the Coaster Home Delange Luxury Sofa. This is a loveseat truly made for entertainment savvies, whether movies or video games.
Consider this as the thicker rendition of the Flash Furniture 2-seat recliner and with even added bonus features:
Unlike the previous sofa, this one has wire sockets and USB wires, making this ideal for phones on the side, controlling the TV or charging wireless controllers. With such feature, gamers don't have to connect the controllers all the way to the console. All they have to do is plug and play via the center of the sofa.
Besides the sockets, the middle even flaunts a dashboard to place your phones or controllers on. Or maybe even food.
Much like a first-class airline, the seats are faux leather and cushions are the polyurethane foam, making this the most comfortable sofa in this article.
The armrests on both sides of each seat can be lifted and used to store materials in like video games, remote controls or various gadgets. Both sides can even be cupholders that even provide extra cooling.
Its recliner mode is also push-back but unlike Flash Furniture, this one treats you like royalty. This is totally the best recliner mode too. It may be a sofa but it is twice more comfortable than any sofas in the market right now.
Last but not the least is the inclusion of LED headlights on top of the central dashboard. Great for when someone is scared of horror games too.
Its dimensions are 85" x 40.2" x 41.8" with a weight of 97 lbs — surprisingly light for its heavy looks.
As for the flaw, it also has to be the LED lights despite them being features. There's really no actual purpose for these since you have lights around the house and on your phone too. Unless your room is really dark, then the lights have a reason to stay there.
Overall, this is by far THE BEST gaming couch in this category. It is comfortable, safe, accessible, ergonomic, and tech-friendly. If you have a thousand dollars to spare, you should definitely spend this so everyone in your family will have a great time. This is certainly the perfect furniture for entertainment, both movies and gaming.
Conclusion
The best gaming couch in this article is really the Coaster Home loveseat. It is the prime example of how the best sofa for gaming should be.
But if you don't want to blow so much budget and just want a fun couch, go with the Merax Pu sofa bed. Not only is this inexpensive but it is also multipurpose. It's also the best for mobile players, Switch gamers and laptop users.
For the solo players, I definitely recommend the Mecor microfiber recliner. It may not have the most sophisticated looks but when it comes to gaming comfort, this chair certainly delivers. Not to mention it has a massage controller too. Best to sit down on after working hard at the office.
But in the end, it is always your preference that matters. These are just recommendations as these are customers' favorite choice for gaming.