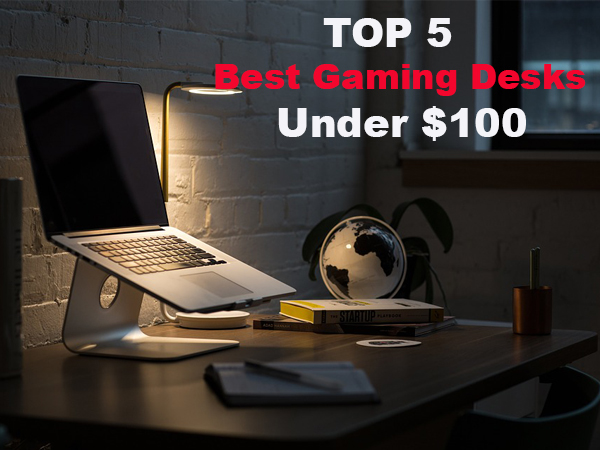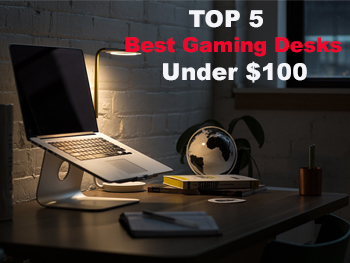 We have covered the relaxation of our precious gaming butts with great gaming chairs and bean bags. We shopped through genuine sounds with great gaming speakers and headphones. And finally, we went through different gaming desks if you got loads of money. But what if you don't have enough cash to spend for a swanky new PC desk?
What if you can only afford a gaming desk that is less than a hundred dollars?
In today's article, we will be discussing 5 great gaming desks that you will totally love under $100.
The list will be divided into two categories: one for the L-shaped desks, and another for single desks.

Ready to go shopping? Learn the rest of what we have in store right now:

L-Shaped Gaming Desks
This category is for the buyers who want a broad gaming set-up. The two mentioned
gaming desks
in this list are both 3-piece sets, enough to occupy a small room. If you happen to be a multitasker, a live streamer or a home-based worker who loves to spend the whole day with the computer desk playing video games after work hours, this category is definitely for you.
Green Forest is a furniture brand known for making professional designs. As their name implies, Green Forest isF economic-friendly, building chairs and tables with sustainable materials and sturdy recycled products. They are also known to be one of the sturdiest furniture brands to exist.
Sleek and sophisticated. That's how the Green Forest L-shape desk should be described. In fact, it looks much better than any office desk in corporate buildings. The material is made from medium-density fiberboard, or MDF for short—this means it can hold up several heavy items on its surface, even for years ahead. It is intentionally made to be like an office table suited for your home: a surface for a monitor, a laptop, a printer, some books, and decorations. Leg space is also pretty good and leaves enough room for you to stretch your lower limbs.
But is it suited for gaming, especially for PC? Based on the material this desk is made from, yes, it definitely is.
The L-shape desk works best if you have multiple monitors, around 2 to 3 of them, mirroring. Along the monitors, you can even have an ample space for you to place your laptop or gaming speakers with. If you fancy, you can even place your fully rigged CPU on it.
The overall dimensions are 58 x 44 x 29 in, with a combined weight of 82 kg.
The feet of the table are latched with "foot pads"—made with a resin that acts as suctions on the floor to prevent your desk from moving.
It's a professional design. It just appears so good to look at and really simplified that it blends superbly with any house, especially those with the modern layout.
However, there are no major flaws in this product, other than the fact that it may be a bit too pricey for you. This was primarily made for office work and gaming/leisure being secondary.
There are no keyboard trays present here, although that itself is not a huge problem. For $99.99, you're paying for style points instead of overall functionality.
This, however, is one of the easiest desks to assemble. Heck, even my 82-year old grandfather can build this up in no time. The instructions are clear, screws are tight and overall stability as a desk.
The question is, is it a performance desk? That depends; if it's for an office/business set-up, then yes. But as a gaming set-up? It can be, but it wasn't exactly made for video games.
Pros
Sophisticated looks
Easy to assemble
A simple layout that results in a flaunty appearance
Feet are made with suctions to prevent your desk from moving often
Makes the room look all the more professional
Lots of leg space
Cons
Could be too pricey versus its own functionality due to some lacking features such as no keyboard tray nor cooling rack for the CPU at the bottom
It's still a great
desk for gaming
, but if you prefer style over substance, this is definitely a great choice for you.
As opposed to Green Forest's sophisticated sophistication, over here on our 2nd gaming desk in this list is also lavish—but in a punk/edgy kind of way. Meet SONGMICS L-shaped PC desk; not as smooth or curvy as the Green Forest's but packs more features for all your PC master race needs.
SONGMICS is a German company that caters to any household for whatever room in the home. The company is fairly new since it only brought its debut to the world in 2012. It may be a fresh face in the furniture marketplace, but their products have been constantly receiving rave reviews since they are known for having the knowledge on how to adapt to a particular demographics' desires.
Lo and behold, one of those demographics include the society of gamers.
Presenting, SONGMICS' L-shaped 3-piece computer desk that looks and feels so suitable for the gamer, whether the casual type or the competitive spirit. They may not have any other lineup for the gamer demographic, but the desk itself is a tabletop any player, especially the PC enthusiast, must definitely have.
Got a big-ass rig with multiple monitors as well as various accessories for your PC set-up? Then this is the
gaming desk
under $100
that you should have… no wait, this is the gaming desk
under $100
that you MUST have.
It's really the perfect L-shaped desk that is both inexpensive and blends so well with any gaming set-up.
Here is the breakdown of the specs:
Dimensions are 59 x 54 x 29.5 in, weighing in at a quite heavy overall weight of 106 kg. The surface is made from P2-grade chipboard, which is essentially thick wood made for tables to withstand heavy weights, and its legs are cross-shaped steel beams with veneers (yes, the same stuff for artificial teeth) to ensure a safe and durable computer table.
The desk is also extremely easy to assemble, with a simplified manual on how to build it up. Anyone can do it; a teenager who loves to assemble equipment, a young adult who loves video games, or even an old geezer who so happens to like furniture.
Remember when I said that the Green Forest was cool and all, but it didn't have certain parts that are deemed important for the gamer? Well, this one will not disappoint you at all; it has a keyboard rack leaving you more room for extra items and objects you want to place on the desk and my personal favorite, a CPU rack in the middle piece of the desk. The rack will help in the ventilation of your CPU, which not only keeps it cool and minimalizing the chances of overheating but also helps prevent the CPU from any fast dust build-up.
You can even separate the set into two individual tables—maybe if you have someone else at home who does computer gaming too, or you just want a separate aisle for console gaming. Not only is this table large, but also acts as a multi-purpose desk.
Before I forget, the table can also withstand heavy objects up to 243 kg, making this very ideal for large PC set-up, combined with a console platform. If shipped to you, SONGMICS will guarantee that it will be delivered with lots of special care.
For the flaw, there's really not many issues about this product in all honesty, other than the fact that this desk is very heavy compared to the others in this list. But for just $85.99. this is a real bargain.
Pros
Easy to assemble with a simple manual
Large surface to place on various equipment besides monitors and laptop
Provides a keyboard rack
Generous enough to add in a CPU rack
Can hold anything up to 243 kg
Can be separated into two tables independently
Sturdy assembly, easy to build, wide enough space, a CPU rack, a keyboard rack, a surface that holds heavy equipment without being ruined even for years to come, yes the SONGMICS L-shaped 3-piece PC table is the definitive
gaming desk
under $100
. Do not hesitate on this, because this was made for the gamer in you.
Single Gaming Desks
If you don't have enough room for an L-shaped desk or just want a smaller one, this is for you. If you are a
console
gamer or a PC player with just a laptop or have a set-up with a single or double monitors, you would definitely want to take a gander here.
3. BHG Black Gaming Desk – the best choice for the gamer with minimal equipment
If the SONGMICS L-Shaped Gaming Desk is too large for you and you only need a single table, then this definitely what you should be purchasing. The BHG desk is pretty much a single version of SONGMICS' desk and is intentionally made for gaming.
This comes with a lot of perks: first off, this is a great table for players with just a single monitor or two to three medium-sized screens (around 14-25"), enough space for a keyboard, a laptop and speakers. Unfortunately, you can only place your CPU underneath, unless it's a pretty small one and not like a roaring Autobot from Transformers.
Second that I would point out is that the same materials from SONGMICS were also used in this one: P2-grade chipboard top with metal leggings—strong enough to withstand even the heaviest of gaming hardware, from PC to consoles.
There's not much to know about BHG or "Better Home & Gardens" more than just being a catalog of various furniture from indoors to outdoors. Despite the missing origins of this brand, they are quite reputable on Amazon and E-Bay for distributing top quality furniture. And in the case of purchasing a good gaming desk under $100, this is definitely a bang for your buck.
Now onto the dimensions: 47 x 23 x 29 in, weighing in at 17 kg, which is fairly light despite the hardwood and metal bottoms. As for the assembly, just like the L-shaped desks, this is very easy to assemble — actually, much easier to do since it's just one table and only a few screws.
Are there foible areas in this product? Not majorly, but just one that does lack: it doesn't have any keyboard rack, just like Green Forest's L-shaped desk. It does have suction feet too though, just like the 3-piece tables, but they do look smaller. That may not be a big deal, but maybe that is to make the table look cute.
However, in terms of appearance, it does look too plain. It's not ugly, nor is it an interior fashionista's favor, but it does look just like a basic thin table. Although if you don't mind the looks, then BHG's desk is still a great functional table top.
As for the price, I am personally surprised that this is more expensive than SONGMICS' 3-piece table set. Is it because of the customized lightweight materials? I am pretty sure that is the only good hypothesis to come up with that's why it's pricier, despite being manufactured with similar components.
Pros
Lightweight
Extremely easy to assemble
The table has surprisingly a lot of room for various hardware including monitors, keyboards, consoles, and live stream materials
Fits very well in any room you want it to be in
Also works as a great gaming desk for console players
Cons
No keyboard rack
Plain basic design
Oddly pricier than SONGMICS' L-shaped 3-piece desk
So, is this a good catch? Yes, it definitely is a great choice, especially for gamers whose rooms are too small or just prefer a more compact desk for an area that is not solely meant for huge gaming set-ups. Without a doubt, this is tremendous for bedrooms or living rooms, rather than a private office room or even a house library. For a
gaming desk
under $100 as well as the good compression it brings to a room, this is also a must-buy.
If you're looking for a slightly more expensive desk for gaming, I present to you, Flash Furniture's glass-based PC desk.
This has to be the most beautiful computer desk in this list, and the thick tempered glass alone is a stand-out yet it flaunts along other dapper pieces in this set: curvy X-crossed cherry wood legs, a black matte keyboard rack that slides smoothly like butter melting on a breakfast toast or Gordon Freeman's slippery movement in Half-Life and "floor slides" that are as responsive as Unreal Tournament's accurate as heck controls.
You might be wondering if the top is going to break if you plan on using two monitors. Take note that this is very thick tempered glass, meaning it can withstand moderately heavy hardware.
If you have a fancy keyboard like the chroma type or the MLG kind, this table is going to help you flaunt your gaming set-up. Take a picture of your video game ensemble and I promise you that your friends or whoever follows you will say, "Damn, talk about PC master race."
Much like BHG, Flash Furniture is also a catalog-based manufacturer, although unlike the former, Flash Furniture is extremely well-rounded in its own products that they produce more than just for homes and offices; hospitals, restaurants, industrials and even clubs. It is a US-based company that a lot of clients choose due to their designs that age very well, alongside modern concepts that will aspire the future layout of furniture.
While this may not be intentionally made for the gamer, they did, however, make an extremely smart and professional design on this one. Not to mention, those X-crossed wooden leggings are even sexier than any of the girls from Dead or Alive (okay, maybe on par with their sophistication). They are made with thick cherry wood, accompanied with thin metal railings that do not overcomplicate the general design of the table.
Its dimensions are 23.5 x 39.25 x 29 in, with an overall weight of 18 kg. This is glass we're talking about, so that means it's pretty light if it was not for the wooden leggings and metal rails.
Underneath all of it are the small wheels below the wooden pegs. Quite honestly, the movement of this table feels so sleek, you would think it has tighter controls than any racing game. Moving it alone already feels addictive. Be warned not to do that when your desk is fully equipped, okay?
Honestly, it's beautiful to look at. The contrast of the black colors against the vibrant palette of the wood accompanies so well with whatever PC or console set-up you have, trust me when I say it is miles away much more appealing to view than the graphics of Marvel vs Capcom Infinite.
But not all is perfect, though. In fact, there is a huge conflict regarding this product: it is extremely tough to assemble. This is by far the hardest build-up in any of the list. Maybe that's what we get for ironically having the most appealing gaming desk under $100. The manual given is not clear at all to the point that you might just ask a friend or a family member to come by and help you out. And yes, this takes a few hours of your time to complete it.
Another ho-hum that should be mentioned is that the glass is a slip-in on the open platforms resting on the top of the wooden stands. This is a bit of a concern for anyone who is not very careful with items; besides that, if you plan on boosting your speakers up to the max, it might vibrate the glass so hard, it could slip out of the platforms. No, this won't break the glass via sound pressure but if you aren't observant, this will mean doom if you do not take good care of it properly.
Not to mention this is glass, so it's beyond extreme for the top to be prone to smudges. If you are a constant cleaner, this won't be a problem at all. But if you're too lazy to wipe the desk, it will just produce unaesthetic properties of fingerprints, wet smudges, and food spills. Lastly, it does feel narrow compared to the other wide desks for our list.
Pros
Best-looking gaming desk compared to others on the list
Great keyboard rack sliding
Wheels underneath the desk are not very sensitive
Lightweight
Tempered glass that can withstand a decent amount of hardware
Cons
Difficult to assemble
The top feels a bit too narrow
Placement of glass feels awkward to the point that it can slip out if not too careful
Prone to lots of smudges if not cleaned properly
Other than any of those flaws, this is still a good gaming desk, along with the rest of the tables. This is more of a high-maintenance top because of the glass alone, but if you don't mind the consistent cleaning, this will forever be a good look for your gaming set-up. Just remember that you are paying for the sophistication of this table, rather than being just another computer desk.
5. Sauder Wooden Computer Desk – For the gamer that loves a classic feel for an affordable price under $60 or for those who are new to PC gaming
Last on our list of gaming desks under $100, we are going to take a step back and venture to a more traditional type of table. Here is Sauder's own wooden PC desk – the most inexpensive in the list as well as the very classic design with a bit of a calm contemporary layout.
Sauder is a well-known American furniture company that has been around since 1940. Most notably, they are extremely reputable for their wooden products. They present no other items here than those made from logs. Sauder has a good popularity when it comes to the strong wooden distributions they bring out, from a kitchen cabinet to bed frames.
If you cannot afford the professional or modern-looking gaming desks, why not just settle for a more affordable type that is a good starter desk without having to look very basic or plain?
For those that live in a more rustic home design, Sauder's wooden desk is right for you. If you're pretty new in the world of
PC
gaming and want to start off somewhere without blowing too much cash, this wooden desk fits quite well.
Unlike the others on the list, this one has a cabinet that is great storage for flash drives, hardcopy PC games or extra wires. The desk even has 4 separate platforms: one for the monitor, another for the keyboard, a surface to place in a CPU and another above it for either decorations, additional accessories or a printer.
Dimensions are 40 x 19 x 34 in. It is 7 kg when assembled, but while it is boxed and untouched, it is 26 kg. The material is made from cinnamon cherry, which is known to be one of the tightest and strongest types of wood. Assembly is fairly easy to follow too. Not very simple but at least it does a good job in pointing instructions.
It does have a nice nostalgic feel for any longtime computer owners. The vibe honestly brings back the classic 90s fast-paced run and gun shooters like Wolfenstein 3D, Doom or even arena games like Quake or Unreal Tournament. It's homey, it's cozy, it just brings back great memories with this kind of computer desk.
Beyond it also resembles all the troubles we've had during those times of basic PC game set-up: since this is basic woodware, this has no support on the bottom for movement or guaranteed sturdiness—as in no wheels nor any suctions underneath. And if you're not careful about it, you may end up wobbling the desk as time goes by.
The keyboard rack may be there, but it does become pretty unresponsive when years go by unless you lubricate the wheels that make it slide.
It also cannot place 2 monitors together because of the narrow main platform for the display. But the biggest concern here is the fact that this is wooden everywhere. And in the case of the CPU, especially high-powered ones, it can heat up much more than usual.
Remember that wood is an insulator, absorbing heat from any source.
Now, this will not burn your table since cinnamon cherry wood can withstand high temperatures, but the main concern here is the CPU—since the platform it rests on is an insulator, there is minimal ventilation, which can harm the rig.
But hey, it's what you get for a product that is less than $60. It's not terrible at all, it's just that we've moved on from those past troubles before it as well as lived to tell the tale about our glory days of playing Counter-Strike 1.1 or Starcraft on such a low budget gaming desk.
Pros
A classic design that everyone knows and loves
Great for the PC gaming novice
Most affordable gaming desk under $100 in this list
Surprisingly simple enough to assemble
The desk is made from cinnamon cherry wood, which makes this product strong
Has an additional cabinet
Has 4 different platforms for different purposes
Cons
Hard to move
Prone to balance damage if you drag it along the floor
Desk tends to heat up from the CPU's power
Not much ventilation space for a high-powered CPU
Can only display 1 monitor due to the narrow spacing
Once again, if you are new to the world of PC gaming, this is a good bargain, assuming you are overwhelmed with the fanciness of the modern gaming desks and just want to start out small.
This actually fits well for a
console
gamer with a small TV screen too, particularly those with 25" screens or less.
Summary
There you have it, 5 gaming desks under $100 which are all good in their own ways.
If you desire a gaming desk that rises above all, just go with SONGMICS' L-shaped desk. It's got everything you want as a hardcore gamer—large and wide space, a tray for your keyboard and a rack for the CPU to help in ventilation. For a generous price of $85.99, it's very worth its own value.
For the multitasking gamer who prefers to work at home but still want that great office style, the Green Forest L-shaped PC desk is right for you.
Not into large 3-piece sets and just need a small one for your bedroom or the family entertainment room? No worries, BHG's Gaming Desk will solve that—it's like a compact version of SONGMICS minus some additional features of course, but it is still a great piece of the tabletop for gaming.
How about a gaming set-up with more pizzazz and chic? Go with Flash Furniture's glass PC desk. This is especially great if you have an expensive keyboard since it really shows off the design along with the table's layout.
Are you new to PC gaming? Don't try to spend much and settle with how most novice PC gamers started out on a wooden desk like Sauder's computer desk. It's also great for console gamers and laptop players.
Which one are you preferring to buy? Because whatever you choose here is always right as long as it caters to your preference and satisfies your needs. Let us know in the comments below!