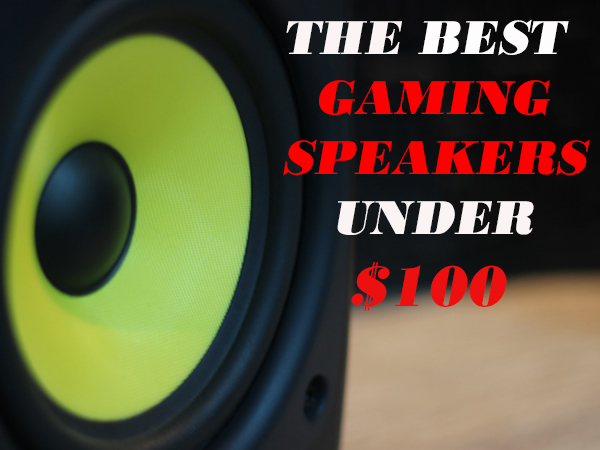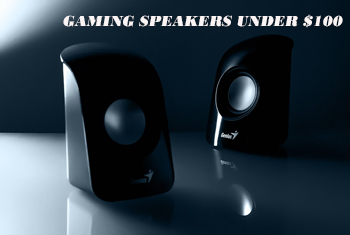 Sound is an important aspect in gaming besides graphics, gameplay, storyline and immersion. Could you imagine what gaming would be like without sound?
The classic Atari game, Pong, would not be memorable if it didn't have the simplest "ploot" sound when the pong hits one of the bars. Hideo Kojima's Playstation masterpiece, Metal Gear Solid, would not be stuck in everyone's head without the surprising alert tone when the enemy discovers you with a "!" on his head. And who wouldn't forget the Gregorian-esque music whenever you start up Halo and witness in awe on the main menu? Remarkable, aren't they?
But do you know what makes our gaming experience much better when it comes to sound? High quality speakers, of course! In this article, we'll be focusing on 5 state-of-the-art speakers that are designed to immerse you even more into the gaming world.
"Gaming speakers? Is that a thing?" Indeed, it is! Some may prefer using
headphones
, but for those who are looking to have a really beefy sound experience and the beauty of surround sound, the following gaming speakers are sure to amaze you in their own ways.
Get ready to choose which of the five sets you will want to consider taking home.
We will be focusing on the overall appearance, the peak power, the watt RMS, the main purpose of the gaming speakers, and the price if it is really worth your money.
Take note that all of the following gaming speakers are 2.1. These are the following best gaming speakers under $100.
1. Cyber Acoustics CA-3602 – The best high-quality speakers for gaming under $40
Ah yes, Cyber Acoustics – one of the most underrated brands in the audio platform. If you haven't heard of them, Cyber Acoustics has been around for more than 2 decades since 1996 and has always been delivering top quality gadgets and appliances for the audiophiles and music junkies.
Rising to the occasion and looking to compete with other brands, Cyber Acoustics' CA-3602 may not be their forefront fighter versus other major gaming speakers such as Genius' SW-G2.1 500 and Logitech's Z623 200 (which we will be discussing later on), but nonetheless, unlike the two latter audio sets, CA-3602 is much more inexpensive, yet not for the worse; keep in mind that if you are searching for high quality gaming speakers while on a tight budget, you should look no further.
Cyber Acoustics is honestly more catered towards musicians and the general audience looking to purchase audio speakers for their homes. Sorry, no gaming series from this brand, but do not fret.
The CA-3602 may not be intentionally made for gaming purposes, but it does work as a good audio set for the players who desire to blast the sounds of warfare during multiplayer matches or immerse themselves in a game with a rich storyline.
Despite its lower price, the set, however, is larger than any other in this list: 11.5 x 12 x 9.5 inches in dimensions, with a heavy weight of 16 kg.
The 5.25" subwoofer is portable enough to sit beside on your computer desk (given that you have enough space for it, of course) and comes along with a pair of 2" arched speakers that honestly look quite sexy, contrasting the blocky-looking subwoofer.
The best part of this set, I have to say, is the mini control pod. I don't know if it's just me, but the control pod is what really takes the spotlight in the set due to its simplistic yet very modern look that becomes the universal remote for the audio set.
CA morphed the remote control into a device that's not just fancy to look at, but also very ergonomic – the well-lit LED power indicator, volume controller for bass, treble and master volume, and of course the 3.5 mm audio jack which always comes in handy, albeit your PC, laptop, game console, phone, TV or whatever handheld device you have.
Honestly, putting the audio jack in the control pod rather than in either of the 2" speakers was a right decision; goodbye to having to reposition your speaker if you need to plug in the jack, especially if the wire is pretty short.
As for appearance, it may not be the most modern-looking speakers built for gaming, but it checks out to look stylish and appealing for your room. It only comes in black though, but hey, black would always fit with any room, right? Quite frankly, it really does not look like gaming speakers at all or in general, but it certainly helps in putting more aesthetic in your gaming set-up.
However, in terms of overall "bad-ass" sound power, it's pretty lackluster: 62 watts of peak power and 30 watts RMS. This means the bass could be tearing up against the master volume if you are crazy enough to crank it up to the highest volume.
But hey, you pay what you get, and if you're looking for gaming speakers while on a budget of $40, this is honestly not bad, especially if you are not looking for the high-end kind of gaming speakers.
Again, this audio set has quite a high value for its price – $40 for a high-quality speaker set is but a rare occasion.
If you don't have the desire to invest in high-priced gaming speakers, then look no further.
Pros
Very affordable and reasonable price for a high-powered audio set
The portable control pod that configures everything that you need for your speakers
Not much wires
Theater-quality sound in general
Cons
Bass needs some tuning initially after purchase in order to achieve your sound preference
Not the crispiest and beefiest sound quality compared to the others in the list, but it checks out for its lower price
Very heavy subwoofer
Not as sleek or very modern compared to the other speakers in this list
Currently price: $39.99
2. Genius Gaming Speaker SW-G2.1 500 – Built to last long without sacrificing quality, all under a good price
Genius products; you've seen them, you've heard about them, you've probably already tried them. Genius is well known for creating good quality accessories and kits for the PC in reasonable prices.
What I personally love about Genius is that they have a wide array of products that appeal the different tastes as well as being flexible with the amount of budget potential buyers have; they can go from simple but casual in inexpensive prices, to the most hardcore of gamers and PC enthusiasts, Genius provides them with comfortable yet sleek products that will make you proud as a gamer and computer hobbyist.
Lo and behold, the SW-G2.1 500; this audio set is not really new in the market, however it is tried and tested by hundreds of satisfied audio geeks.
You know an audio set is made for gamers if it has an edgy scorpion design etched on to it, case in point, Genius' speakers.
Now you might be thinking, "If this was made by Genius, then it should probably only work well with the PC! Guess I'll have to find another set for my console," Hold up there, space cowboy. You see, the Genius speakers has an audio jack built for any sound-required hardware, so that means this works really well with console gamers too.
Whether you're playing Horizon Zero Dawn on the PS4, Sunset Overdrive on the Xbox One, Super Mario Odyssey on the Switch, PUBG on PC or even Fire Emblem Heroes on mobile, SW-G2.1 500 was made to enhance your gaming experience with top-of-the-line sounds.
The set comes in 3 items: the subwoofer and the speakers. The dimensions are 8.7 x 10.4 x 7.7" and 1.9 kg in weight, quite smaller and much lighter than Cyber Acoustics' set. The subwoofer is made from wood, meaning you get a more solid immersive experience when you hear that bass drop, especially on warfare-based games.
However, unlike Cyber Acoustics, this one is much bulkier and a bit too old-fashioned in terms of looks; no fancy LED, no separate control pod and it just appears very boxy, compared to the rest of the audio sets in this article. If it wasn't for the etched scorpion design, you would think it's another casual appliance made for the general audience such as Cyber Acoustics.
In terms of sound power, you might be disappointed by this one: 15-watts RMS. Ironically, for a set of gaming speakers, this one has the weakest in the bunch. But hey, would you need more 15 watts if you're just looking for an audio set with just the right amount of sound power if you're not into the serious gear? After all, the SW-G2.1 500 is still considered gaming speakers. Just don't expect this to pack a punch unlike the next two gaming speakers that we will be discussing later on in this article.
Despite its poor peak power, the overall sound quality and lightness make up for that as well as the general appearance of this set of gaming speakers. I mean, Genius has always been like that, which is fairly good about them.
They may not have the best-looking products compared to their other brands, but when it comes to durability and longevity, this is where Genius really shines. That is why a lot of people still trust the brand. What's a sleek design if it won't last long when you can have something simpler in terms of product façade and can endure the test of time for so many years?
This is definitely recommended if who are looking to level up their gaming platform with speakers that are affordable for its value, as well as if you seek to invest in a brand that aims to be with you for long periods of game time. It may not be under $40, but it really gets the job done and totally a bang for your buck.
Despite the blocky looks and a high probability of sound tearing, Genius' gaming speakers will still flaunt your personality with a screaming, "Hey look at me, I am a gamer" look on your play set-up.
Pros
Subwoofer is made from wood to deliver crisp and big impacts on sound delivery
Great balance in bass and master volume from the get-go
Lasts very long without sacrificing its sound quality as years go by
Lightweight and easy to set-up
Good price for serious gamers on a budget
Cons
No control pod nor remote control – everything must be done upfront on the subwoofer
No accurate adjustment for bass and treble
Bulky design
Appearance looks a bit too basic
Current Price: $49.99
3. Logitech Z623 – For the audio savvy gamers, with a desire for a great THX experience
Much like Genius, Logitech is a brand that a lot of gamers recognize. If anything, Logitech is the big brother (or sister) of Genius and is also one of its main competitors. Unlike Genius, however, everyone knows Logitech has products that have sleeker designs but ask for higher prices.
Ergonomics is the name of the game for Logitech. And ergonomic indeed is Logitech's Z623.
Sure, it may not have the control pod just like Cyber Acoustics but its accessibility is still good, due to the controls being on one of the speakers; a very simple compilation of analog controllers for master volume, bass and the power button.
It's a very simple set, really. But do not let that fool you: you may think it's another usual audio speakers on the outside, but how it delivers is what stands out the most in this list. This is enough to be considered gaming speakers.
We're talking about THX-quality sound. You know, THX – that loud intro that you always encounter in movies and certain video games. Yes, the Logitech Z623 is THX certified; meaning these the two satellite speakers and main subwoofer pack a punch once you blast the sound. Usually, audio sets would need 4 satellite speakers to create a very surround experience, whether it's movies, music or especially in this case, gaming. However, due to Logitech's THX-certified quality, you only need 2 of its satellite speakers and the beefy subwoofer.
And my goodness, does this audio set really live up to its THX hype. Take note that the Z623 is a 200-Watt RMS device – meaning it is able to emit clear surround sound in an entertainment room with just 2 speakers and a subwoofer. It's THAT powerful.
Not to mention, it's Logitech – their products not only look good, but they last very long too.
Speaking of looks, it is very simple yet sophisticated at the same – all black, subwoofer designed in a perfect polygon with the 2 speakers contrasting the shape of the big box with their curviness that you may find similar to sports car headlights.
If you're looking to show off your friends or just simply entertain yourself with great sounds while playing, this is the one you should be looking out for, given that you have enough budget for the set. Yes, this is, quite frankly, much more expensive than Cyber Acoustics' or Genius'. But it's because of how it delivers sound that makes the price of this be reasonable in its own way.
And with a heavy price, comes a heavy weight too: a whopping 9 kg, with dimensions of 11.87 x 17.31 x 12.25"; not as heavy as Cyber Acoustics but still not as light as Trust Gaming's GXT 628 or Mackie's CR3.
According to audiophiles, if you are looking to prove everyone how much of a sound critique that you are, you should definitely buy this, BUT ONLY if you can afford it or you are willing to spend a ton for top quality gaming speakers. Its cost is definitely worth the money, whether you're looking to party up with friends who want to play in your house or just simply enjoy your me-time without worrying about budget, let this be a reason for you to purchase one. Besides, it's THX-certified. What more could you ask?
Pros
THX-certified sound quality, ensuring that any sound emitted will be just like the theaters
200-Watt power that certainly delivers clear sound quality even at the highest volume without any tearing or broken bass effects
Simple yet sophisticated design
Ergonomic for any user
Only 3 items, yet it can rival other audio sets that have additional speakers
Quality lives up to its high price
Cons
Very heavy, even the speakers alone
Price may be intimidating for a lot of gamers looking to find serious sound hardware
Current Price: $99.99
4. Trust Gaming GXT 628 – The purest form of gaming speakers, tailored just for you
Compared to the rest of the gaming speakers in this list, Trust Gaming is a younger contender, but its beautiful assortment of products rival against the company giants that produce gaming accessories and hardware.

If you haven't heard of Trust Gaming, let me give you a small briefing: Trust Gaming is a new branch from the 35-year old tech hardware brand, Trust, that specializes in various devices from smartphones to PC. With their focus on creating serious tech for the serious gamers, you know you're in for a treat when Trust Gaming unleashes equipment made for the gamers.
And through this commitment, they have become a reputable brand that gamers prefer, especially in the competitive world of e-sports. In fact, they're brand sponsors for big name teams such as Unicorns of Love and Epsilon Esports.
Trust Gaming is also considered the number one choice in Europe, meaning these guys are really not kidding when it comes to producing top quality gaming equipment.
"So, what about their gaming speakers," you ask? What if I told you, GXT 628 ranks as the best choice for gamers, according to Amazon. Yes, you heard me right: this could be the gaming speakers you sought for all this time – because it's not simply made for multipurpose media, it was established FOR THE GAMERS. And if you happen to have the budget, say no more, because this should really be your top choice.
Let's get a round-up of why this is Europe's favorite gaming speakers, shall we?
GXT 628 covers dimensions of 17.13 x 10.04 x 9.45"; quite enough to fill up the space on your computer desk, weighs in at 5 kgs; not too light yet not too heavy—just right.
This gaming speaker set comes with a subwoofer that you thought came from space with its awesome blue-LED glow, 2 satellite speakers with wires long enough to position them to your preference, and my personal favorite since Cyber Acoustics, the analog control pod – no LED on this baby but it still looks appealing.
For its power, unlike Logitech's 200-Watt RMS, this one is just 120-Watt RMS, but do not ever let that fool you! You see, Trust Gaming was smart enough to decide to put this on just 120-Watt RMS because this gaming speaker set was made for the gamer, not for the movie or TV enthusiast all in all. And because of this number of watts, the sound quality is perfect for all the thrill-seekers through video games.
And unlike the rest on the list, the satellite speakers are big, bold and beautiful. Sure, it may not have THX-certification, but since GXT 628 had help via pro gamers' consultations, the sound delivery from the speakers will definitely make you feel like you are inside the game itself.
Another perk I would like to point out is that these gaming speakers are designed with Trust Gaming's exclusive Smart Power Management – saving lots of energy and goes to idle if it has not been used for an hour. Not only does the GXT 628 look and sound great, it is a witty design too. Think about how much energy you could save from your gaming speakers just from this simple detail. That also means this audio set will last extremely long for years to come with you. It automatically becomes active again once you start using it.
Overall, GXT 628 just looks amazing, no matter what your PC set-up or console set-up may be.
Speaking of consoles, the only flaw in this product is that it is not compatible with Xbox One, since that console does not include RCA output—which is a requirement for the gaming speakers. So, if you own an Xbox One and would like to have a (literal) blast with the GXT 628, I am sad to say that it is just not possible, unless you have other consoles or a nice PC.
If you want to showboat everyone how much of a gaming junkie you are and display your set-up to the world, Trust's gaming speakers are highly recommended.
Quite honestly, Trust's gaming speakers are cheaper but with more value than most high-profile audio brands, and again, GXT 628 was designed for the serious gamer.
Pros
A product by Trust Gaming – the number one gaming accessory brand in Europe with help from pro e-sports players
Weight of gaming speakers is just right – not too heavy, not too light
120-Watt peak, the perfect number for any gamer looking to hunt for that pinnacle of sound quality design
Lavish and sophisticated looks
Wires long enough for satellite speakers to adjust to your room
Offers Smart Power Management – goes into Standby Mode if it has been inactive for an hour until you play again
Large enough satellite speakers to emit booming sounds and a crisp volume-to-bass ratio on the subwoofer
Cons
Not suitable for the Xbox One, since this gaming speaker set requires an RCA output
Current Price: $83.20
5. Mackie CR Series CR3 – For the gamers who are also into multimedia
Last on our list of gaming speakers is Mackie's own CR3. Let's talk about the brand first before we get in on the rest of this product, shall we? Mackie has always been a powerhouse in the audio business, especially for the audiophiles, mixers, editors and musicians, looking to get that perfect grasp on sounds, from music to soundboards. It's no surprise if you have a musician friend telling you that Mackie is the best brand for speakers or headphones.
But what about the gamers? Does Mackie have anything for them? Just like Cyber Acoustics, they're more into creating products for the general audience, except Mackie has a separate series for the musicians and DJs. So, in this case, no they do not have anything special to offer for gamers, however that's not supposed to be the main focus here.
The main focus here is their show-off brand of speakers – the CR3. So, are they gaming speakers per se? Similar to Cyber Acoustics, not exactly.
However, it does have its perks for the gamer:
Unlike any of the gaming speakers in this list, this one only comes in 2 items – a pair large speakers; one with a control panel and one just for…well, being the other half of the pair.
Although, quite honestly, these speakers do look sexy and stylish. It would fit quite well in any gamer's play set-up with the CR3's smart-looking appearances.
It has a dimension of 5.5 x 6.2 x 8.2", 4.3 kg in weight and lit with neon green LED.
When it comes to peak power, however, this could be a let-down for you after knowing about Logitech and Trust Gaming; 50-watt power, enough for the casual audiophile. But for a gamer? I really would not think so. In fact, this really is not considered gaming speakers, although it could be if the gamer so happens to be in multimedia, in the music scene or maybe in the livestream field, such as Twitch or YouTube Gaming.
The Mackie CR3 is honestly towards more on the multitasker than on the serious player. Believe me when I say the sound quality is top-notch, yet it is just not worth the money – or in fact, too expensive for the gamer if they purchase this for the sole reason of gaming. If you aren't into music editing, livestreaming, or even watching a movie, quite frankly this is not for you.
But hey, they got Bluetooth for this so that means hassle-free from wires if you want to connect it with your phone or laptop.
Pros
Looks very stylish
Speakers are switchable in positions as they both deliver same sound quality in both master volume and bass
Bluetooth capability
Great for the multitasking gamer, especially those who are into multimedia
Cons
Not worth the money if your sole purpose is for playing video games
Not really considered gaming speakers per se, as it mainly focuses on multimedia technology
Underwhelming in terms of loud power with a peak of 50-watt RMS
Current Price: $99.99
Summary
There you have it, 5 great gaming speakers under $100 that you will want to consider buying.
If you ask my personal recommendation, I would have to say you should not think twice about getting Trust Gaming's GXT 628. It's just unbelievably good. They know your taste so well, that you could just end up kissing the gaming speakers because of how much passion Trust Gaming put in to tailor the audio speakers just for the gamers.
But if you're not willing to blow out so much money for gaming speakers, simply go with Cyber Acoustics' CA-3602. For just $39.99, you get to have nice-looking gaming speakers for your room, enough to flaunt to your friends.
However, if you want to level up just a bit more, go with Genius' SW-G2.1. Again, it may not be the best-looking audio set in the list, but it lasts very long for so many years, in terms of resistance to volume tearing and physical longevity. All that for $49.99.
If you cannot get enough of the THX experience that you usually get to feel first-hand in movies and gaming, why not got for Logitech's Z623. It's got everything you need to have that same experience; this audio set is THX-certified, of course. If you have $99.99, why not?
For the gamers who multitask in music, sound editing and scoring, as well as those who are in the general multimedia, the Mackie CR3 is the best. 2 big-ass speakers with a sexy design and clear 50-watt RMS power, for $99.99, that's quite the bargain.
Whatever you choose is up to you. There is nothing wrong in picking whichever gaming speakers you want. It's all just a matter of preference. Should you choose to be the serious gamer with serious audio hardware or just want to it casually in terms of sound, it really comes down to whether these gaming speakers are right for you.