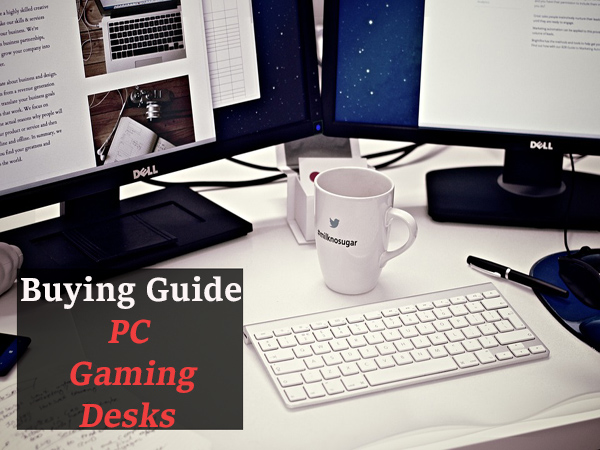 Types of Gaming Desks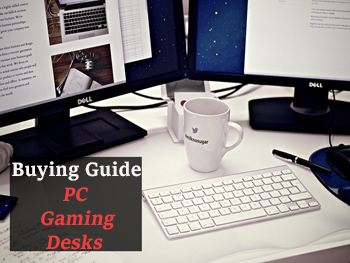 Even though they came just the other day, we have several types of gaming desks in the market. Each of these desks has a unique design and is suited for different types of gamers. In this segment, we are going to list the most popular types of gaming desks in the market.
1. Standard Desks
These are the most popular desks in the market because they are cheap and can be used for several other purposes. They feature a stand and a countertop and have no fancy features except for the appealing aesthetics.
2. L-Shaped
As the name suggests, they take the shape of letter L and are perfect for utilizing corner space. These desks offer more table room as it spans across the wall lengths leaving you in the middle with great ease of movement and accessibility. However, they are bulky and quite hard to assemble.
3. U-Shaped
This is another type of desk that is curved into a U- shape, perfect for gamers with multiple monitors. It offers more room to spread and access every end with more ease. Besides, they come with compartments for storage. On the downside, just like the L-shape, they are bulky and take quite some time to set it up.
4. Multi-Tier
This is a desk that has separate tiers and shelves for your equipment like keyboard and mouse. If you are not ready to spend on an L-shape or U-shape desk, this will be a better choice and is lighter too.
5. Sitting / Standing Desks
These desks are very similar to standard desks but they are more expansive and adjustable. They can be adjusted to s sitting position or a standing position.
6. Foldable Desks
If you are running low on space, this will be a great choice as it can be easily stored when not I use courtesy of the foldable design. This is the major difference that sets it apart from standard desks.
How Long Do PC Gaming Desks Last?
Durability would be an issue for some gamers who want to invest in it. This is in light of the fact that most gaming equipment including chairs are known to have very short lifespan before the gamepads become unresponsive or gaming chair fabric starts getting tattered.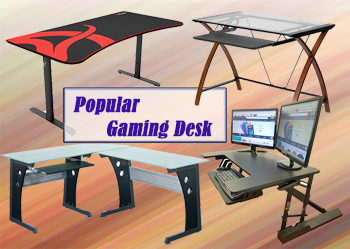 I wouldn't say that they would last for 1 or 10 years. Durability entirely depends on two dynamics; the build quality and usage. But again, a desk is brought to be used so workload shouldn't be much of a bother here so the remaining determinant is the workmanship. The conversation of build quality revolves around the material and that forms our next topic – materials used in gaming desks.
Popular Gaming Desk Materials
1. Glass
These are desks that have countertops made of glass. Even though they are expensive, they are classy and come out well in just any game lounge or office.
On the downside, it is very fragile and can break with the slightest carelessness. For this reason, I wouldn't recommend it if you are the type that gets filled with rage and starts lashing out. You might take out your anger on it and replacement is quite expensive. But if you still feel like owning one, make sure you get one with tempered glass.
2. Wood
If you want something solid and durable, this is what you should go for. Typically, a wood gaming desk will withstand all conditions and workload and can last over 10 years. Most L-shape and U-shape desks have wooden countertops. For gamers with anger problems, this is the perfect desk; hit it and it will take it!
3. PVC
These desks are made of plastic that is very appealing to the eye and can take different colors. They are also cheaper compared to wood but are not as long-lasting. For guys looking for an affordable and portable gaming desk, this is where the search should begin.
4. MDF
This is a great alternative to wood and is now becoming more popular with the high costs of pine and maple trees; the common wood used in wooden desks. This material has proved to be a great substitute for wood and surprisingly, it is made from wood chippings. Unfortunately, it soaks and swells thereby losing shape.
Benefits of a Gaming Desk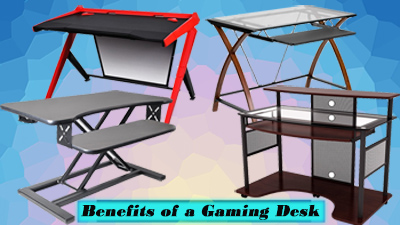 I know you must be asking yourself; why should you invest in a gaming desk when you can just play on any other table? Here are some of the advantages and benefits a professional gaming desk offers.
Everything in One Place
A professional gaming desk will help you accommodate all the equipment you need and ensures the table is organized when you're away. For example, the Techni Mobili Gaming Computer Desk comes with a tray for keeping notebooks and CDs, a hanger for your headphones, a stand for your Smartphone and even a cup holder, which is just fantastic!
Cable Management
Nothing sucks like having wires and cables tangling all over the place. If you hate this too, a gaming desk will be of great help as it comes with grommets that allow for easy and neat cable management.
Comfortable and Ergonomic
Remember, after you have invested in a console and your favorite titles, comfort should be the next big thing. Your posture and chair greatly determine your comfort and so does the desk. A gaming desk will offer the best height that will ensure your back is upright and not arched. This is the best and most importantly, healthy posture for long sitting hours.
Accessibility
Gaming desks have specially designed layouts that give you easy and unobstructed access to everything that you need; from the keyboard to the mouse and other equipment that you may need, including your refreshment.
Improved Gameplay
Even though it does not add you any gaming skills, it will definitely improve your gameplay. First, because of the comfort courtesy of a better sitting posture and second, it gives you better access to all the controllers.


Factors to Consider before Buying a Gaming Desk
Just before you pay for that gaming desk, here are some really pertinent concerns that you should address.
1. Brand
To most people, shopping by brand does not seem a clever idea, but it is. What we tend to forget or rather ignore is that the things that matter most is what top brands excel in; comfort, versatility, durability, name it! In a nutshell, top brands offer value for money and that's why the popularity!
Some of the brands you should look out for when looking for a gaming desk for your PC include; Techni Mobili, DXRacer, Z-Line, Atlantic, BHG, among others. Yes, these brands are expensive but as we all know, you get what you pay for!
2. Budget
What's your budget for a gaming desk? The market will offer you a gaming desks for whatever amount you have from $50 – $1000+. To avoid unforeseen expenditure, make sure you set a budget; maybe a minimum and as well as a maximum.
Most people tend to spend higher than what they had budgeted for and this may force you to compromise somewhere else; a rather undesirable situation. But look, I'm not saying it would hurt if you add a few bucks just to get that envied desk.
3. Gaming Space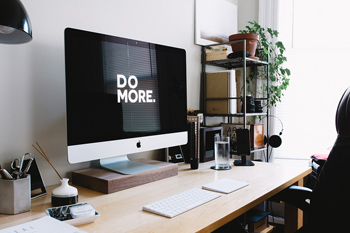 The first thing you want to consider when choosing a gaming desk is how well the computer desk fits your gaming room. You not want your space all choked up when you decided to add a gaming desk to the already crowded space you got. Or would you? So, ensure you consider the size of the desk and make sure it is in resonance with the size of your room with proper fit and design. If you have a small space to work with, consider getting a standard gaming desk with compartments to save space and keep all your stuff in one place. However, if you have ample space, don't be afraid to go overboard even with a Z desk.
4. Type and Design
There are gaming desks of different shapes to suit different needs. Make sure you choose a desk that can easily match the room and space you have. Besides, it should match the titles you play and the equipment you use. For example, for FPS titles that require secondary controls, a U-shaped desk is the best as it gives you easy access to all the controllers.
When it comes to design, the first question you want to ask yourself is "how many monitors am I going to use on this desk?" If you are going to set up at least two to 3 monitors on the desk, then find out if the said gaming desk is up to the task.
5. Weight of Gaming Equipment
Another important factor that no one seems to be addressing is the weight of your gaming equipment. Amongst PC gamers, for example, you will agree with me that a gaming CPU machine weighs quite a lot and if you were to keep it together with a monitor and other peripherals on your desk, its load capacity would really matter. Yes, it does, make sure it is sturdy enough and crafted from strong materials lest you end up with a desk that's curved in the middle.
6. Materials
What Material Is The Gaming Desk Made Of? The main reason anyone would want to consider the material of a gaming desk is to get a feel of how sturdy and stable is the computer table. Isn't it? In the case of a gaming desk featuring glass, you want to consider a table that features a tempered glass as this isn't susceptible to scratches, but stays smooth with a stylish and modern feel. While other gaming desks will also have high-quality materials that are made of wood, PVC, and steel, the most important factor is to know whether they are sturdy and stable enough to hold your coveted gaming peripherals.
7. Assembly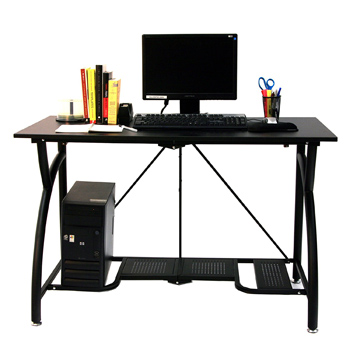 You'd agree with me that if a device is simple and straightforward to install, it won't take much of your time, right? So, it will be a great idea to go for a unit that has easy installation and also features the right tools. Personally, I prefer a pre-assembled unit that doesn't even require the help of another person. Such products with excellent durability and top of the line functions are indeed a force to reckon with.
8. Storage & Organization
An average PC gamer will have a keyboard, mouse, monitor, CPU, a few game CDs, maybe their shades, Smartphone and so many other things. What makes matters worse is the wire and cable clutter. A good gaming desk will first have desk grommets that allow you to have a clean and neat cabling system that doesn't tangle or spill coffee over when you accidentally step on them. Others have compartments, trays, holders and surprisingly, cup holders to keep your refreshment. All these are features that you can't afford to lose especially if you are the type that loves to have everything in one place.
9. Ergonomics
A good desk should not focus only on the layout of the basic equipment, comfort is important too. Just like a gaming chair, it should be built to improve ergonomics. First, it should of appropriate height in tandem with sitting position; in fact, get an adjustable one if possible. Also, check out for features like retractable keyboard panels, leg support, and so on.