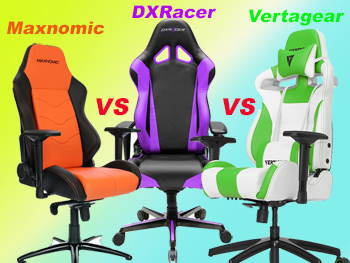 Maxnomic, DXRacer, and Vertagear are known as the top brands in the gaming chair market today. You often see such names being sponsored by famous Twitch streamers like Ninja, Summit1G, and Shroud.
If you have the budget to buy any of these big brand names, look no further than our very own buyer's guide. We will be looking at the different pros, cons, exclusive features and price comparisons between the three gaming chairs.

1. Maxnomic – High-end Gaming Chairs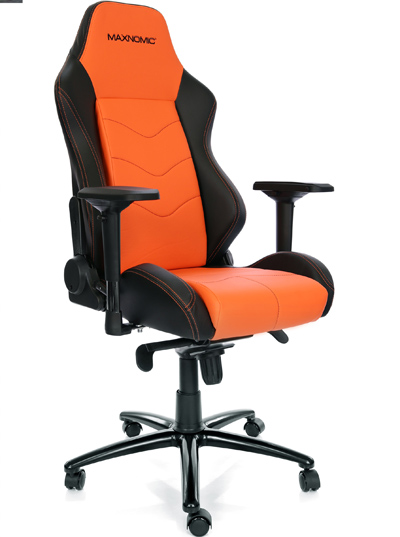 Maxnomic is one of the most formidable competing brands in the category for high-end gaming chairs. According to their marketing, when it comes to gaming chairs, "There is only one choice."
Maxnomic is a foundation created by the company NeedforSeat. It is a group that is dedicated to providing the best quality chairs for any gaming and esports enthusiast. Maxnomic is also partnered with several famous faces such as Ninja, Flo Yao and Kevin van der Kooi.
Maxnomic are partnered with different games, brands, pro leagues and teams too. Examples are the annual DotA 2's The International, League of Legends Championship Series, Team SoloMid and Cloud9.
Pro-Gaming & Office
This right here is the best-selling series in Maxnomic. It caters to the player whose height ranges from 5'5" to 6'1" and to a maximum weight of 220 lbs. It has an 11-degree bottom seat for the casual racer seat. The height mechanism supports the chair with a Class 4 short gas plug for the seamless height adjustment.
The best-sellers in this series are the Quadceptor and Ergoceptor models. Don't bother with the Dominator types. According to forums, the designs are very uncomfortable compared to both Quadceptor and Ergoceptor.
XL-Series
It caters to the player whose height ranges from 6'4" to 6'9" and to a maximum weight of 370 lbs. It has an 11-degree bottom seat for the casual racer seat. The height mechanism has a Class 4 short gas plug for the seamless height adjustment.
The best part about the XL-Series is the extra layer of padding compared to the rest in their series. XL-Series may not have the most number of models, but each and everyone of them are worth the price tag of $559 or $589.
For beginners, go with the Titanus for $559. If you have enough budget, you get the NEEDforSEAT XL for $589—fit with an Ergoceptor lumbar support that doubles the extra comfort.
Key Features:
Easy to choose

Maxnomic only offers 4 different series: Casual Sport, Pro-Gaming & Office, Office Comfort and XL-Series. These are just fancy terms synonymous to Small, Medium, Large and Extra Large. While the head categories may be just a few, its subcategories are filled with so many choices.
Customized just for you

If you go to http://www.needforseatusa.com, they have a slider for your personal size and height for them to determine which seat works best.
If you're short and average-bodied, they'll recommend the Pro-Gaming & Office choice with short gas spring. If you are tall and heavy, they will recommend the Office-Comfort series with tall gas spring.
They can even put a label with your name on it to show your true authority of both the chair and the game you play.
Comfy cushion

The innards of the Maxnomic has thick layers of sponge, making this an ideal chair that does not strain your body for long hours of gaming.
Adjustable 4D armrests

Both the left and the right armrests are totally modifiable—rotate them to 110 degrees, lift the right arm upwards while the left one is lowered or both are leveled and shifted at the same time.
Strong leather upholstery

The top-quality leather on the outer layer makes a seamless and smooth mesh that you can only find in professional car racing seats.
Elastic bands support the backrest

This ensures the chair to adjust to the seater's way of sitting.
The most comfortable pillows you can find

Any gaming chair product usually has a small pillow that you can adjust from your neck down to your lower back. In their case, customers consider Maxnomic pillows to be the best. Some satisfied customers even prefer them than their own bed pillows.
The XL Series practically makes you feel like a conqueror

If you ask me what the best in the Maxnomic series is, I have to tell you that it's the XL-Series that takes the crown. The best part of this is it has extra padding and a large headrest. Just take note of the price, of course.
Flaws to consider:
There are still some areas of frustration that quite a handful of customers that have shared their not-so-good experience with the chair.
It is hard to assemble
There are no easy plug and play options in this chair at all. The instructions don't even help too. The best way is to actually look it up on YouTube. There is also a screwing imbalance. If you screw one part too tight, the other area lifts or depresses. Screw too loose and you end one portion too wobbly.
Plastic armrests
While the 4D adjustable feature is cool and all, the plastic design of these armrests is not going to be worth the price if you prefer padded armrests.
There are no padded armrests in any of Maxnomic's models.
The feel of steel after prolonged sitting
Once you have been using the chair for more than 6 months or a year, you might feel the cushion less and more of the flat metal. This is a common case in their Dominator models.
Summary:
Maxnomic is still a relatively good brand for gaming chairs if you want the best in what gaming accessories have to offer without spending too much money.
2.DXRacer – Professional and Sophisticated Gaming Chairs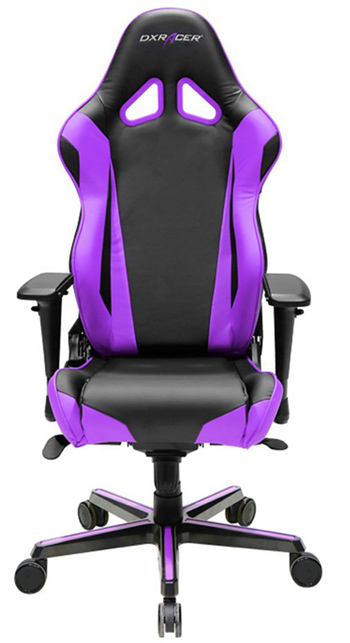 DXRacer is a well-known brand and known to be the very first company that introduced professional and sophisticated gaming seats. For years, DXRacer is a proud sponsor to several esports leagues such as MLG, LCK and WCA.
They are also affiliated with major professional teams such as Natus Vincere (Na'Vi), Ninjas in Pyjamas (NiP), Fnatic (FNC), and SK Telecom (SKT).
Now if you are considering to purchase a DXRacer chair, here are some key points that you should really be aware of. Take note that some of them are very similar to Maxnomic.
Racing Series
This is one of DXRacer's most popular models. Nothing else is as sporty as DXRacer's driver-inspired design in this category.
The price range here starts from $299 to $399. All of the colors here are very matching and will look great in any room.
If you have a tight budget, go with the OH/RW106/NE model. It may only have a 3D armrest and the general tilt mechanism but it is the trusted brand of DXRacer that you are buying here. This model costs $299.
But if you have enough money, do not shy away from buying the OH/RV118/NBW/ZERO model. This one has a tri-color selection which does not look tacky at all. It also has 90-degree 4D arms that can sway and adjust in any direction based on your preference. It can also bend up to 135-degrees downward without having you tripping off the chair. This model costs $369.
King Series
The name says it all: The King Series was built for the kings of gaming.
Only two models are available here: the OH/KS11/N and the OH/KSO6/N, both of which look good in all-black. The former only has 3D arms but is supported by strong mesh and an aluminum base. The comfort is also undoubtedly significant over the other series. KSO6, on the other hand, has 4D arms but the rest is just like KS11. It also has an aluminum base, supported by strong mesh upholstery and ran by 3" PU casters. KS11 costs $439 while KS06 costs $469.
Elite Series
The Elite Series only has one model, but the overall design is like a spaceship seat. It is part of the Office Chair category, but do not let that hinder you from thinking this will ruin the gaming experience.
Among the 6 series under Office Chair, Elite Series is definitely the best you can have for just $299. Within it is one model, the OH/EA01/NC backed up by wonderful colors.
The design itself is a lot simpler in terms of looks instead of the flashy type. The upholstery is a leather vinyl for the smooth touch. Wheels are 2" PU casters for seamless movement. It only has 3D armrests and a conventional tilt mechanism but it all makes up for the style and comfort. The headrest is also the best in the category since it has a large pillow base instead of the concaved design for the head.
Key Features:
Amazing professional look

Compared to other brands besides Maxnomic and Vertagear, the DXRacer series are all honestly very pleasing to look at. You can tell by the design of their products that they put lots of love into every gaming chair they distribute. With amazing ergonomic features and pleasant aesthetic, DXRacer chairs can be considered as therapeutic.
High-density foam

DXRacer takes pride in the sponge that makes up most of the comfort for their seats. The high-density foam gives the chair more like a home furniture than a car seat. This means that the chair's foam will adjust to your body and expand just right.
Nylon and aluminum base

Unlike other gaming chairs with metal chassis, DXRacer uses nylon and aluminum base. The best part about this is that it does not rust so easily so expect this brand to last long inside your household.
Comfortable mesh

The texture of the DXRacer brands is smooth and silky, no matter which series you pick. The outer covering is a seamless leather, leaving no lint and annoying loose threads when the chair is used on a consistent basis.
An adjuster for the back

Why go to bed if you can just use DXRacer as your sleeping corner too! Don't worry about its adjuster—even if you lean down to up to 135 degrees, the chair does not fall over at all.
3" PU wheels

The typical type of wheels for the usual gaming chair is the 2" PVC-type. DXRacer's PU wheels feel like you're floating when you move, ensuring a smooth ride as if you're actually riding a high-end Mercedes-Benz.
Non-air pump mechanism

With DXRacer, the chair has a hybrid of gas and spring mechanics, certainly giving you its long-time endurance and reliability.
Adjustable armrests

Another feature of DXRacer is the simultaneous and independent adjustment for both armrests left and right.
4D armrests

Just like Maxnomic, DXRacer does have chairs with 4D armrests too. Besides the armrests being freely adjustable with its height, the armrests even have a 4D feature.
If you feel like a captain of a ship or a professional driver in a racing simulator, these armrests will adjust as you please.
Metal frame headrest

The generic gaming seat or office chair headrest are usually wood from the inside. This means that the chair's headrest could break from the inside due to excessive usage. The metal frame helps in keeping the chair stable for years.
Elastic band backrest

The main spine adjusts to yours, thanks to the elastic band built for the back. This ensures that it feels like a hybrid of a hammock and a recliner.
Flaws to consider:
Now here is the kicker—DXRacer may seem like a dream come true for a lot of gaming enthusiasts but that does not mean it has particular cons.
Let us go over some of these:
So many series, so little difference.
From a beginner buyer's perception, the large array of DXRacer products can sure be overwhelming. There are barely any differences between models. Only the designs are practically different.
Eats up a lot of space
DXRacer chairs tend to be quite overpowering and large even with the XS size chairs. Be prepared to occupy a chunk of legroom if you do wish to buy this brand.
Summary:
DXRacer is still a powerhouse brand of gaming chair. The best part of this brand is the ergonomic comfort and longevity of the chair.
3. Vertagear – The Leader in Best Gaming Chairs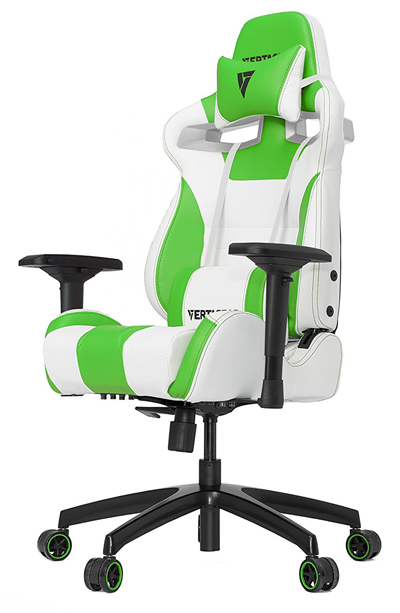 Vertagear is a brand that shows more of sophistication and substance rather than vibrant design.
Vertagear is fairly new in the fiery competition of gaming chairs since their debut in 2015, but there is no doubt that they have relentlessly distributed superb seats time after time.
Some customer reviews claim it to be "like riding the 1st class in an airplane." With such positive reviews, Vertagear is a brand that you should definitely look out for.
They are currently partnered with big leagues such as Capcom ProLeague, EVO, ECS and H1Z1: Fight for the Crown.
They are also current seat providers for Team SoloMid, Misfits Gaming, and World Best.
The features of this brand have a few similarities with Maxnomic and DXRacer but Vertagear has some key points that the former two do not.
Only 3 series in the catalog but the most remarkable.
Vertagear leaves a message to other gaming chair brands: Quality over quantity.
Within those 3 are the S-Line and P-Line Racing Series and Triigger Line Gaming Series.
Triigger-Line
While racer-type gaming chairs are the in-thing and cool and all, real gamers should definitely consider buying Vertagear's Triigger series. Unlike Maxnomic, DXRacer and Vertagear's own racer chairs, this one is like an office chair from space.
Triigger 350 Special Edition

The frame and base are aluminum alloy.
Steel mechanism works fluidly with a gas plug.
The upholstery is calfskin leather, making this the sturdiest type of gaming chair series in this category.
The mesh is a DuPont TPEE material that provides breathability, flexibility and prevention from sweat and too much warmth.
A multi-directional lumbar support that adjusts to the person's height and width and will blend in with you.
The adjustable main cushion helps you tilt and shift for your preferred comfort-zone. Maxnomic and DXRacer do not have this feature.
S-Line
In their racer chair series, there are 2 models available: The S-Line and P-Line.
In the case of the most sold chairs, the S-Line is the remarkable choice for serious gamers.
SL4000

What separates the SL4000 from the others in the series is the overall design to it.
The leg space itself is more reminiscent of a professional driver's seat than that of an office chair.
Some may consider this as off-putting but the high-density foam can rival that of DXRacer's chairs.
4D armrests, a contoured backrest, full-on lumbar support, and perfectly-ratioed headrest. You would barely need an additional pillow at all due to the optimized comfort the SL4000 brings.
For $339, this is a very sweet deal
Key Features:
Racer-type chairs are packed with the most ergonomic fundamentals.
Just like Maxnomic and DXRacer, this one also has everything plus some exclusive features:

4D adjustable armrests
Soft glide aluminum alloy wheels for the seamless motion while moving
Gas-powered height mechanism
Flexible tilting adjuster for the back
Water and stain-resistant PVC leather upholstery
All the chairs have considerable sizes

Much like Maxnomic, the sizes of these chairs are just right for any room.
It does not eat much space wherever you place it inside your house.
Flaws to consider:
Quite honestly, there are barely any flaws in this product. Although anyone will agree that the S-Line and P-Line have one specific issue. Again, no chair is perfect.
The price itself
The Triigger series alone costs at least $599 to a max of $899 which may sound a bit too overpriced.
It may be more expensive than the two brands but Vertagear guarantees the value.
As with any racer-type gaming seat, leg room is a problem
The biggest flaw in whichever racer chair there has to be the amount of space you have for your thighs and legs.
While you can sit however you want with a regular office chair, a racer chair constricts all that due to the cushions and curves.
Summary:
If you prefer elegance, simplicity and overall performance, Vertagear is the way to go.
General Comparisons
Design
Maxnomic Gaming Chair
Pros
Maxnomic's designs range from colorful and flashy to dark and mysterious. The color palette choices are clearly superb.
You have the traditional racer looks, the right curves and the edginess of its ambiance.
Within their catalog of chairs, Maxnomic even has 2 type of back support designs: Quadceptor and Ergoceptor.
Simply put it, Quadceptor has multiple squared pads on the backrest for that soothing anti-stress friction
Ergoceptor has 6 oblong soft pads that work as additional lumbar support.
The pro-team edition seats scream loud with vibrant colors without having to look very tacky.
You can tell the difference between each chair series by their headrest designs.
DXRacer Gaming Chair
Pros
DXRacer is colored all over their chairs from literally top to bottom.
Color palettes range from duo colors to trio colors, giving customers the free choice of mix and match between colors.
DXRacer also has a selection of video game-endorsed series such as Call of Duty WWII, Black Ops III, and Modern Warfare.
They also have a nice selection of pro team-sponsored chairs like Counter Logic Gaming, SK Telecom, and Na'Vi..
Minor Cons
Despite the generous thought of color choices, the overall designs between the series are quite confusing and similar at the same time.
The only distinct series from the rest are their King and Tank series due to the double cushions.
Vertagear Gaming Chair
Pros
Simplicity is the name of the game with Vertagear.
While Maxnomic and DXRacer have all the flashy colors, Vertagear is more of the luscious and chic looks.
It has the smoothest upholstery design.
They do not have any pro team edition seats but they make it up with the amazing Triigger series.
Winner: Tie
Let's face it—racer gaming chairs all look quite familiar. It just boils down to which brand name you think suits you well.
Size and Adjustability
Maxnomic Gaming Chair
Pros
Maxnomic has a generous selection for the smallest person in the world to the tallest human.
They do not believe in "one size fits all" and provides lots of adjustments for the customer.
Cons
The mechanisms do feel a bit too jaggy in certain parts such as the height mechanism and wheels.
DXRacer Gaming Chair
Pros
For DXRacer, the chairs have uniformed designs
None have more features than the others, except for the extra cushion for their larger scale chairs.
Wheel motions run smoothly.
The adjustment for the height feels like you're just floating thanks to the proper gas and spring mechanism.
Cons
Series do tend to be confusing with the actual height preference.
The adjustable backrest does make you feel like falling off at times instead of being in a stationary position while you rest.
Vertagear Gaming Chair
Pros
Only a select few numbers of chair models.
Yet despite lacking of models, the smoothness of each chair is incomparable, especially with their adjustments.
Minor Cons
the range for each series tends to be very distant that it might actually affect the tallest person in the category for better or for worse
An example is the S-Line series' range from 5'1" to 5'10".
Winner: Maxnomic
The best part is that Maxnomic really knows their chairs well and the people who want to buy it. With the custom slider for the buyer's height and size on their shopping page, showcasing the preferred series and adjustment apparatus, that alone is a winner.
Comfort
Maxnomic, DXRacer and Vertagear's racer chairs in general
Pros
The 4D armrests and gas-powered mechanisms help in the ergonomics department.
Cons
If there is anything eerily similar between the 3 brands and their racer gaming chairs, it's the lack of leg space.
Racer chairs have pads beside the thighs as well as arms and shoulders to prevent the driver from sliding left and right during swerves in races.
In the case of gaming, you don't have that same situation of moving too much when playing video games.
Maxnomic Gaming Chair
Pros
The pillows are the softest among the three brands.
Cons
The overall cushion of the chair is good however it does tend to get really warm after prolonged periods of playing.
Reports have shown that Maxnomic Dominator flattens out after months of usage.
The plastic armrests do not work efficiently as they induce stiffness in the arms.
DXRacer Gaming Chair
Pros
The thickness of the padding is just right.
Among the 3 brands, DXRacer has the most leg space.
Cons
The pillows do tend to be a little too stiff.
Some conflicting areas between the armrest and the midsection curve of the backrest tend to knot together when the armrest is being adjusted.
Vertagear Gaming Chair
Pros
Its line of Triigger chairs along with the seamless movement from the wheels is incomparable.
Triigger chairs are the most ergonomic among the 3 brands due to the large leg space, meshed backrest, adjustable main cushion, 4D nylon armrests, and a comfortable headrest.
The lumbar support of both the racer and computer gaming chairs are the best among the 3 brands.
Cons
The P-Line and S-Line racer chair leg spaces do feel very constricted.
Winner: Vertagear (Triigger Series)
There is enough said about the Triigger chairs. If you wish for the ultimate comfort, you go with Vertagear.
Variety
Maxnomic Gaming Chair
4 series based on height, with an overall collection of 15++ chairs.
DXRacer Gaming Chair
12 series, plus a racing simulator chair and 20 sponsored/partnered brand editions, summing up to more than 20 chairs to choose from.
Vertagear Gaming Chair
3 series, and 7 models to choose from with a decent amount of color choice.
Winner: DXRacer
This is a no contest. DXRacer's selections may not look too different from each other based on features but the huge variety of colors and cushion thickness give customers so many to choose from.
Customizability
Maxnomic Gaming Chair
Maxnomic gives you the option to add your name to the chair.
You get to pick from a fixed number of colors.
DXRacer Gaming Chair
Gives you the free choice of whichever color you want.
Vertagear Gaming Chair
They don't offer much when it comes to modifications since they already take a lot of pride in their work.
Winner: Maxnomic
The custom name alone is good enough and their collection of colors are nice already.
Pricing
Maxnomic Gaming Chair
The cheapest that Maxnomic can give you is $279 and the highest being $559.
Among the three brands, Maxnomic is the cheapest.
DXRacer Gaming Chair
Cheapest is $289 whilst the priciest is $590.
There haven't been many complaints about the DXRacer and the price range is considerable based on good customer feedbacks.
Vertagear Gaming Chair
The most expensive in this article starting from $299 to $899
If you really want that class, you go for the Triigger series, which starts at $599.
The Triigger 350 SE is $899 due to high quality material, strongest mesh and widest leg space.
Winner: DXRacer
While it may be slightly pricier than Maxnomics, the price is worth for DXRacer due to the known durability and longevity that the brand brings. And yes, the cushions do not deflate so easily.
Verdict
It's a tie!
This is crazy, but in this battle of Maxnomics vs DXRacer vs Vertagear, it is quite difficult to actually pick which one is the best. Each has its own flaws as well as its own pros. The choice is definitely up to you. Whichever brand you pick is definitely considered a winner. Through all the pros and cons, they are all equally good in their own rights.
You have Maxnomics' cheaper price with the decent features.
There is DXRacer's reputable standards for creating high-quality chairs that have been resulted by smart designing.
And of course, Vertagear as the fine wine in this selection with its lavish designs of both the racer gaming chairs and the ever-incredible Triigger gaming chairs.