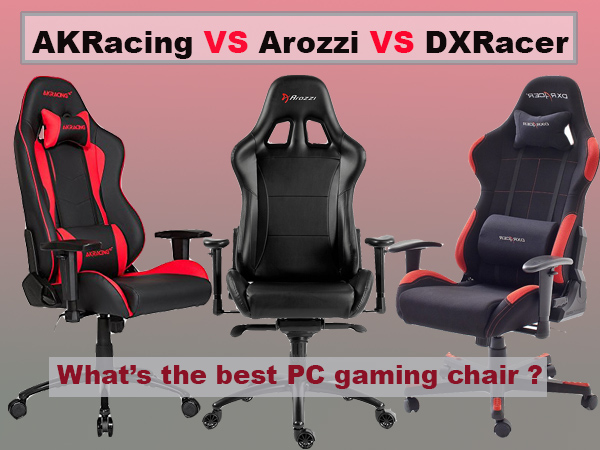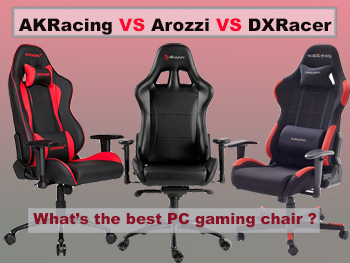 You will agree with me that the battle of the best PC gaming chairs involves DXRacer vs AKRacing vs Arozzi. These three dominate all the talk and conversations around gaming chairs, and office chairs as well. But then, as a consumer, you just want one gaming chair and the best one for that matter.
So, what brand will you go for? Is it DXRacer because it's the most innovative, or AKRacing because of the affordability? That's what we want to cover in this review.
For me, I have used all the three brands and what I can tell you is they all have their pros and cons. But to have a deeper picture of their offering, let us first look at the popular models of each brand. Thereafter, we will discuss the important factors to consider when shopping for gaming chairs and see what brand is the winner in which area.
That said, let's get straight to business.
AROZZI – Best Affordable Brand
This is a Swedish company that has been in the business of gaming as a manufacturer of top quality gaming equipment since 2013. Though they had earlier focused much on gaming desks and chairs, they have now ventured into accessories. Some of the gaming accessories they have include Arena Mouse Pad, Sfera & Sfera Pro Microphone, Visione Eyewear and Velocita Racing Simulation Stand.
So far, I haven't used any of their accessories but the gaming chairs and desks, I have quite a story about them. But for today, we will focus on gaming chairs and that said, here is a short overview of the popular models.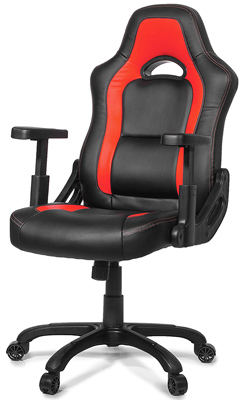 If you are on a budget, this is one of the cheap Arozzi gaming chairs in the market with a suggested weight limit of 230 lbs I got it for $100 during the last Black Friday but on a normal day, it costs $200 which honestly is expensive considering it doesn't have anything unique and the biggest flaw, the armrests.
Honestly, I was attracted to the Mugello because of the 2D armrests but I was in for a rude shock. Mine became very shaky in the first month of use and on checking several online reviews, it seems to be a problem with all the Mugello models. Later on, one jammed completely and that was it – I had to get another chair. I understand there's a 2-year warranty but from the fact that the item was sold on discount, I was sure it would just be repaired, no replacement, so I decided to forego the warranty.
But regarding comfort and the overall construction, this chair is excellent, especially for FPS and MMO gamers as it has adjustable armrests. The Mugello is available in green, white, black, orange, and red.
From that experience, this is not a chair I would recommend to anyone, not even my enemies! Still, the price is too high to take a gamble – you'd rather try cheaper stuff like Homall, Merax, Devoko, and the rest. Other features include 360° swivel, rocking function and tilt lock.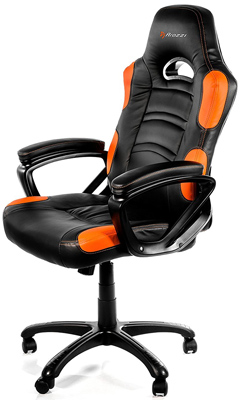 This is a simple, compact and very comfortable gaming chair that should also top your wish list if you are on a budget. With a price tag of under $200, it is one of the Arozzi chairs that make the Arozzi Mugello a waste of money. The best thing I envy this chair for is the rocking function – perfect when you need to take a nap or stretch the back.
The only disadvantage with the Enzo is that the armrests are fixed while the Mugello has an adjustable armrest, in fact, the 2D armrests. But if you are not into FPS games, or you want a good office or study chair, Enzo is a superb choice.
It boasts a high back, and thick seat and can comfortably handle 190 lbs.
If you are an average body size, this is a great chair you can snap for just $180.
I have heard complains that the chair is very weak but the truth of the matter is, this is not a heavy duty chair. There's one negative review on the Amazon product page about this but then, the buyer weighs 250 lbs. and even though high height is okay, this chair has a max load of 190 lbs. You can get this chair in several colors; black, blue, green, orange, red, and white.
It is also ideal if you are running short of space courtesy of the compact and lightweight design. Assembly is also easier than most models because it has fewer parts.
Other notable features include a Class4 gas lift, tilt lock, nylon casters, e.t.c.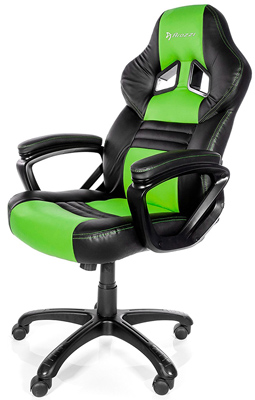 If you are scouting for a cheap Arozzi chair, I know you must have come across the Monza, a cheap gaming chair that can also double up as an office chair. It has 5 casters on a solid center pole that also house the Class 4 gas lift.
But I really like it because it's cheap but then, does it fit an everyday gaming enthusiast? That's the big question that I'm about to answer.
The Monza retails at around $150 and considering it's a top brand, it looks very promising. I had this chair for two months before trading it off. The first thing I want to let you know is that this chair has been rated 190 lbs. and is not a 250 pounder as most reviews suggest. Even when you pull it out of the box, you will realize it's a light duty chair.
There is no much to say about the Monza – it sports that average look, with fixed armrests whereas the latest models sport 4D armrests. The good thing is that they are padded. But then this is a really cheap chair so you shouldn't expect the big features. If you are very tall, above 6', I don't recommend this chair at all. The backrest is not as high as indicated and you will feel some strain.
But unfortunately, this is a not a chair you will rely on for a year if you are a daily gamer. The first thing you will notice is that the PU leather used, though very attractive, is very thin and peels off easily. Also, the padding is not the best and you can even see the specifications. While something like the Torretta has a backrest and seat foam density of 46 kg/m³, this one has 25 kg/m³ for the backrest and 30 kg/m³ for the seat.
It flattens out very fast so if you are a daily gamer, it's not the best.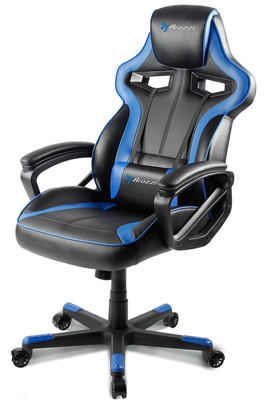 To be honest with you, if you are planning to buy a reliable and durable Arozzi gaming chair, set a budget of $250 and you are guaranteed value for money. I bought the Milano for $270 and I have never regretted. It's still in great condition but over the years, I've added weight and now at 213 lbs. I won't strain it as the suggested limit is 190 lbs. Since then, my younger brother has been using it, averaging 6 hours daily, six months later, it is still intact, save for a few cat paws.
But you may wonder, why would it cost more than the Monza yet they all have the same payload?
The first thing I like about this chair is the motorsports design. A lot of reviews will brand every other PC gaming chair as racing-style but a few are up to the mark and Milano is one of them.
The second thing I like about this chair is the padding – it doesn't flatten out as fast as the other cheaper chairs. If you check the specifications, you will find that it has a seat and backrest density of 50 kg/m³ and 40 kg/m³ respectively.
The armrests have also been padded and are also stronger than what you find in the Enzo or Monza. I must also mention the newly designed casters – they still make noise on tile but look a lot better than the older versions. The Milano is available in 5 colors; red, white, black, blue, and green.
But the fact that the armrests are fixed will want to make you think twice considering there are cheaper options with 4D armrests, leave alone adjustable ones.
That said, this is not your chair if you play FPS and MMO games. But if you want something that blends comfort and durability, you can always count on Milano Series.
This is a solid gaming or office chair from Arozzi that boasts an extra durable metal frame and base for the best rocking experience. Remember, unlike the lower Arozzi models, this one doesn't wobble or squeak when rocking. The only concern is the $350 price tag considering there are no extraordinary features. But leave alone the features, is the comfort and performance worth?
Like earlier said, this chair has been designed for big guys and the manufacturer has rated it at 290 lbs. I must say that this is a hoax because when I put my weight on it, I can feel it overwhelmed and considering I am less than 220 lbs. I can't recommend it even for guys like me in the 200 lbs. bracket. But I like the comfort, especially the padding and included headrest and a lumbar cushion.
One of the unique features in the Verona Pro is the rocking function. You can tilt it 12 degrees in any position and thereafter use the adjustment knob to set your desired tension. Like earlier said, this chair won't wobble or shake courtesy of the strong base.
When it comes to aesthetics, there is nothing very special; just the normal sports car seat design and PU leather upholstery. I would have also wished to see this chair in at least 3D adjustable armrests. What we have now are the normal adjustable armrests – you can only adjust the height. This is a Class 4 gas lift chair that easily adjusts the height with just a slight touch of the height adjustment knob. But like I said, it is not ideal for 290 lbs. and you can feel the strain when you try to adjust it with just 220 lbs.
Though expensive, I wouldn't mind getting the Verona Pro because of the rocking function. But then, I feel it's kind of expensive now that its payload is not 290 lbs. as promised and the armrests are not even 3D.
For the big guys on a budget, the Torretta has something for you. Retailing at just under $250, the Torretta is among the cheapest heavy duty gaming chairs. It's suitable for guys above 6'1 and weighing up to 200 lbs. There's also the larger XL model that is meant for those who want bigger room.
When it comes to the Torretta, the most important thing is to pick the right version. There are two variations in this Series; the Standard version and the XL version.
The major difference between the two is the dimensions of the chair itself. The XL version has more room on the backrest and seating area as well so if you find the Standard version to be small, you can always go for the Torretta XL. Like earlier mentioned, they are both heavy duty gaming chairs but the XL is also bigger here. It has an impressive 260 lbs. payload while the base model has been rated 200lbs. These two are the major differences and consequently, their prices also vary in the same fashion – the base model is cheaper.
So, what makes the two similar now that we have seen the difference?
Apart from the size and payload, Torretta and Torreta XL boasts the same motorsports seat design upholstered using high-grade pleather. Available in 7 colors, you are spoilt for choice.
I like the solid frame and heavy-duty casters that give the entire unit the firmness it deserves.
But what about comfort? This is where I have a problem with Torretta. The padding is very thin and will flatten within no time especially if you do 8 hours plus daily. I figured out that Arozzi used a lighter foam on the backrest and seat as well. While something like Mezzo has a 65 kg/m³ and 70 kg/m³ foam density on the backrest and seat respectively, Torretta has 46 kg/m³ and this explains the problem. But otherwise, it is a great buy and will also come with a lumbar and headrest cushion.
The Torretta is not a very bad chair but then it will give you a short service before the padding completely flattens out. This is the only problem with this chair but as far as construction and duty are concerned, it's good value for money!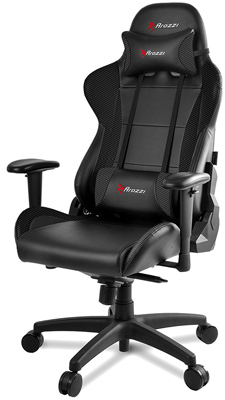 Here's another great Arozzi gaming chair designed for the big boys, the Verona Pro V2. Retailing at around $350, this is a heavy duty gaming chair that boasts a more durable construction; from the frame to upholstery. It is also a chair you can rely on for the full multifunction experience.
The first thing you will notice when you are keen on the Verona Pro V2 is the tougher PU leather. Actually, you can feel the difference when you just touch this and any other ordinary pleather. If you want a durable gaming chair and PVC is not an option, buy the Verona V2. The padding is not that bad but I understand it would be hard to blend heavy foam and heavy PU. On this chair, you can sit for longer without getting fatigued but unfortunately, in hot areas, air circulation is poor and that means more sweating. Another thing, the heavier PU will get very cold or hot; it is not able to maintain room temperature.
Regarding performance, Verona V2 Pro can comfortably handle 290 lbs. and is suitable for players 6'2 and above.
But the multifunction mechanism is the main highlight here. Though there are many chairs that have a multifunction mechanism, it has always been hard to get the most out of the feature. You will agree with me that a key aspect here is the sturdiness of a chair – with a stable chair, you can do a lot of stuff safely because the base is stable and the frames are strong. The V2 has 0.6'' thicker frames and a heavy duty composite nylon base. You can fully recline this chair and swivel around without any wobbling, shaking or squeaking. The icing on the cake is the rocking function that can, in fact, be locked in 5 positions, from 3° to 20°. Other features include a Class 4 gas lift, adjustable armrests, lumbar cushion and headrest cushion.
I really like the Verona Pro V2 because of the durability and multifunction mechanism. The price is also fair considering these are pretty new models. But then, it wouldn't suit anyone keen on arm positioning, like FPS gamers, because the armrests only have height adjustment.
DXRACER – The Best Gaming Chair Brand
DXRacer is another top brand when it comes to gaming chairs and just like Arozzi, it boasts a wide range of product portfolio. Established in 2001,
DXRacer
was majorly dealing with luxury and sports car seats and with the rapid growth of gaming in general, they rolled out the first gaming chair in 2016. Since then, the company has never looked back and today, it is a household name.
Some of its other products include gaming and office desks, office chairs, driving simulators, gaming accessories among others. I have used several DXRacer gaming equipment and I can tell you for sure, they live by their values of quality and design. But then, DXRacer is quite expensive than your average brands but going by the mantra of you get what you pay for, the higher price tags assure you quality.
Today, you will find DXRacer on several top platforms including the WCG. It has also sponsored several gaming events including the 2015 LCK Summer Games and World Cyber Arena as well as the 2014 Major League Gaming.
If you'd ask me, shopping for a DXRacer gaming chair is the hardest because there are several majors DXRacer Series and in turn, each series has models.
Let us look at the different Series and what they offer including the maximum weight and height recommended.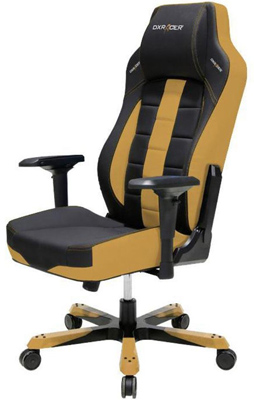 If you did your homework, you understand that PC gaming chairs serve the same purpose as office chairs. But DXRacer has specially designed chairs for office work or your study room. These chairs are very expensive and cost around $500 but considering the build quality and durability, it is worth every penny. The Boss Series is strong enough to accommodate up to 425 lbs. and a height of 6'1.
What I like most about this chair is the solid, executive design and now that it's available in 3 colors DOH/CE120/N (black), DOH/CE120/N (coffee), and DOH/CE120/NC (red), you can't miss one that will match your interior. For the tall guys, you will also love the extra high back that fully supports your entire back column and at the top, the headrest cushion will comfort your neck and head so that you may sit down for longer. Unfortunately, the headrest height is not adjustable so for shorter guys, it forces you to lean forward. The material used to upholster the chair is leather style vinyl and besides being waterproof, it's very easy to clean. To help you relax, the backseat is adjustable to 120° while the armrests are the new 4D armrests, better build that those in the Arozzi Mugello.
One important thing I want you to note is that while the brand may market this chair as 'big and tall' it is meant for heavy guys and not necessarily tall guys. I know 6'5+ guys will find it hard to sit on it for the entire day but regarding the payload, you are guaranteed a steady posture with no wobbling at all.
But on the downside, you will need a big space to put this chair. As you can see from the photos, it is a bulky gaming chair, but very strong. Also, the 3'' caster wheels make a lot of noise on tile and on hardwood, they may damage the plates. But generally, it is a great set of gaming chairs for the big boys.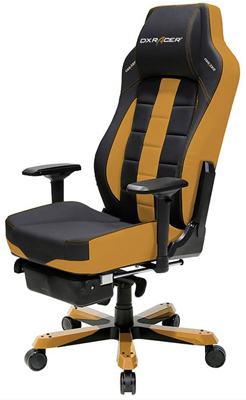 For many guys, the Boss Series is too big and considering the small space in your office or gaming station, you might need a smaller chair and that's what the DXRacer Classic is. This chair boasts the same design and aesthetics like Boss Series but no, it is available in more models and the same 3 color options just like Boss. It's also much cheaper than the Boss Series, but still expensive for a gaming chair. That said, you want to make sure it is worth the $400 price tag.
The Classic Series is among the most popular DXRacer chairs and is available in two variations; the standard version and another with footrest.
The standard versions are OH/CE120/N, OH/CE120/NC and OH/CE120/NR which are black coffee and red respectively. These modes also have an extra high backrest and have been finished using leather style vinyl just like the Boss Series. On the other hand, the footrest models are OH/CS120/N/FT, OH/CS120/NC/FT and OH/CS120/NR/FT which are also black, coffee and red respectively. But then, I want you to note the other difference between these two sets apart from the footrest. You will notice that the standard version comes with 3D armrests while the footrest versions have 4D armrests.
Regarding performance, this is 250 lbs. rated gaming chair and is meant for guys towering 5'11. But still, I find it quite expensive but factoring in this is a top brands, as well as the durability, it's fair.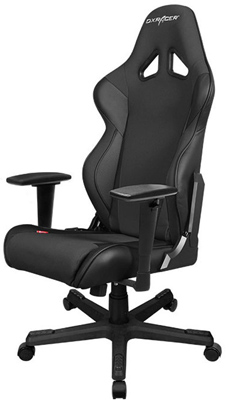 If you are a fan or Forza, Formula 1, NASCAR, and other motorsports, this is what you should go for. These chairs sport the virtual designs of real life sports car seats and will simulate the real feeling of motorsports drivers. Like earlier said, there are a lot of models within the DXRacer Series and the Racing Series is among the richest with over 25 models and 8 different colors to choose from.
One thing I would like to emphasize when shopping for DXRacer Racing Series is the chair specifications.
Remember, unlike many other chairs ion other series that have the same specifications, the Racing Series has two models tailored for two body size brackets.
The OH/RB, OH/RE, OH/RL, and OH/RW models can handle a maximum of 180 lbs. and a maximum height of 6'1 while OH/RH and OH/RV models will accommodate 40 lbs. more and gamer height of 6'3. Make sure to get the right chair lest you end up with the wrong chair size.
Another big difference between the Racing Series models is the mechanism and adjustability. The OH/RB, OH/RE, OH/RL, and OH/RW models are conventional with 2'' casters while the OH/RH and OH/RV models are multi-functional and come with 3'' casters. Also, note that the OH/RV has 4D armrests while the rest have 3D.
When it comes to comfort, I like how DXRacer got right the design. If you pick the right size, it contours round your body giving support to the crucial areas – neck area, spinal column, lumbar area and the hamstring. The padding is excellent though in the first week, it feels really hard to sit on but as days go by, it will get softer. There is also a headrest cushion and lumbar support included.
When it comes to the upholstery, DXRacer blends carbon look vinyl and fabric to bring out some really cool designs and color combinations. The breathability of the chair is also improved greatly and maintenance is not as hard because the PVC is easiest to clean.
If you are a fan of motorsports, this is the best chair that should be on top of your wish list. The virtual motorsports experience is one of a kind. But the most important thing when buying a Racing Series is to check the exact model numbers and the features of each model.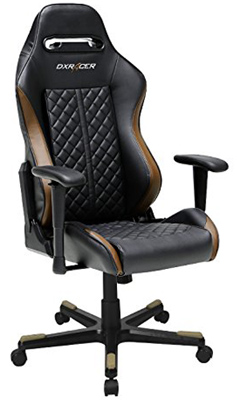 As the name suggests, this is another awesome gaming chair that motorsports lovers will like. It is very similar to the racing style especially when it comes to resemblance with real luxury and sports car seats. But then, the $350 price tag is quite expensive for a light duty chair.
When you catch a glimpse of the Drifting Series, you see a true reflection of a luxury car or sports car seat. Though it was not designed for heavy guys like me, it has been solidly built to withstand weights of up to 170 lbs. and a height of 5'9. But even though it may best suit your body size, there are several different features across the Drifting Series models.
The first variation in the Drifting Series is with the armrests. The OH/DF models come with adjustable armrests meaning you can only adjust the height. On the other hand, OH/DJ and OH/DM models come with 3D adjustable armrests – make sure you spot the difference. The mechanism is also different as the OH/DF and OH/DM models are conventional while OH/DJ models are multi-functional. Lastly, there are two sets of caster; 2'' PU for the OH/DF and OH/DM models and 3'' for OH/DJ models.
When it comes to performance, this is a light duty gaming chair designed for average sized gamers, especially teens. It can handle a maximum of 170 lbs. and is best suited for shorter guys, 5'9 or something. The main upholstery material is POU leather but there are models that blend PU leather and strong mesh. If you are the sweaty type, this combination is the best. Other features include a 135° adjustable backrest, type 1 headrest, lumbar cushion and aluminum base.
If you ask me, I wouldn't recommend the Drifting Series. I find it too expensive considering it can't fit large guys. This is a light duty chair and doesn't have any extraordinary features like 4D armrests so the $350 price tag is very high.
This is also a DXRacer Series that will give you a headache when trying to choose one to go with. The Formula Series is available in over 30 models and comes in 12 colors, you will be spoilt for choice. But then, it's for the average guys, 180 lbs. 5'10.
Here, the most important thing is to understand the different variations available and what brings the difference.
Once you know which model comes with what, the remaining bit will be color choice which you definitely have a choice already. There are two types of armrests; adjustable and 3D adjustable. The OH/FD models come with adjustable armrests, something that reduces the installation time. On the other hand, the OH/FH models have 3D armrests – you can adjust the height, and move the top part front and back. That said, if you are an FPS gamer, get an OH/FH model. The only other difference is the base type. As we will cover later on, there are two base types; nylon and aluminum. The OH/FD models come with black nylon while OH/FH has a black aluminum base.
Apart from the colors, armrests and base, all the other standard features of DXRacer are intact in the Formula Series. The Formula Series has a high back 135° backrest. The mechanism is conventional and has the Class 4 gas lift.
Regarding comfort, I like the wide sitting area plus the body hugging padding. But then, it can get really uncomfortable when you don't fit in the sitting area. When it comes to upholstery, the Formula Series is available in PU leather, PVC and fabric. Just know what you want and get the right material.
For guys who like flashy colors, the Formula Series is home to the coolest
gaming chair
colors. But then, remember this category is for the 180 lbs. category so you would probably need this chair if you are 160 lbs. (always give some allowance in case you add weight)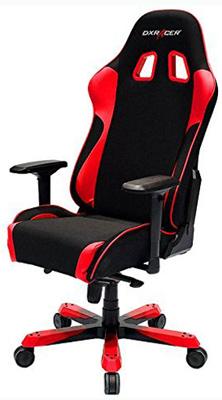 The Sentinel Series has set standards when it comes to heavy duty gaming chairs. This one has a weight limit of 325 lbs. and anyone below 6'6 will be very comfortable on it. Besides the impressive payload, it comes with some of the latest features, most notably 4D armrests. But all these come at a hefty price so let's see whether it is a worthy purchase.
The first thing you will like about the Sentinel is the performance. It has been rated 325 lbs. max and though my weight only couldn't give the nod about its real performance, I got feedback from a colleague who is 288 lbs. and he say the chair is sturdy and stable. For sure, you wouldn't expect a $500 DXRacer chair to be weak. The stable aluminum base and large heavy duty casters give it the stability and traction needed. One thing I must mention is the tight grip on the floor, it doesn't skid away when moving out on when slightly pushed like these cheap chairs.
But most importantly, it brings out the best multi-function experience. With a steady base, you can rock or take a nap without worrying about wobbling, squeaking and even toppling over.
When it comes to looks and extras, there is nothing new but I must mention the 4D armrests. These are the industry's latest and are best for FPS and MMO gamers. Their advantage is the height and all-direction adjustability. The Sentinel also comes with a lumbar cushion and headrest cushion. But then, I find it hard to use the lumbar cushion because the sitting area is not dipped enough so the lumbar area is up against the backrest. If you put the lumbar cushion, it now forces you to bend forward. But generally, it will give you the comfort you need all day long – just find out whether the lumbar works for you or not.
For the big boys, this is the best chair for you. I know it is expensive buy considering this is a top brand and a true heavy duty
gaming chair
, you shouldn't be afraid to break the bank and get it. Here, always remember you get what you pay for!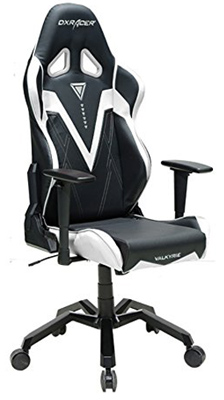 This is also an awesome gaming chair but built with the slim guys in mind. It is compact and very stylish with a new base design. But again, it is somewhat expensive bearing in mind it's just a light duty chair and doesn't have the new 4D armrests. The good thing is that it's quite comfortable.
The Valkyrie is not as strong as the Sentinel or Tank and has been recommended a maximum weight of 180 lbs. and 5'11. When it comes to adjustability, you can open the backrest to 135° while the armrests are 3D adjustable. One thing to note here, with the Valkyrie, you don't get the full multifunction experience. Though the spider base has 3''PU casters, it will still wobble when reclined or when swiveling. This is when you are around 160 lbs. and above but for much lighter guys, there is no problem at all. That said, you wouldn't want to buy this chair is you are 160 – 180 lbs. Also, while the spider base design is very cool, you don't have the freedom of putting your feet on them comfortably like in flat bases. This one is slightly inclined, your feet will be sliding and also, angling your feet is cumbersome.
Like earlier said, this chair sports a slim design so while the backrest might be high, the width is not as big. Though my body is bigger, I'm sure average guys will have a problem resting their backs on the slim backrest. Regarding aesthetics, Valkyrie is available in 3models and 4 different colors so you don't have a very wide variety like in Racing or Formula Series. The upholstery is PU and though it doesn't keep the room temperature, at least it is tougher and easy to clean. But I wish the padding could have been better – it looks very thing and even though the density looks okay, you are not guaranteed a year of comfort. 8-10 months and it will have surely flattened if you are a daily user.
The Valkyrie is the perfect choice for those looking for a unique chair. The spider base design accentuates the sleek racing style design. The only problem is that it's expensive and not quite a performer as you'd expect for a $300 DXRacer gaming chair.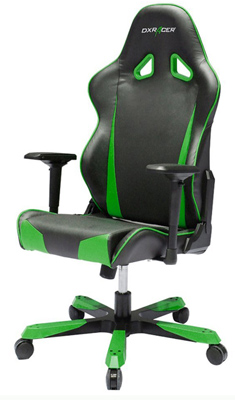 The word 'tank' is often associated with massive things just like war tanks themselves. The DXRacer Tank Series is nothing short of this. This is a big, extra heavy duty gaming chair built for the really heavy guys. Its adjustability is impressive and to crown it all, it has 4D armrests. But all these come at a heavy price.
The Tank Series is indeed a big gaming chair that doubles up very well as an executive office chair. It stands at 54 inches and when fully adjusted, it stretches to 59 inches. The base is also larger and wider, the result, a more stable chair that doesn't wobble or squeak even when you sit down with force.
But the best thing about this chair is the load capacity. It has been designed to carry up to 425 lbs. and anyone shorter than 6'7 will be comfortable on it. Something I like about the Tank Series is the adjustability and multi functionality. You will agree with me that many heavy duty chairs don't offer much in terms of adjustability but the Tank Series can be adjusted to 120°. What's more, it will remain stable without moving an inch even when you are taking a nap when fully adjusted.
Regarding the design and physical appearance, the Tank Series is available in 4 colors and 6 models. It has been upholstered using high quality leather and I am glad it was able to maintain room temperature unlike PU that gets too cold or very hot. Another thing, it is more breathable and the v patterns further boost air circulation. You don't have to worry about sweating when playing in a hot room or during summer. When it comes to armrests, DXRacer included 4D adjustable armrests which enable you to customize the angle of your arms. This unit also comes with a lumbar cushion and headrest for additional body support.
The Tank Series is the true definition of heavy duty and the excellent performance justifies the $500 price tag. Besides, it is also adjustable and in fact, it comes with the new 4D armrests. If you are a heavyweight, don't gamble with the cheap stuff, grab the Tank Series, a symbol of strength!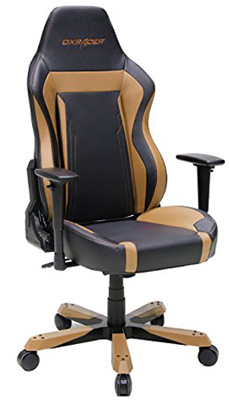 If you did your homework, you understand that DXRacer also manufactures office chair and the Work Series will be your category if you are looking for an office, study, or gaming chair. But I find it quite expensive and it's not that it can accommodate very heavy people or has any unique features.
The Work Series has been built in a nice sporty and executive design. It doesn't have any special design; just a high back chair with a PU cover. At the top, there are two cutouts that help in air circulation but when you attach the headrest, the cutouts are blocked. This model also has a lumbar cushion though I find it hard to use it with the rather flat seating area. The armrests are 3D and work just fine in finding a place to comfortably rest your arms. The Work Series is available in 5 models and 5 different colors so you won't miss one that best fits your office or gaming room's interior.
One thing I didn't like about the Work Series is the casters. Ordinarily, you'd expect a good chair to have some resistance to avoid it moving when you are off the chair or when seated. This one will skid off very fast with minimal force. Also, for some reason, the 3'' casters make a lot of noise so in an open office, you will be a distraction most of the time. Regarding performance, the Work Series is not that bad and will accommodate a maximum of 185 lbs. The gas lift is Class 4 and the nylon base ensure that the chair remains firm on the floor even when fully reclined to 135°.
The Work Series is an excellent choice if you are looking for
a gaming chair
but in offices, the casters make too much noise and the base slides off easily. The price too is quite high but if you are really keen on buying a mid-range DXRacer, it is not a bad choice.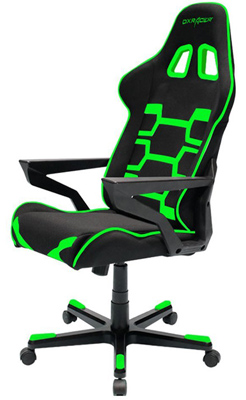 If you don't want the less durable PU leather and PVC, you are left with fabric, that's what the Origin Series is. It is also the easiest DXRacer to assemble as it has lesser parts than your ordinary DXRacer. Above all, the price is affordable but then note that it is a light duty gaming chair.
I bought the DXRacer in 2017 when my gaming lounge business was booming and the first thing that attracted me to it is the amazing patterns and striking colors. As you all know, fabric is available in many colors so to come up with a flashy gaming chair, it is the best material. Besides that, it is more durable and actually lasted longer compared to PU leather. Remember, for commercial gaming, it used to be sat on for over 12 hours every day but still to date, it doesn't have a scratch or tear. But then, you will need to be very careful with it as cleaning is a menace. Customers have spilled drinks and food on mine and after the many times I have cleaned it, the colors have started fading – it's not as brilliant as it looked when new. Please, note the fabric may cause some irritation on your skin but it will go away with time.
When the package arrives, you will be surprised that it has fewer parts. The thing is that the Origin Series has fixed armrests so you don't expect so many parts. In the same token, the lesser parts mean lesser assembly time. Actually, you can be done in 10 minutes as long as you identify the parts.
But how is the performance? Like I said, this is a light duty gaming chair specially meant for small body sizes, especially teens. It has been recommended for players with a maximum of 150 lbs. and 5'9. At the bottom there is a nylon base and 2'' casters that make quite a lot of noise. Though it has a conventional mechanism and an adjustable backrest, you can't be comfortable when you adjust it to the maximum, 135°.
The Origin Series is an awesome lightweight and affordable gaming chair. If you want something that is easy to set up and move around, then this is your match but remember, it is a light duty chair.
AKRACING – Value for Money
Our third and last brand in this review today is AKRacing which has been in business since 2001. It is also a brand that was dealing in motorsport seats and as time went by, they delved into gaming chairs and office chairs as well. Their latest products portfolio includes the Core Series, Masters Series and Office Series.
In as much as DXRacer may be the household name, AKRacing is one brand that has given it a run for its money. Though AKRacing gaming chairs are quite expensive, I like the guarantee the company gives when it comes to durability. The chairs come with 5 years warranty on parts and 10 years on the frame while DXRacer comes with 2 years warranty on parts and Lifetime warranty on the frame. To say the truth, I would rather go for the 5 years warranty on parts – there is high chance of defective parts (armrests, gas lift, and adjusting knobs) than the frame.
Besides gaming chairs, the company has a number of other gaming products including high-tech gaming desks and footrests. All these products are tested and have several certifications including N 1335-1, EN 1335-2, TÜV SÜD, and REACH.
Now, let's look at the different chairs AKRacing offers to see which one fits what types of gamers.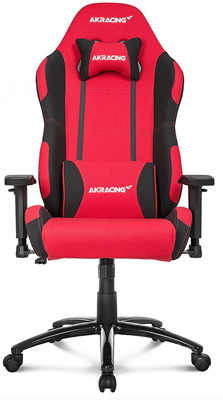 I bought the 2017 edition of the Prime Series from Amazon and though I haven't used it for quite long, it is a great buy when it comes to comfort. On a normal day, it retails at $299 though you may get some colors on discount for as low as $200. This chair is available in blue, green, red, and orange.
What attracted me to this gaming chair is the fabric upholstery. Though I'm a fan of leather, my wife's cat kept on inflicting paw scratches on the leather chairs and so I thought fabric would do the magic and indeed, it is tougher and wouldn't get scratched easily. But on the downside, it was hard to clean it especially when liquids spilled on it. I'm also allergic and with a cat and dog that liked to sit on it, I always started sneezing when on it because of the pet dander and skin flakes, among other allergens.
Regarding performance, this is a light duty computer chair and is recommended for gamers with a maximum weight of 180 lbs. and unfortunately for me, this is not something I overlooked when buying – I only focused on the material and discount. But still, I tested its sturdiness with my small brother who's 155 lbs. and 5'10 and he was so okay on it. The backseat is 180° adjustable and so are the armrests. Just to mention, the armrests are very wide and accommodating. Other features include a headrest and lumbar support, 2.5'' casters and an aluminum base.
The Prime Series is a great and affordable PC chair for averagely sized gamers. The fabric upholstery makes it tougher and more resistant to scratches so it will last longer; the only problem is cleaning it. I would have also loved to see it in better armrests – adjustable armrests are too plain for a $299 gaming chair.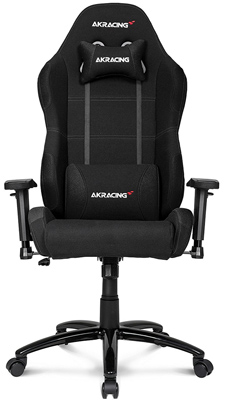 The K7 Series came to the market with much hype and truly, it deserved the praise especially when it comes to aesthetics. I like the premium fabric and precise stitching but then, it needs a little extra care. The price is also amazing and considering its price has come down from $300 to around $220, this should be among your targets if you have an average body size.
What I love most about this chair is the versatility. With the four-position lockable tilt, you can do a lot with the chair. It will lock at working mode at 90°, idle mode at 120°, lunch break at 165° and chill mode at 180°. But just to mention, the chair feels quite unstable when at 180° if your weight is to the ceiling. This chair has been rated 180 lbs. and is suitable for gamers standing 5'11. The cold molded foam is very soft and doesn't lose strength like these cheap foam paddings. But it is hard when you are on it during the first days so don't be worried, it's normal.
Time and again, I have seen some misleading information about the material and for the record, this chair has fabric and not PU leather as suggested by most websites and reviews. One thing you will notice is that the fabric is more firm and tough but then, it seems to hinder breathability so much. There's a big difference between the usual mesh fabric and this one and in summer, you will actually feel the sweat. So, even though we all know that fabric chairs are the best in boosting air circulation, this one is not perforated enough even though the manufacturer has hyped it so.
The K7 Series will be an excellent choice those with minimal space courtesy of the compact design. The price is also affordable and the models in the market are 2017 models so you are sure of getting the latest features.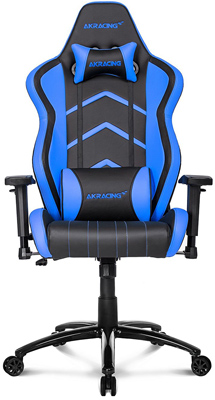 The Player Series is among the high-end models which in my opinion is expensive for nothing. The recommended retail price is $449 which is quite high for a light duty gaming chair.
The Players Series is quite similar to the other AKRacing chairs but with a notably high back. But then, a 5'11 guy will sink in it suck that the head is under the headrest, leaving you seated in a very bad posture. But I like the high-quality padding and included lumbar cushion and headrest cushion. It helps support the weight of the back column now that your head is not properly positioned because of the high headrest. Having tested this chair, I wouldn't advise you to go for it if you are 5'11 or taller. I know the manufacturer has recommended so but trust me, you will strain.
Regarding performance, the Player Series packs most of the standard features of AKRacing gaming chairs. The entire seat is supported on a strong and sturdy center pole frame which spreads out into 5 limbs with 2.5'' cater wheels. Like earlier said, this is a light duty chair so don't buy it thinking it will offer heavy-duty performance just because it's expensive. The recommended payload is 200 lbs. but I'm glad I could still sit on it and it wouldn't wobble in work mode but when extended further, I could feel it start wobbling and squeaking (remember I am 213 lbs.)
When it comes to aesthetics, I like the fact that AKRacing sought a new dimension and finished it with faux leather. I am never a fan of faux leather because of the poor quality but AKRacing did a commendable job by using high-grade faux leather that will definitely last longer. This is among the reasons that make it expensive. But still, I don't think the Player Series is a worthy buy for anything higher than $250.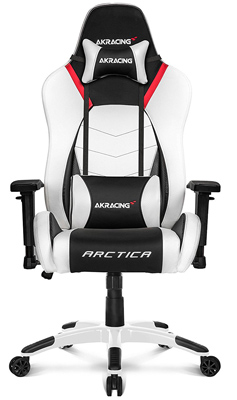 The Arctica is a real beauty and as the name suggests, its striking feature is the ultra-white accents. Retailing at around $350, it will suit any office or gamer who is looking for a solid work chair that will not only help you sit comfortably, its versatility will help you relax your body. Besides that, it has rocking function and a 180 degrees backrest adjustment.
As mentioned above, the Arctic's main attraction is the ultra-white Arctic theme. You will love it in your office or gaming lounge and the good thing, it rhymes with all interiors. But then, this chair is for the neat gamers. In as much as PU is known to be an easy to clean material, the constant dark will make the ultra-white accents lose the brilliance, often leaving them looking very dull. I'm glad AKRacing used the best quality PU; tough and still looks fresh like real leather. When it comes to padding, cold molded foam is used and though it may be hard in the first days of use, it softens and doesn't thin out like these cheap foam.
You will agree with me that anyone will like the aesthetics of the Arctic but the truth remains, not everyone will comfortably use this chair. So, who is the Arctic meant for? This chair has been designed as a heavy duty and will hold a maximum of 330 lbs. according to the manufacturer. This is something I refute because there have been complaints that it looks overloaded when a 300 pounder sits on it. From my observation, this chair should suit guys weighing an average of 230 lbs. But note, I am not saying a 330 lbs. person can't sit on it but then, with such stress, it will wear out very fast. I am sure you want to buy a chair that will last longer so don't buy one that your weight will overwhelm.
The Arctica is a really beautiful chair that everyone would admire. However, its performance is not up to the mark, at least to the manufacturer's specifications. But for the price, it is a worthy purchase if you can maintain the white color.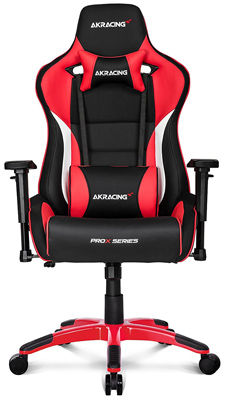 The ProX Series is among the heavy-duty chairs from AKRacing. Though it is also expensive, I like the sturdiness and comfort that comes with it. If you are really heavy, say 250 lbs. this is your perfect match.
The ProX Series is purely a PU leather (pleather) upholstery and is available in some fancy colors. The padding is also worth mentioning and from the stitching too, AKRacing did the ProX some justice. I thoroughly tested this chair because it seemed to be what I would be looking for next courtesy of its sturdiness. Its comfort too is amazing and features a deep seating area and a high back to relieve you from pressure on the major pressure hotspots. The armrests are 3D, something that is unfortunate for a high-end chair but I understand AKRacing has been adamant in this area. I also like the fact that you can rock with this chair comfortably. So, when the heat is too much, adjust it, set the tension and rock away!
Despite the fancy features, the main highlights of the ProX is in the performance. Like earlier mentioned, it has a payload of 275 lbs. and this is something I tested with at my friend's place who happens to be 265 lbs. He has had the ProX for 4 months now and the performance is excellent. What you will realize is that AKRacing has a more stable aluminum base and the frame material is thicker. One thing that will affirm this chairs strength is when you adjust it to 180° and swivel around. There is no shaking, wobbling or whatsoever. The 2.5'' casters strongly grip the floor for maximum traction but I still wish they had used 3'' casters. On tile floors, they make some funny noise.
I have nothing against the AKRacing ProX; it's a solid chair that exceeds the expectations. But I would have really loved it in 4D armrests and larger casters to reduce the pressure on floors. If you get it at around $350, it's a nice deal but on a normal day, it is over $500.
DXRacer vs AKRacing Comparison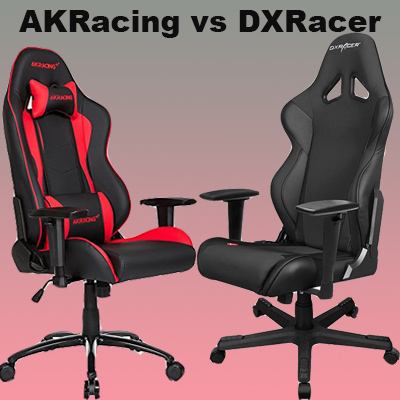 Though DXRacer is the most popular brand, AKRacing has given it a run for its money.
But what makes DXRacer the best gaming chair between the two? And does AKRacing have some advantages over DXRacer? Let's find out.
If you are looking for the ultimate gaming chair with the latest features, you should look no further than DXRacer. This is a household name when it comes to
gaming chairs
and it dominates several gaming scenes. So far so good, no
other gaming chair brand
has a large product portfolio than DXRacer.
It manufactures PVC, fabric, mesh and PU leather chairs and the chairs are available in every color you'd want. But the best feature these chairs offer is the revolutionary 4D armrests. But then, all these features come at a high price. A standard DXRacer will cost you an upwards of $350 while high-end models go up to $700.
On the other hand, AKRacing offers value for money.
It does not offer the best features like 4D armrests but at least it comes with adjustable and 3D adjustable armrests. The casters are also 2.5'' PU while the base is aluminum. But two reasons you'd want to go for AKRacing is the tilt adjustment and price. AKRacing chairs have backrests that can be tilt all the way to 180°. The prices are also fair considering you will get a solid chair like the K7 Series for $200 while a similar product from DXRacer, for example, the DXRacer Formula Series will cost you around $300. Besides, its backrest adjustability is better than that of DXRacer. As we have seen ion our earlier discussion.
All said and done, you must make a choice between the two brands. To be honest with you that will be a personal choice and what I can only help you with is a few tips.
If you want an innovative chair that packs all the latest features, DXRacer is the brand to go for. But then, if you are on a budget,
DXRacer
is not the best choice; that's where AKRacing comes in. Even though it is not that cheap, at least it blends the top features and affordability. That said,
the AKRacing vs DXRacer battle comes down to features vs affordability – the choice is yours
!
DXRacer vs Arozzi Comparison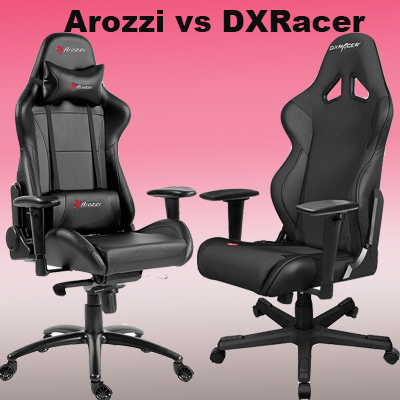 Just like AKRacing, Arozzi is also another computer chair brand that rivals the renowned DXRacer. But as we all know, DXRacer is the ultimate gaming chair brand so what's with Arozzi? What makes it feature in this shortlist of the best gaming chair brands?
The only advantage of Arozzi is the price points. Of all the three brands we have discussed, Arozzi is the cheapest.
That said, you'd want to buy from Arozzi when you are on a budget. You will get a good chair from as little as $150, a budget that you won't get any DXRacer or even AKRacing. Apart from the price, I really like the type of PU leather Arozzi offers – it looks exactly like leather and when it comes to looks, not even DXRacer can match it. But still, it lacks some enviable features that DXRacer has. One of the areas it underperforms is the armrests. Arozzi has 2D armrests whereas DXRacer is perfecting 4D armrests.
Now, if you don't know what to go with between AKRacing vs DXRacer, here is something you need to know. Yes, DXRacer is an excellent choice and certainly beats Arozzi in terms of features. But then, you have to cough out more bucks to get it. On the other hand, Arozzi is an affordable option and though you may dismiss it for being cheap, it is still a chair you should put on your wish list if you are not keen on 3D or 4D armrests. Actually, if you don't play MMO and FPS games, it is a cleaver choice to go for the cheaper Arozzi with 2D armrests – they are still ergonomic and comfortable.
DXRacer vs Arozzi vs AKRacing Buying Guide
Having reviewed the top 3 gaming chair brands, it will be important that you step out shopping with every information you need to know about computer chairs.
In this section, we are going to discuss several aspects that are very important when shopping for the best gaming chair. In the same token, we have compared how the 3 brands rank against each other so that you may make the best decision.
What is a PC gaming chair?
Basically, a
PC gaming chair
is an executive office chair that has been customized to suit gaming needs. These chairs are used interchangeably in offices as well as in gaming and even studying.
I wouldn't say that there is a big difference between an office chair and a PC gaming chair because their similarities are much more than differences. That said, it would be interesting to discuss the distinct features of PC gaming chairs.
Why buy a PC gaming chair?
I know most of the late 90's guys don't understand the stress of playing on the sofa or bed. You can't do 6 hours without ending up with back and joint pains. But thanks to gaming chairs, you don't have to go through all that. But then, these gaming chairs are quite expensive and you'd want a reason why you should again spend more money even after investing in the best titles, consoles, monitor, and other paraphernalia.
The thing I like about gaming chairs is that they have been designed to give you comfort. While you may be well skilled in whatever title you are playing, you need to be seated comfortably lest you lose your concentration and composure which are very key. You will find them padded using the best quality foam that relieves you from pressure. They also have armrests to give you a comfortable place to find support and some of them are even adjustable for the perfect positioning.
But the best thing about PC gaming chairs is their customization.
The different adjustable positions will help you not tire in one position. AKRacing, for example, will come in different modes each tailored to specific needs. Apart from this, the different customizations make gaming chairs very versatile. There are some that come with rocking function for relaxation while others can be adjusted to 180 degrees so you can take a nap.
Factors to consider when buying a gaming chair
Now, let's try to dig deep and look at the important factors that you need to consider when shopping for PC gaming chairs. But what I want to tell you first is that while the factors may serve as a checklist, it is important to note that you may not end up with the perfect gaming chair that serves all your desires; it's a matter of compromise at times.
In this section, we will discuss the key aspects that need to be considered when buying gaming chairs. Like earlier promised, we will also see how each of the 3 brands compares when it comes to each aspect and thereafter, we will give the winner. That said, let get straight to business.
Brand
There are a lot of brands in the market and buying a top brand is something you should always do, not only when buying gaming chairs. You want a good gaming chair that will give you real value for your money; this is exactly what top brands offer.
So, which are these best gaming chair brands? I know you now know of AKRacing, DXRacer, and Arozzi as the best gaming chair brands. But still, there are several other brands that you may consider including Homall.
Typically, the best brands are expensive. For example, the average DXRacer costs $250 and with less than $100, you can buy a similar gaming chair but of course, the quality is not as good as the DXRacer's. But just why should you buy from a top brand yet they are expensive? I always insist on top brands is because of the high-quality chairs they manufacture. Remember, it is quality and reliability that made these brands very successful.
Arozzi vs AKRacing vs DXRacer
– For purposes of our comparison, we have to give our verdict on what is the best brand amongst the three. Personally, I have a soft spot for AKRacing but then,
DXRacer
carries the day. But remember, this is not a fact you have to rely on because we tend to become very subjective on brands depending on our experience with them. So, even though I may like DXRacer, any of the two remaining brands will still serve you well.
Recommended weight and height
If you are keen, you must have realized that there are different categories of gaming chairs. There are gaming chairs for light gamers and others built for heavy gamers. That said, you need to be sure that the chair you are buying is ideal for your body type.
The first thing you should look out for is the suggested weight limit. This is the maximum weight that the chair can support comfortably. There are two things I want you to note here. First, it is important to note that a lot of brands overrate their chairs so don't fall into these light-duty gaming chairs that have been marketed as heavy duty. Second, the higher the weight limit, the expensive the chair is and this is solely because a heavy duty chair has been built with stronger materials and obviously, more.
On the other hand, the recommended height equally matters and this is something most buyers ignore. I understand a lot of people may not have sitting problems because of the height but for the real big boys, 6'0 and above, this should be a major concern. You may buy a chair designed for shorter guys and end up with partial back support and worse enough, hanging hamstrings. For the shorter guys, buying a chair designed for tall guys will also be a problem. Your feet may be left hanging while the headrest may be too high for you, same as armrests.
So, what's the best gaming chair as far as the suggested weight and height is concerned? I will tell you that this depends on who the gamers are. I say this because you may be buying gaming chairs for commercial purposes or even for these tech offices that love cool stuff. I want to say this, if you are looking for a universal gaming chair that will fit the ideal American, get something in the range of 200 lbs. and 6'2. But if it is for your personal use, get something that is within your range and make sure to give yourself some allowance. If you remember my story, I added weight and I wasn't comfortable enough in my gaming chair so I had to break the bank for a more heavy duty chair. To avoid this, get something bigger than you.
Arozzi vs AKRacing vs DXRacer – Here, I wouldn't say that there is a clear winner because there are different chair duties – from light to heavy duty. But then, I would stick to DXRacer because they give a Lifetime warranty on the frame. Remember, it is the strength of the frame that determines the duty of the chair. Now that DXRacer offers a Lifetime warranty, I'm more inclined to trust the brand more than the rest.
Upholstery material – PU leather vs PVC vs Fabric
One of the most debatable topics around gaming chairs is the upholstery material. Different chairs have
different materials
and what makes the topic a hot discussion is because the material is directly related to aesthetics, maintenance, and durability. Though there may be several other materials used, PC gaming chairs are upholstered with Polyurethane (PU), leather style/chrome style vinyl (PVC) and fabric.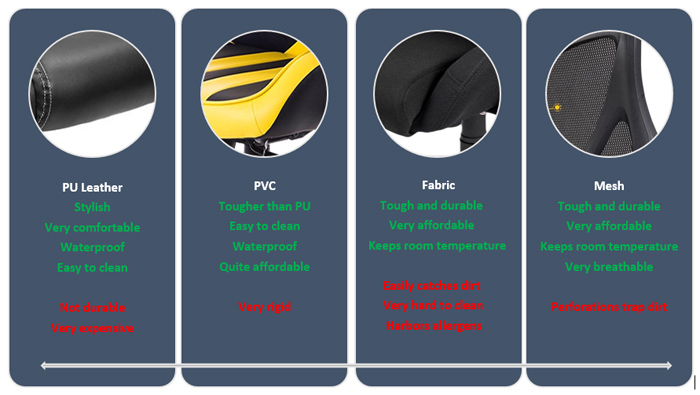 1. Polyurethane – You will agree with me that there are no genuine leather gaming chairs, I don't know of one. But we have faux leather that actually looks like real leather. The material used to make faux leather is known as Polyurethane. It is very appealing and elegant and maintaining it is quite easy. It doesn't catch dirt easily and cleaning it is very simple. But then, PU leather is very fragile and will get scratched easily so if you have pets and kids, this shouldn't be your priority. But again, it all depends with the quality used – I really like Arozzi's PU leather grade; quite firm and tougher than the market competition. Another thing, Polyurethane is not hygroscopic and will often leave you sweating especially in summer or if you have hyperhidrosis. But if you're all about looks, this is the perfect match.
2. PVC – If you really want that real leather look but in a more durable fashion, then PVC is the option. But for the record, it doesn't resemble real leather like faux leather. This material is tougher and will withstand claw marks better than PU. DXRacer is among the brands that has exploited PVC to the very best creating some of the most envied chrome style gaming chairs. But my problem with PVC is that it's very tough and you hardly feel the padding. Actually, sitting on a PVC chair is such a punishment and that's why it's mostly used together with PU leather. Actually, it is used for customization mostly because it best brings out the flashy colors.
3. Fabric – Also known as strong mesh, this is a less popular gaming chair material. But one thing I like about fabric is the toughness. At least it is able to withstand pet claws more than PU leather. A fabric gaming chair is also cheaper so when you are on a budget, this is what to consider. Another thing, fabric is able to maintain room temperature unlike leather and PVC catch extreme temperatures (When it's hot, they become hotter and in cold, colder).But on the downside, fabric is hard to maintain; it catches dirt very fast and cleaning it is a big problem. You just can't pat it dry like PU leather or PVC. It also tends to catch dust and allergens faster so if you are allergic, and with pets around, you'd also want to shy away from the tough fabric.
Arozzi vs DXRacer vs AKRacing – When it comes to the three brands that we are focusing on today, it is hard to say the winner because each offers top quality upholstery; whether fabric or leather. AKRacing has majorly based their models on Polyurethane while Arozzi and DXRacer blend the three materials.
Lift mechanism
Among the common features of all PC gaming chairs is the height adjustment feature that raises or lowers the seat position for correct legs elevation. This adjustment system uses a gas lift mechanism.
There are several types of gas lift mechanism classified depending on the class of the gas lift system. The best system is the Class 4 gas system and this is what you should look out for when shopping for a gaming chair. With Class 4 gas, you will effortlessly adjust the chair regardless of your weight.
AKRacing vs Arozzi vs DXRacer – Here again, it is hard to call because all the three brands use Class 4 gas lift system. That said, this shouldn't be a major consideration as long as the chair you are buying is rated Class 4.
Armrests
Besides the versatility, another advantage of PC gaming chairs is the armrests that give your arms a stable support. If you play FPS and MMO games, you probably know the importance of these armrests. It is also the armrests that make it very similar to office chairs.
In the market, you will find fixed and adjustable armrests. The low end gaming chairs will definitely come with the fixed armrests. Personally, I don't like fixed armrests because of the posture monotony. That leaves you with adjustable armrests that you will pay more for. But are they worth it?
Honestly speaking, adjustable armrests are worth every penny and even if you are very tight with your budget, try getting at least the base version.
There are three types of adjustable armrests; adjustable, 3D adjustable and 4D adjustable armrests. Each one of these armrests has advantages and disadvantages so when shopping, it's important to understand them like the back of your palm.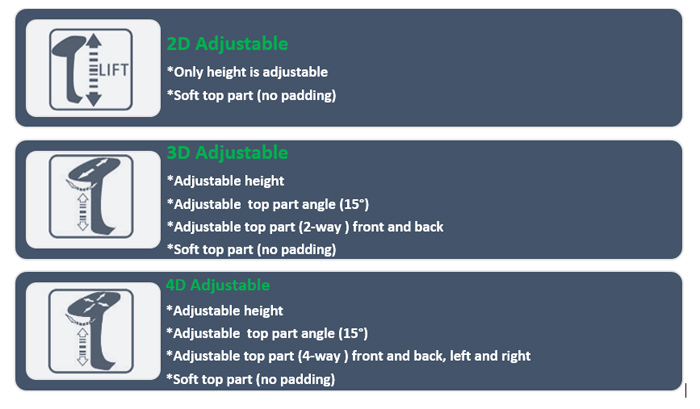 2D adjustable – These are the base versions and only the height can be adjusted. The top is not padded but has been finished with soft material.
3D adjustable – These armrests have height adjustment just like adjustable ones. The new extra is an adjustable angle of up to 15° with the top part adjustable in two directions, front and back.
4D adjustable – These are the latest and most advanced armrests and are very similar to the 3D armrests only that the top part is adjustable in four directions.
If you play for long hours, I suggest you buy a gaming chair with 4D armrests or at least 3D. Fixed and adjustable armrests are not the best for long session comfort.
DXRacer vs AKRacing vs Arozzi – When it comes to armrests, AKRacing bows out of the race because it only offers adjustable and 3D adjustable armrests. That leaves the battle between Arozzi vs DXRacer and the latter carries the day because their 4D armrests are solid and don't break down like the armrests in Arozzi.
Base
Something else you need to consider when buying gaming chairs is the base. This refers to the 5 fins connected to the center pole and the casters. It is very important to consider this feature because it provides support for the entire chair plus your weight. When shopping, you will come across two types of bases classified depending on the
material
. We have nylon base and aluminum base.
Nylon base is available in a matte finish and may at times be customized with patches depending on the chair's upholstery color scheme. On the other hand, aluminum comes in a shiny color and is more solid attractive than nylon. But when it comes to durability and performance, I want to say that these two are just the same; what matters is the quality of nylon or aluminum used. Now, that takes us to our next concern; which brand has the best base.
Arozzi vs DXRacer vs AKRacing
– When it comes to the base, the materials are all the same but I would give more credit to
DXRacer
. At least we have several designs; from the spider to the bowed bases.
Assembly
How easy is it to set up the chair? Remember, your gaming chair will not come assembled, it will be shipped as parts. Though everyone says it is easy to assemble a gaming or office chair, it is not an easy task for just any Tom, Dick or Harry. The most important thing to note is that the more the parts, the harder it will be to assemble. So, while you may be so impressed with features like 4D armrests, be ready for a challenging assembly process if you're a beginner.
But then, with the provided assembly manual, it shouldn't be such a scare. I know you might now shy away from PC gaming chairs and go for the pre-assembled console gaming chairs. In the assembly process, I think the most important thing is to first try and understand the parts before you start any major work. Once you understand the parts and where they should fit, the entire process will be easy.
AKRacing vs Arozzi vs DXRacer – Here, it is very hard to say which brand offers easy installation. Like I mentioned, installation greatly depends on the number of parts – the more the parts, the harder it is. That said, it may not be in order to say that one brand has easier installation than the other. But just to point out, I like the assembly manual for DXRacer – it is elaborate and very easy to follow. But if you really want something that's very easy and straightforward to install, the DXRacer Origin Series carries the day but remember, what makes it easy to install is the fact that it has fixed armrests.
Warranty
What if your chair is defective? What guarantee do you have that the build quality is up to the mark? These are all issues related to the warranty of the gaming chair. Gaming chairs are quite an investment and for that matter, you should buy something that has the longest warranty just in case it breaks down before long.
If you are keen, you must have realized that gaming chair brands give two types of warranties; parts warranty and frame warranty. Typically, the frame has a longer warranty. But then, which warranty should you be keen on?
DXRacer vs Arozzi vs AKRacing – I know it may sound insane but the truth of the matter is the parts warranty is the most important. I will use the example of DXRacer and AKRacing to explain this. DXRacer offers a 2/Lifetime warranty on parts and frame respectively while AKRacing comes with 5/10. For me, I would choose AKRacing because the parts warranty is longer. I will tell you for a fact, you are more likely to use your parts warranty than the frame warranty – these frames never break!
Wrapping Up
Gaming chairs will not help you be a better gamer as far as gameplay is concerned. But remember, your comfort when gaming is fundamental. Besides that it helps you sit in the right posture and bearing in mind most backache problems are related to bad sitting postures, it is a worthy investment.
DXRacer, Arozzi and AKRacing are the best brand to search for your next gaming chair. When shopping, always remember that DXRacer is best in terms of features and is very expensive while Arozzi lacks 4D armrests and is considerably cheaper between the two. On the other hand, AKRacing has found a balance between the two and has 3D armrests and is much more affordable than DXRacer.