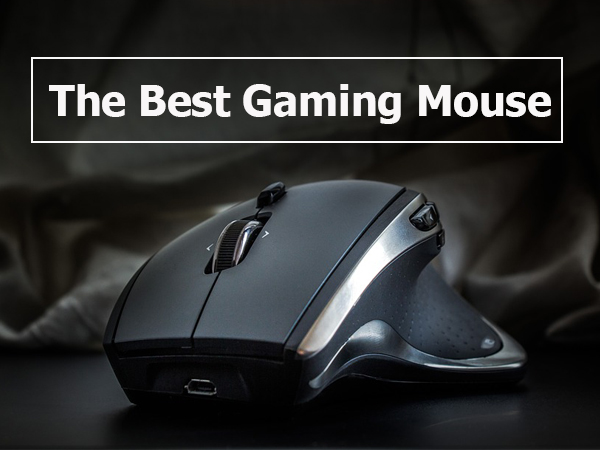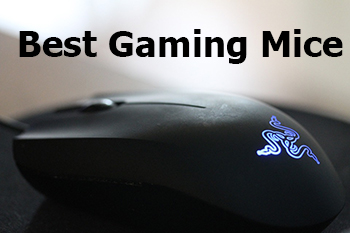 As an avid gamer, I have come to understand that the best gaming mouse is one you can conveniently hold onto for hours at a stretch and can help you increase your competitive advantage when gaming.
Well, there's just ONE problem. Finding a "Good" gaming mouse is a tough job.
So, what are the best gaming mice that will give you the best gaming experience? Which gaming mouse would we recommend you should go for?
To make this the best list of gaming mice possible to determine what mice will be best for you, we have reviewed some of the best products onws the market at the different price range.
We are presenting you a unique assortment of mice that should cater to a broad range of gamers and their favorite gaming genres.
With that in mind, let's dive right into the countdown of the best gaming mouse of 2018.
Best Gaming Mice Review (Premium Models)
The first premium gaming mouse on our list is the: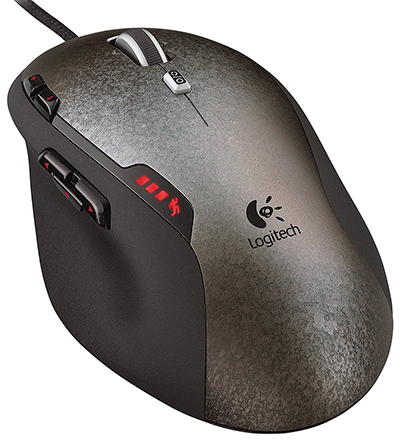 When it comes to a gaming mouse that offers one of the best precision and control to give you a fluid performance, then the Logitech G500 Programmable Gaming Mouse comes to mind.
The G500 undresses between the G400 and G700 in the Logitech's line of gaming mice. This is a wired mouse that is unlikely going to be an issue for many gamers.
One of the best things I love so much was the decision to move the DPI buttons to the left side of the mouse instead of the right. This will prevent you from accidentally hitting the buttons when changing weapons in games or scrolling through documents. Great, right?
So, how long is the cable and is it braided?
Design wise, the cable of the G500 Gaming Mouse is similar to the style of the G400 while not comfortable to hold as the G700 that feels nice in your hand. The cable is not only braided, but it is also sturdy enough to reduce the chance of tangling and breaking.
That is not the only trick up its sleeve as the G500 is tough as an old rubber boot and the hydrophobic coating makes it less likely to slip off if your hands are sweating.
If you're like me who takes pride in the appearance of his mouse, you'll be pleased to know that G500 has a coating to prevent it from collecting fingerprints.
Great, but does the G500 Work with OS X?
The G500 gaming mouse does not only work with OS X, but it also works perfectly on windows as well. In case you don't know, this mouse offers you 10 programmable buttons that let you maneuver your opponent.
The main two buttons are straightforward to reach, but the buttons that I have an issue with are the two on the left-hand side at the top of the mouse.
Why are they hard to reach, you ask?
This is because they are relatively flat, making it slightly harder to press than the others. By default, these two buttons serve to increase or decrease the resolution that sports an impressive 202 8200 dpi. Of course, this is far higher than many mice in this price band.
In addition to the 10 programmable buttons, there is one with a set feature located just in front of the scroll wheel. This serves as a method of changing the scroll mode.
The scroll wheel can either act as you would expect with precise click feel or in a free scrolling mode, allowing you to flip through web pages and documents quickly.
How is the Sensor like?
I must tell you that the only thing that lets the sensor down is the ability to function on anything other than opaque surfaces. So, if you have a glass desk, just forget about it.
But it perfectly works well on a wide range of surfaces with incredible precision tracking on even carpets and clothes.
How quiet is the Mouse?
The mouse is relatively quiet. But the clicks of the mouse might disturb someone who is a light sleeper. If you should rate the clicking noise, then it will be below average.
What more can I say? The lack of friction in this mouse is impressive. You will be able to make a spin for well over 20 seconds with just a single flick.
Pros
Offers 27 grams of extra weight to give the right feel while holding it
Fits perfectly in the hand
Braided cord is sturdy and durable and does not tangle
Features Dual-mode scroll wheel that gives you hyper-fast scrolling
On-the-fly adjustable DPI provides the right level of precision when gaming
And 10 programmable buttons let outmaneuver your opponent
Powerful on-board memory allows you to save your settings
Cons
You need Logitech software for you to use the middle side button
The left buttons might have double click issue after an extensive use
There's very little I can find to dislike about the G500. It is comfortable to use, it's very responsive, and has a high build quality for a mouse of its price.
If you're looking for a decent mouse to start off with, I'll probably recommend the G400s due to its lower price. But if you're looking for something classic and extraordinary, then the G500 gaming mouse is definitely the right mouse for you.
The first time I saw this mouse, the question that ran through my mind was: "is it worth $100? What does it have that others at a lower price don't have?" But after an in-depth review of this mouse, I was not only convinced that it was worth $100, but it is also our editor's choice of the best mouse above $100?
So, let's dive right into the review on why this was able to win our editors' award of the best gaming mouse.
First of all, the Mad Catz RAT8 is crowned with a Dpi of 12,000, which is more than that of any mouse on this list. It also features an acceleration of 50g and a frame rate of 12000, which means you'll get 12000 FPS.
How does it compare with the Logitech Mice?
Although I have been a strong fan of Logitech mice, I had to make the dive on this because it's a little bit bigger than the Logitech line of mice. So, if you have bigger hands, then this mouse will be a perfect fit for you.
To back up its hype, the RAT 8 is a huge improvement over the M-65. It's buttery smooth at all DpI settings, highly accurate and a complete joy to play with.
While the previous generations-M-65 is somewhat jumpy and jittery at a higher setting, the RAT8 was skillfully made to correct such obnoxious display.
What about the software?
One of the lovely components this mouse comes with is the software, which gives you a significant amount of functionality and customization that you can implement with the mouse.
The software has a multiplier for the DPI setting of 4. So you can max out the DPI at 48,000, which is so fast if you're using it to play in full-screen mode.
Even at this, I still think the software isn't as intuitive as I would want it to be. It'd have made more sense if it is a little bit more user-friendly.
Don't get me wrong; there's so much customization you can do with the Rat8. It's just insane and almost overwhelming. You can create many shortcuts and make different presets for different games. You can also change the time interval on heartbeat effect of the types of lighting effect that you want.
As if that isn't enough, the RAT8 allows you to set up multiple profiles and macros as you want. It stores them in memory and lets you use them on any computer.
Everything is just amazing.
So, where else does this mouse really excel?
Design-wise, this is one of the heaviest of the RAT series. The advantage of this is that it will make your shots on target so accurate and movements more smooth, thanks to its metal base plate.
Oh, let's not forget that this little rodent friend offers 11 programmable buttons, and comes with better sensor compared to previous models. Thanks to its RGB LED lighting, Pixart PMW 3360 Sensor and its brand new software.
You aren't going to notice any jumping or jittery while using this Mouse. The tracks are smooth in different DPI settings.
Pros
Super lightweight design
The sensor is positioned perfectly for tracking on your gaming surface
Highly customizable and adjustable
With 12000 DPI Optical Sensor, the RAT8 will withstand extreme movement speeds
Very comfortable and perfectly fits the hand
Adjustable DPI.
Cons
Plastic isn't of a high-quality
The plastic is prone to dirt
Software isn't that intuitive
Does it justify its $100 price tag? Of course, it does with its cutting-edge features that give you reasons why you should spend $100 on this mouse. The solid build quality, the lighting, the aesthetics, the gaming experiences is unbelievable.
Everything about it just screams high-quality. I highly recommend this gaming mouse for those looking for something that is classic and exceptional.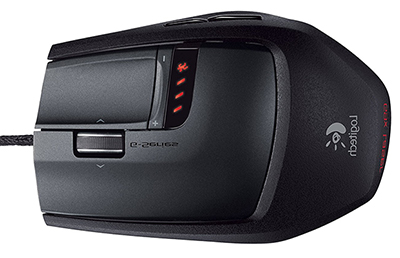 The Logitech G9x is the big brother to the G9, and it brings a new engine to the table. This engine goes anywhere from 200 dpi to 5000 dpi, which is extremely impressive.
My favorite thing about the G9x is that it is very customizable just like the RAT8 and other high-end mice. You can change every aspect of it, which includes the precision shell, and the Wide-Load Shell.
You can even change the grips, the scroll style, the resolution, the game profiles and even change the weight of the mouse.
Another cool thing about this mouse is that it stores all your game profiles, up to five of them on the memory of the mouse. So, if you go to another computer, you don't lose your settings. That means you don't have to go into Logitech and download a program and reprogram it.
The blue profile display lets you use it for general gaming, green for Photoshop and red in the "world of Warcraft." You can use orange for "Counter-Strike," or whatever you want to do.
What about the Sensor?
The G9x offers you 200-5000 dpi, coupled with megapixels/seconds, which is a lot and 30G of max acceleration.
The indicator light it owns deserves high praise. It shows you your current dpi, and you can on-the-fly change it from 200 to 5000 dpi right there.
I also like the forward and back keys for surfing the web, which you can turn into macro buttons.
The right click button of the mouse is very sensitive. That means you have to learn to keep your middle finger a little bit on your bottom finger, so you don't touch it by accident.
Please, keep this in mind that this is a very non-ambidextrous mouse. So, if you are a left-handed user, don't even think about this mouse because you will not like it. But if you are a righty, everything else will work out fine because it is very customizable.
What is the weight-Tuning System Like?
Like the G9, you do have a bunch of weights between 4 and 7 grams. As if that isn't enough, you can back-weight it, and front-weight it as well.
Pros
Offers a lot of game-changing precision even at the maximum hand speed
Onboard memory allows you to program close to profiles (for keyboard macros.
Offers different grip cases
Highly customizable
Cons
It is quite boxy and may cause ridges all over your palm if you have small palms.
The area to rest your palms is too short
The scroll wheel button doesn't easily click on time.
Best gaming mice Review Under $100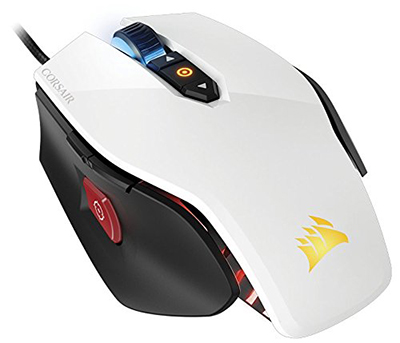 The CORSAIR M65 Pro RGB seems to bring to us fresh and well-thought-out products and they are also well-known in the industry for their top of the line brands.
Now, is the CORSAIR M65 Pro RGB Mouse right for you? Let's find out right in this review.
Well, at first glance, this mouse is extremely expressive for the price. Improving on the very durable and comfortable M65 mouse, they have updated this one by adding the pixArt pmw3360 and 12000 dpi optical sensors.
With that said, this is an Ergonomic mouse with a 3360 sensor, 8 fully programmable buttons that is fairly heavy for a gaming mouse. It weighs 115 grams, but thankfully it includes a weight system. Well, that is of course if you have the patience to remove and in store the weight.
The shape of the mouse is well-built as a medium to large size mouse. It offers a safe shape that allows for multiple styles, which doesn't dictate exactly where you put your fingers.
Between the thumb and fingers is about 7 cm wide and from the edges of the mouse feet are 8.7 cm, and approximately 11cm long.
The material on top is a nice rubberized texture, but the sides feel a bit harsh. Well, that is good because it does give you fantastic grip.
However, I must admit that the mouse feels very unbalanced due to the thumb being much higher than the fingers on the other side. We also observe that when you are playing games holding the sniper button constantly, the button doesn't feel sturdy enough when lifting the mouse.
Well, the above statement shouldn't be seen as a deal-breaker. I am only airing out my observation. While there will be a market for this mouse, if CORSAIR had used standard shape, they could have been a top player in the competitive gaming scene.
Does it have a tilt wheel?
No, it doesn't. But there is a good amount of tactile balm on the scroll wheel, making it one of the best scroll wheels you can find around.
How are the buttons like?
The buttons are a big plus on this mouse. Although they are a bit thin for general use, the DPI buttons are soft and flat and shouldn't cause any accidental clicks. The buttons have a gradual slope which is great for your grip styles, and you will get some slight grooves in the buttons for comfort.
The buttons on the left side have a sniper, and the scroll wheel has a fantastic grip and offers decent resistance feedback while at the same time extremely quiet.
What about the Sensor?
The Mouse offers impressive performance that was expected from the 3360. The tracking system is superb and works fine without any jitter or skipping. The lift-off movement is very well controlled.
Is the software User-friendly?
The software is user-friendly and allows you to create different profiles and also lets you assign a variety of buttons to each profile. The profile also allows you to change various DPI settings and also helps you to change the color of the LED on the top of the mouse, which will help you know which dpi you are selecting.
Pros
Perfect for all game types
Smooth and swift operation
12000 DPI high-accuracy sensor
Durable, Lightweight, and optimal mass distribution
The tracking of this mouse is extremely accurate and responsive
Well-made with gorgeous looks
Cons
Quite shorter than most mice
It's fairly heavy
The shape isn't as stylish as other high-end mouse on this list
I'm glad to say that all the features and technologies of this mouse translate into a very impressive and responsive gaming mouse for under 60 bucks. With that price, you're getting so much.
Honestly, if you are looking for an outstanding gaming mouse, be sure to consider this one, especially if want to use fingertip grips.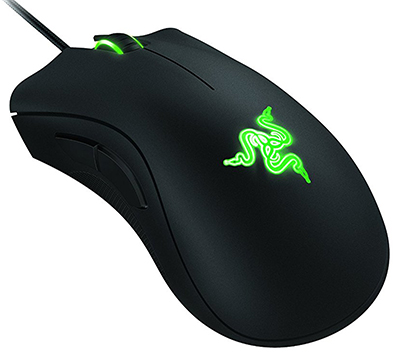 You'd agree with me that the Razer mouse is one of the most popular and trusted mouse you can find around. This particular gaming mouse has been able to garner a good name for itself over the years due to its exceptional and excellent performance.
The DeathAdder went from a 3.5g sensor to a 4.5g sensor, which means they have increased the effective DPI while still retaining the identity of an optical gaming mouse as opposed to a laser gaming mouse.
This particular unit was able to achieve a 6400DPI range for this particular mouse which is high for an optical mouse.
How comfortable is the mouse?
In addition to adding an upgraded sensor, they have also made some slight changes to the shape of the mouse, which does retain its right-handed grip. So, it is evident that this is not an ambidextrous mouse.
It's clearly a right-handed mouse with an indentation on the side. The best part is that you can comfortably hold this mouse no matter the size of your palm.
Another sweet addition to this unit is the included rubber grips, making it an extremely grippy rubber mouse. To add to its hype, this has a nice texture to it, so just by touching it, you will be able to pick the mouse with almost no effort or pressure on the mouse from the side at all.
I think this is splendid because it makes your hand and wrist very relaxed without causing any additional tension and gives you the freedom to lift it when you get the edge of the mouse pad.
What are the buttons like?
Razer claimed that the buttons of this mouse are hyper-responsive. So, the question is, are they hyper-responsive? Well, my take on the buttons is that they sound cool like normal buttons.
With that said, I think the left and the right-click buttons feel like a hair-trigger. So for those two, I will say yes that they are hyper-responsive and optimized for extremely fast buttons, which respond with almost no effort whatsoever.
The mouse also gives you the ability to turn up your DPI and lower your mouse sensitivity and the turn off acceleration allows you to really tune it the way you want to use it.
With that out of the way, it will also interest you to know that it does support thousand Hertz ultra-pooling and on-the-fly sensitivity adjustments. The nice high-quality braided cable is a pretty spot on.
Pros
Comes with incredible comfort in your palm
Excellent response, and smooth movement
The buttons are so fast and highly sensitive
The cord is sturdy and durable
The scroll wheel works fluidly without any issue
Cons
The mouse is quite large which might be an issue for those with large hands
3. Razer DeathAdder Chroma – Multi-Color Ergonomic Gaming Mouse – 10,000 DPI Sensor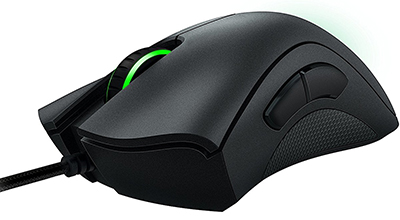 You'd also agree with me that Razer mice are highly praised. So, it is not surprising that another massive staple at the Razer lineups is still topping our list.
The question that ran through my mind when I first find out about this mouse is that "what makes it so good?"
Do you want to find out? Then let's talk about it.
First, the ergonomics of the mouse is incredible, especially for people with larger hands. Your guess is right: the Chroma is a big mouse with a more extensive profile than most mice. The profile of the mouse is so smooth and well-rounded to fit the entire palm of the player.
Don't also forget that the mouse has a decent length to accommodate the two popular gripping styles of the mouse, which is the palm grip and claw grip.
Another grip to note is the grip on the sides of the mouse when your thumb rest. The grip is a low profile textured that provides the right amount of grip to keep your thumb and pinky properly positioned and helps keep the mouse from slipping out of your hand fast during movements.
What about the surface of the mouse?
Yes, it's plastic, but it is a high-grade plastic that is smooth and very comfortable to use for hours of gameplay and productivity.
How are the sensors like in this price range?
Well, the ergonomics of the mouse would be nothing if the sensors suck. We can talk about how sturdy and aesthetic this mouse is, but if the cursor is flying all over the place or lagging due to the poor sensor, then it is pretty much compromised.
Let me put it straight: the sensor comes with a stellar performance, and the optical sensor that it uses is precise and of high-quality. You won't notice any acceleration issues or floating or latency of any kind which are common issues found in cheaper mice.
The cursor of this mouse points to where and when you want it, so you can feel confident in your movement of gameplay. So, you don't worry that your mouse is going to jitter when you aim down the sights of some guns when playing battlefield one or other fields.
In case you don't know, the dpi of this mouse is 10,000, which is pretty insane. The lighting is controlled by the Razer software. The software is user-friendly and intuitive, and it allows you to do simple things like programming your buttons.
What about the buttons?
Regarding the functionality of the mouse, you get a standard button and the two side buttons are programmable. It doesn't have a dpi button or a color cycle button which I think may turn some people off.
The right and left button on the mouse is concave to have your fingers rest on top naturally. The slow wheel is placed perfectly to match the upward slope of the left and right buttons, keeping through to the natural feel of the mouse.
The simplicity of the button is easier to use because you won't by accident click on more buttons when using the mouse.
Pros
The build quality is robust and sturdy
Lightweight and easy to use
Gorgeously designed to fit snugly in your palm
Highly accurate sensor
Cons
The weight is fixed, which means it isn't adjustable
Comes with a plastic base bottom as opposed to metal base bottom that is very smooth to move around
Now, you can see why a lot of people love this Razer DeathAdder Chroma so much. It works to the point and gives you the durability you need. Even if you don't game, the Chroma is excellent for comfort and hours of use at the computer.
Gaming with this mouse will definitely make you fall in love with it and recommend it to your friends.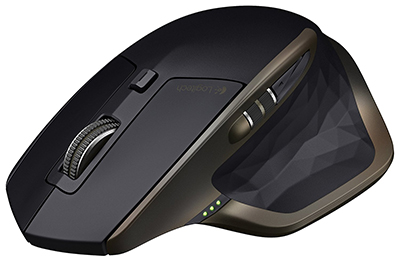 One word to describe this fantastic gaming mouse is "Superb." The Logitech MX Master Wireless Mouse is the latest innovation of Logitech designed with the best body shape to fit perfectly into your palm for comfortable gaming.
This little rodent device can put many large mice to shame. When it comes to its design and performance, the Logitech MX Master can hold its own against the big guys in the gaming industry even at a lower price.
To start off with, this mouse was able to stay ahead of the curve with the ability to track on glass without the use of a mouse pad.
The adaptive scroll wheel allows you to ratchet the mouse to a hyper scroll automatically, and all the main controls of this mouse are well-positioned for easy reach.
What more?
You can easily connect the mouse to three devices at the same time — so if you are one of those who love multiple screenplays, then this is a perfect mouse for you.
What's great about the software?
The software came with a lot of improvements compared to previous generations. It's clean, clear, modern, intuitive and with user-friendly design.
Apart from being modern and clear, it also gives you easy access to tweak some specific areas of the mouse and takes a few seconds to download files.
However, I did encounter some noticeably turn off of this mouse, which happens to be the left and right buttons. They don't offer enough resistance, making them too easy to be pushed down even if you don't mean to.
Aside from this flaw, the Logitech MX Master Wireless Mouse is probably one of the best mice you can bet your money on, and you don't have to worry about sweaty palms.
Pros
Special Speed adaptive control
Excellent performance
Can connect and switch between 3 devices at a time
Multiple connectivity options
Cons
It's quite expensive – a little above $50
Bluetooth sometimes disconnects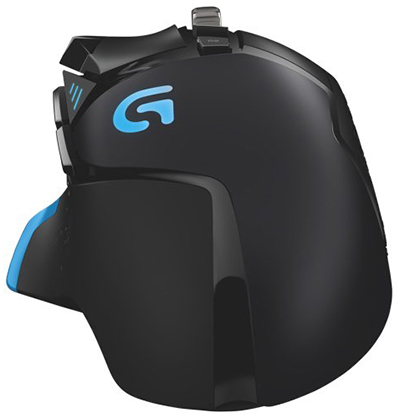 This list will not be complete without including the Logitech G502 due to its gorgeous features even at an affordable price tag.
No doubt, Logitech is really renowned for building hardware that has the highest performing and most durable design and even better value.
And this may make you ponder on the question: what makes the G502 so different from everything else in this big world of PC gaming?
Well, my answer to that will be there's no one single feature that makes this mouse anything different.
Firstly, let's talk about the sensor.
Logitech claims that the G502 has one of the most accurate sensors on the market.
But, how true is that?
Well, while I might admit that I have not tested all the mice in the world to confirm that bold claim, what I can say is that it comes with the ability to do 12,000 dots per inch (DPI), making it one of the most sensitive mice around.
I know you might be thrilled by its Ultra high DPI settings (12,000). Listen, having an Ultrahigh DPI setting doesn't make this mouse ultra-precise.
Don't get me wrong; if you are looking for a cheap mouse that offers the highest possible DPI settings, then you are going to love this mouse personally.
Ok, with that out of the way, the G502 uses a 32-bit ARM processor and a dual-mode scroll wheel. Depending on the surface you decide to place the mouse, you can perform a surface tuning calibration for the best performance.
The Weight
Unlike the old Logitech G9 that doesn't give you the ability to balance the weight of the mouse, the G502 Proteus Core came out strong and better by allowing you to adjust the weight to suit your style of play. Thanks to its magnetic door at the bottom that gives you access to the weight cavity and also let you load up to five 3.6 gram weights
With the ability to change the center of balance and the weight placements, you can now improve your gaming performance.
Buttons
The mouse comes with 11 programmable buttons to activate different commands. The ability to tailor one command to each button makes it easy to perform various tasks at improved speed.
On the left side of the mouse, you will notice that there are two buttons to change the DPI settings and also 3 LED DPI indicator lights and an aim button which is designed to downshift your dpi to a lower setting for higher aiming precision.
Pros
Weight tuning and balancing
11 programmable buttons
Surface tuning calibration
Cons
No special drivers. It uses the Logitech gaming drivers
Left-click develops faults after a brief period of use
Scroll wheel continues scrolling after lifting your finger
To sum up everything, I think this is a good buy for those who are looking for something with accurate precision and responsive buttons.
While I still think it is not as nicely built as other higher-end gaming mice such as the Corsair M65 or something like the RAT8, it comes with a lot of flexibility that goes from 200 to 12000 DPI in just a few seconds.
Best gaming mice Review Under $50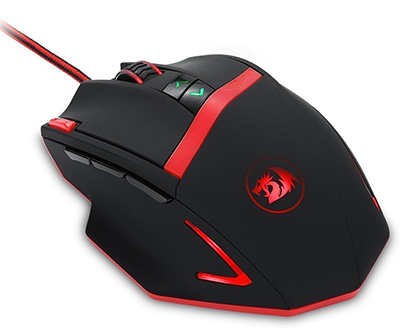 The things that I look for in a mouse are what it can do, and part of these is the ability to move the mouse with ease and with great comfort while gaming.
While most gamers prefer optical mice because they provide smooth tracking at different speeds, the Redragon actually is a laser mouse. Well, I didn't allow that becloud or distract my decision in taking a look at what this mouse can do.
The things that I look for in the Redragon Perdition mouse is what it tends to offer gamers, and how comfortable can it be, moving it around for a long time while gaming.
My findings were quite surprising as this happens to be one of those unique gaming mice in the market with excellent performance even at a dead cheap price.
The Design
The design of this mouse is simply notorious. Whether you are a claw gripper or more of a palm gripper, this mouse will fit right into what you are looking for. The sleek body shape coupled with a unique curve is a spot on.
The Redragon Perdition is designed in such way to annihilate stress from the hands while using it during a long gaming session-thanks to the fact it's coated in a beautifully textured polymer for excellent feedback and firm grip.
Number of DPI
This budget-friendly gaming mouse boasts of a DPI up to 16400, which is a whole 400 DPI higher than most gaming mice in its price category. Its other breaking points are 1000, 2000, 4000, 8200 and 16400 which can all be swapped on the fly.
What about the Buttons?
The mouse comes with 18 fully Programmable Buttons with 12 located at one side of the mouse while the remaining 6 are found at the top and the other side. I must say that the buttons located on the side have side rests for your pinky and ring.
Pros
Allows great customization
It's very responsive
It's quite inexpensive – less than $50
18 fully Programmable Buttons
Has a DPI, which is a whole 400 DPI higher than most gaming mice
Cons
Wire may get in the way of play
Comes with a laser sensor
Redragon M801 Mammoth mouse is nominated as our clear winner as the best gaming mouse under $50 because of its insane Max setting 16,400DPI for precise and accurate tracking. It also claimed this spot due to its classic features even at an entry level price.
For those who are on a budget and are looking for something that can stand head-to-head with the big boys on our list, then the Redragon M801 Mammoth is the go-to gaming mouse at a budget-friendly price tag.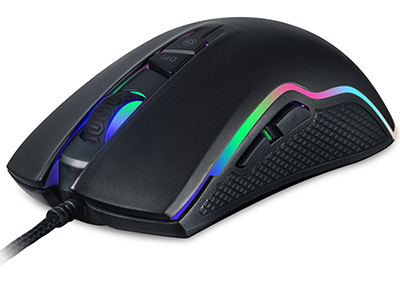 The first time I heard about this gaming mouse, I thought it was just hyped. "How can a cheap gaming mouse as this offer so much," I thought?
My findings show that this bad boy works like magic. The exciting thing about the VyFky gaming mouse is that it is the most affordable mouse on our list and yet delivers a fluid gaming performance.
This little dude has attracted a lot of positive reviews worldwide due to its excellent performance and mouthwatering price offer.
This wired gaming mouse was able to make it to our gaming mouse champions league by offering 7 fully Programmable Buttons with the freedom to choose your preference after you've installed the software.
With less than $30, the RGB still managed to provide a nice, sweet and sensitive gaming mouse, coupled with breathing light, which has four different beautiful colors. The best part is that you can change these colors continuously to keep your mouse warm and evergreen.
Let's not forget in a hurry that the VyFky stood tall by giving you the access to adjust the mouse to 4 different DPI levels: 1000-2000-3000-4000. The buttons are located in the mouse where you can easily gain access to it, and the texture and feel are simply topnotch.
Pros
It's quite inexpensive
7 fully Programmable Buttons
Ability to quickly change your breathing light into your favorite color
Four adjustable DPI levels: 1000-2000-3000-4000
The mouse is comfortable, and its size is not too small or too big
Cons
Wire may get in the way of play
Do not require charge
The VyFky gaming mouse is a cheap, big rat that is excellent for everyday use and games. For me, this doesn't feel like a cheap mouse as everything about it is well-thought out to give you a run for your money.
My sincere shout out goes to the manufacturer who took out time to ensure this mouse is packed with a lot of goodies for gamers who are looking for a budget-friendly mouse.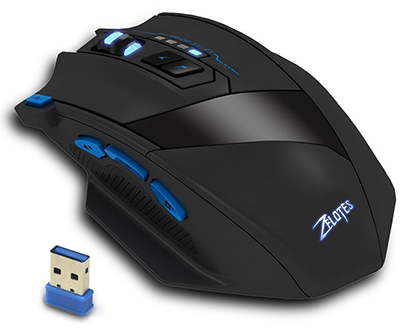 As the name implies, the KingTop is a gaming mouse that is indeed a king at the top! Its sleek and stylish shape is designed after intensive research to ensure the mouse represents its name and fits your hands perfectly so you don't feel the least discomfort while playing your favorite game.
Another huge plus of this affordable mouse is that it is optical, which makes it great for accurate uniform tracking at different speeds. It's actually a two-mode mouse – both wireless and wired.
It works well with a USB receiver while in wireless mode and with USB cable while in wired mode. It is powered by rechargeable lithium battery, so you don't have to worry about buying new batteries after every gaming session.
Like most other gaming mice it is equipped with four fully switchable DPI – 1000, 1500, 2000, 2500DPI.
Pros
It supports both wired and wireless
It's an optical mouse making it technically a more accurate tracking mouse
Comes with powerful rechargeable lithium batteries
Compatible with almost every type of operating system, laptops, desktops, and notebooks.
Cons
It's quite expensive – a little above $50 though/
Need to recharge batteries after a few gaming sessions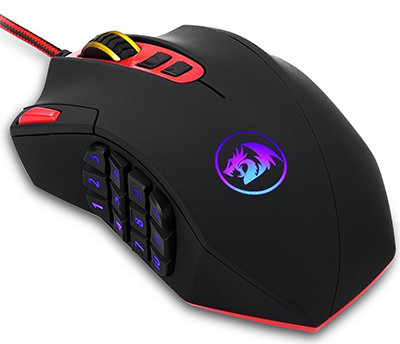 It's not surprising that another model of Redragon products is ending this list because this particular brand is well-designed with high-quality features we cannot easily ignore.
Design wise; the mouse is pleasing to behold with the buttons neatly positioned on the sides and top. It also provides an excellent grip with its polymer texture material.
The LED lights also make it easy to identify different profiles, and the mouse cord features a cool braided design.
However, I think the USB plug is worthy of mention because it's a little bit large. So don't be surprised that it may prevent you from using any port near the plug. So, keep that in mind.
Ok, with that out of the way, the M801 shines brilliantly by offering you excellent quality Omron switches which are precise and are well-built for gaming. You will also get an internal storage to program the buttons for up to 5 profiles and easily plug and use on other computers.
You'd agree with me that when it comes to gaming, there is the need for having the right feel to your mouse. Considerably, the Redragon M801 took note of that and decided to offer users the ability to adjust the weight to suit their desired style of play.
Brilliant, right?
Well, even at a low price, Redragon did not fail to include a tuning set which consists of eight tuning weights of 2.4g.
The sensitivity of the mouse is also great at 16,400 DPI. It makes use of an Avago sensor which makes it very reliable.
Pros
It comes with 9 programmable buttons
A-Max DPI setting of 16,400DPI
Can set up to 5 different user profiles
It comes with multicolored LEDs
Depending on the profile the mouse wheel changes color
18-month warranty
Weight tuning is available
Cons
Quite challenging to program the buttons
Complaints of mouse working intermittently
Problem of mouse not being recognized by PCs after a while
USB plug is big
How to Choose the Best Gaming Mouse
There is a lot of gaming mice sold on the market today so it can be a little bit tasking choosing the best gaming mouse for your need. The features below are sure to aid in making your choice easier and assist you in selecting the gaming mouse best for your gaming needs.
Let's take a look at some of these features below.
They include:
Determine Your Grip Style
The kind of grip you use mostly when you play a-versus game with the mouse on a PC is crucial. Although each player differs, grips can be placed into three categories stated below.
They include:
Tip Grip: this is where the tip of your ring, middle and index finger rests on the center and left mouse buttons while your palm does not touch the body of your mouse. Your thumb holds the side of the mouse.
Palm Grip: This is a grip utilized by the majority of players. Your whole palm rests on the body of the mouse while your fingers are laid flat on the buttons of the mouse.
Claw grip: This is a combination of the tip and palm grip styles. Your palm lies just on the back edge of the mouse while the tip of your thumbs and fingers are angled in towards the button.
Consider the Weight of the Mouse
The weight can have a massive effect on how you play your best games. Most mice weigh just the way they are, so if they are too light or heavy, you will have to just deal with it.
With that said, the best I will advocate for is to pick a mouse that gives you the flexibility to adjust the weight to suit your needs.
Laser Sensors or Optical Sensors
The Optical vs. Layer sensor debate is one that will keep going on for a while. But the thing is regardless of the sensor you go with, they both function properly.
And this will make more sense if the mouse can be calibrated to function on office desks, mouse pads and sheets of paper. You may want to look for a mouse with great DPI if you have a multi-monitor setup.
Connectivity
There are a lot of names that provide unified software platforms which means that you can get an enhanced gaming experience if your keyboard, mouse, mobile app and headset are synced. So ensure you choose a mouse that has the possibility for excellent connectivity.
Price
I will always advise you to choose a mouse that fits your budget and offers all the features you are looking for. If the mouse is not tailored to your gaming requirements, then you may have wasted your money.
Final Words
You'd agree with me that there is a lot of gaming mouse already saturated in the market, and finding the perfect mouse that will give you the best experience is not easy. That's what has brought about the birth of this list.
And we do hope this list helps you choose the best gaming mouse fits into what you are looking for. You will notice that we broke down the list into different price range to suit budget-oriented consumers and high-end gaming elites.
All the mice reviewed above are of high-quality, durable, and offer great performance. All you need to do is to find the one that fits your budget and your gaming needs, and I bet that you will be glad you did.
So, guys, what' your experience with gaming mouse? In case you think we missed a good gaming mouse, please do let us know.