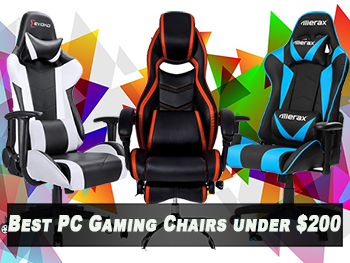 The last thing any gamer would wish for is to stand up every few minutes to stretch his back. This is because the gaming chair is uncomfortable and lacks the needed adjustment to provide him the maximum comfort.
Our body is unique in shape and design, so adjustable features are critical for any gaming chair you want to purchase. And when your body breaks, you can't play.
If you have been having a hard time trying to find the right gaming chair, then check out our review of the 5 best PC gaming chairs under $200 in 2018.

Please note that this is an honest review, and all the claims are thoroughly researched from authentic and reliable sources so you can choose which one is better.
With this in mind, let's dive right into the review proper.
Model

Name

Load capacity

Features

Check
Price

Devoko Gaming Chair
300 LBS
360 degree swivel rotation
Lock tilt function and Height-adjustable gas spring Pneumatic
Ergonomic headrest and a adjustable lumbar cushion
Check Price
Essentials Racing Style Chair
250 LBS
Height adjustment
Seat back recline control flip up arms
Adjustable armrests
360 degrees of swivel
Check Price
Merax Gaming Chair
250 LBS
Lumbar support
Headrest pillow
360 degree swivel, tilt function, upright lock function
Adjustable armrests
Height adjustable
0-180 degree back adjustable
Check Price
HULLR Gaming Racing Chair
330 LBS
Ergonomic Body Hugging High Back Metal Structure,
Removable Headrest Pillow and Lumbar Cushion
Full Recline Function.
90 -180 Degree (Butterfly Mechanism)
360 Degree Swivel
Check Price
Merax-Racing-Style-Executive Chair
270 LBS
Specialized Ergonomic Support
Equipped with safeguard locking system
Customized Comfort
Adjustable footrest

Check Price
5 Best PC Gaming Chairs under $200 Review
Our first best gaming Chair under $200 is the:
The first time I was about to take the plunge on this product, I was a little bit nervous about the price. The cost of the chair was dead cheap, and yet it promised so many mouth-watering features.
After a series of successful research and testing, I can confidently beat my chest that this is one of the best PC gaming chairs you can get for this price.
The comfort you will get from using this gaming chair is beyond the price. The pillows are soft, and it's so comfy.
Although, you may notice that it's quite stiff at first, once your body heat touches the material, it will only get super comfortable.
Design wise, the Devoko Ergonomic Gaming Chair is skillfully and carefully crafted with Premium PU leather material that is not too soft and too firm. The design is well balanced, and the cushion is solid and reliable.
This gaming chair is sturdy enough to carry a weight capacity of 300 LBS. Its sitting space measures 19.8″ x 20.5″ to give you the needed support.
Do ensure that the bolts are well-tighten so it doesn't wobble.
Does the chair offer great support for your body in different positions, even as a tall person?
If you're a tall person like me, this gaming chair will end the nightmare of backaches–thanks to its height-adjustable gas spring pneumatic features. This gives you the flexibility to adjust the chair to glide easily into reclining position.
It also features an easy lock-tilt adjustment that has a reclined angle adjuster to help you adjust the chair and relieve pressure or tired feeling during a long gaming session.
Does the gaming chair come with a backrest that can support your back?
Did I mention that the Chair can even recline far enough for you to sleep?
Sure, it can.
The back of this budget-friendly gaming chair knows exactly what you want. With a Curved high back and an adjustable lumbar cushion, the Devoko gaming chair also offers an Ergonomic headrest to give you extra comfort.
Is the Sit pan deep enough to cover most of your thigh?
Yes, it does. The padding of the seat, as well as the backrest, is pretty awesome. You won't notice any stiffness or sound when you sit on it.
Unlike other brands that would leave marks on your thigh, this particular gaming chair is different–it is smooth and comfy.
Are the armrests adjustable?
Although you may find the armrest comfortable, they aren't adjustable, and this happens to be its major downside. Apart from that, everything else about this chair looks perfect and excellent.
Pros
A Curved high back and headrest
It offers a freely adjustable lumbar support
Mute rolling wheels for quiet movement on the floor
Super comfortable with adjustable lock tilts to relieve stress
30 free replacement warranties in case of any defective parts
The design is durable and well-built
Cons
The armrests aren't adjustable
Might come with some odor
Your search for the best gaming chair will definitely come to an end if you decide to go for this brand. The fact that it comes with great comfort and support coupled with an incredible price tag makes it a must buy.
We highly recommend this for all gamers who want a gaming chair that will allow them to play their games for long hours without the feeling of discomfort or tiredness.
The hardest part about this brand is finding its drawbacks. After exhaustive research, I couldn't see any reason why this gaming chair shouldn't be on our list.
The elegant style, comfort, and competitive price points are forces to reckon with.
It's built with the utmost perfection in mind. To say the chair is just comfortable is an understatement. The seat isn't too squishy, and the headrest is designed to hold your head comfortably.
The fabric is comfortable and helps to eliminate the feeling of fatigue or stress. You can conveniently use this chair for longer gaming sessions without feeling tired.
Does it offer a durable design?
The design is durable and sturdy. It offers an ergonomic gaming chair features and contoured segmented padding.
It offers a 250-pound weight capacity and comes with 45.25 inches high and 30.375 wide.
Does the chair offer great support for your body in different positions?
The seat height adjustment and tilt-lock tension give your legs and back the adequate support it needs. It also comes with a spring mechanism that lets it lean back to adjust to your body positioning.
Is the chair tall enough?
Even as a tall guy that is about 6.4 ft tall, this chair is super comfy.
Unlike the Devoko Ergonomic Gaming Chair, that failed to feature an adjustable handrest, the Essential out-think its competitor by offering an adjustable armrest that you can flip up and down to support your sitting position.
As if that isn't enough, the armrests also come with cushioning that is soft and comfortable.
Pros
Cheaper than the Devoko Ergonomic Gaming Chair
Easy to assemble
The Instruction is easy to understand
Offers one of the best support
Rolling around floors is smooth, and quiet
Adjustable Armrests
Cons
It could easily get scratched
This is a solid buy for anyone who is looking for a budget-friendly gaming chair with the best performance. The gaming chair is super comfortable and setting it up together is a breeze.
If you're a tall person who is on a budget and weighs around 150-250 lbs, this might be the best gaming chair under $200 you have been looking for.
3. Merax Gaming Chair High Back Computer Chair- Our Editor's Choice of the Best Gaming Chair
The Merax Gaming Chair stood out as our editor's choice because it offers you what most 400 dollar gaming chairs could not provide.
This chair comes with the same comfort you will get from high-end brands like DX Racer. It is comfortable, and it is covered with cushioned leather throughout the seat.
Does it offer a durable design?
The design is sturdy and solid. This chair is about 48 inches tall at its highest and 27 inches wide at its widest. It is made up of heavy-duty plastics throughout and has metal parts that hold the bracket of the chair to the bottom.
The chair holds the record to load up to 250 lbs. weight, and it's built to fit in your natural shape for complete comfort. The overall stitching of this gaming chair is superb. It came as if it was made to last you forever.
Does the chair offer excellent support for your body in different positions?
One of the best things about this chair is its reclining ability. It reclines back about a 160-degree, which I think is perfect to even take a nap on it.
Here's the best part:
The Merax Gaming Chair is the only PC gaming chair on our list that features a rocking motion to rock it back and forth.
Is the chair tall enough?
The chair can only go up to 46 and 48 inches tall. Well, that is not a ton of height adjustment that might work for everyone's desk height.
But I still think it is better than most gaming chairs that don't feature any height adjustment.
Does the gaming chair come with a backrest that can support your back?
The backrest is well-cushioned and lets you sit comfortably for hours, without the feeling of back hurting. The Headrest pillow is a spot on. The pillow is super comfy, and the lumber support gives you extra comfort even as a tall person.
Great! But does it feature adjustable armrests?
The armrests come in a decent size, and the height is adjustable compared to other brands. It also comes with a padded cushion to give you the needed support and comfort to game for straight hours without experiencing any fatigue.
Is it easy to setup?
Setting the chair up is a piece of cake. It comes with every single piece of tools to make sure the installation process is stress-free.
Pros
Great for relaxation and for long gaming session
Adjustable height and seat is a big plus
Very comfortable and easy assembly
The recline feature is stupendous
The stitching of the leather is well-connected to last long
Very stable and won't break anytime soon
Cons
The arm pad is quite small
It would have been better if the Armrests could be wider
If you want to save a lot of money and still get the best quality you would have from a top dollar gaming chair, then this is the right choice for you.
The Merax Gaming Chair is the best chair you can get for this price if you should consider the quality and the size of the chair.
If you think the above gaming chairs have all the features you are looking for, then wait until you see the HULLR Gaming Racing Computer Office Chair.
While the above brands appear to be a little bit cheaper than this gaming chair, the HULLR Gaming Racing stood out from others due to its gorgeous features that will make you overlook its price.
Even at that, the price of this gaming chair still falls below $200.
Initially, I thought it was a gamble offering such a decent price, but I was pleasantly surprised after a thorough review.
First off, while I thought the Merax Gaming Chair impressed me with its ability to recline the back of the chair up to 160-degree, the HULLR exceeded my expectation by offering a butterfly mechanism. This means that you can lock this gaming chair at any angle up to 90-180 degree.
As if that isn't enough, when I thought that the Essentials Racing Style and Merax Gaming Chair deserve high praise for giving me the freedom to adjust the armrests by lifting it up and down, the Huller seems to move a step further by allowing you to adjust the armrests to any direction of your choice.
The biggest punch by far is that it can load up a weight capacity of 330 Pound compared to its competitors that can hold a weight capacity of 200-300 lbs.
It comes with structural pieces that sport a metal desig instead of the usual plastic you get from other brands.
Its removable Lumbar Cushion and Headrest Pillow give you the maximum comfort for gaming or even study for more extended hours.
The best part is that the chair has already been pre-assembled, so setting it up is a total joy. The seat offers a good amount of padding, and the stitching is very well done.
One of the things that let this chair down is the inability to rock back and forth like the Merax Gaming Chair.
Another drawback is that the seat area isn't wide enough which might curve up your thighs. Other than that, this gaming chair is one of the best you can get for this price.
Pros
Easy to assemble
So comfortable to sit for long hours
The reclining mechanism is comfortable to lay your back on it
Back and neck pillows are impressive additions
Sturdy enough to hold up to 330 lbs weight
The armrests are awesome
Cons
It cannot go back and forth
The seat isn't wide compared to other brands
If you're looking for a gaming chair under $200 that makes you feel relieved anytime you sit on it, then we highly recommend the HULLR Gaming Racing chair.
Apart from the fact that it comes with some unique features, which beat its competitors, it is the best for the price, you can find around.
I think Merax decided to produce this gaming chair in order to prove a point.
And that point is the FOOTREST.
The Merax Racing Style Executive is the only gaming chair on our list to feature a footrest to suit varying legs lengths.
This gaming chair almost came in perfect.
To add to its profile, the Racing Style also features a safeguard locking system that lets you recline the chair in multiple positions to give you the needed support at any angle.
The seat is comfortable, and the back provides you with excellent support that is enough to take a nap in it.
The chair is made to hug your back and gives you greater support compared to a regular office chair.
It also offers a side lever to help you adjust the chair to your desired height. The Lumbar pillow and back pillow are super comfy.
The headrest is perfect for 5'8 person. But if you're 6' tall and above, your head might get off the gaming chair, and it will still fit in.
As much as I'd have wished for, this gaming chair can only support a weight capacity of 270lbs, putting it behind other brands on our list that feature 300-330 lbs weight.
To give you an idea if this chair would fit your chair the distance from the floor up to the top of the armrests is 25 Inches.
Pros
Cushioned footrest and awesome Lumbar support pillow
Assembling the unit takes less than 10 minutes
The recline feature gives you added function even to take a nap
The leather feels great, and the stitching is fantastic
It swivels very smoothly
Cons
A little bit expensive
It's pretty heavy
It doesn't have a rocking motion
Although the Merax Gaming chair doesn't rock back and forth, the fact it features a footrest, removable back pillow, and remarkable reclining feature makes up for this drawback.
It is skillfully designed to relieve backaches should in case you have one. Trust me; you're not going to regret buying this top of the line gaming chair. Some expensive chairs that cost $500-700$ can't compete with this gaming chair.
Problems with PC Gaming Chairs
You'd agree with me that certain models of PC gaming chairs can be better than or worse than others. But, in general, most of them have common issues that prevent me from recommending them.
So, I'd like you to be aware of them before you get one for yourself. We've outlined some of the problems with gaming chairs so you have the right knowledge on which brand is the best out there.
Lack of Adjustment
The first big problem with gaming chairs is lack of adjustment. While most brands will offer height adjustment and armrest adjustment, most of them fail to feature seat pan depth adjustment to avoid pitching the back of your legs.
Lack of Lumbar Support or Removable Pillow
Some brands even come without Lumbar support or a removable pillow to give you the needed flexibility and comfort. This type of chair won't support the entire curve of your back.
Come with a Fixed Back
Some gaming chair is modeled to have a fixed back without a lock to lean backward. So, the problem is that you can't adjust any of the pieces to support your lower back, which eventually pushes your back out.
How to Choose the Best Gaming Chair
There are a lot of gaming chairs on the market. Choosing the best one shouldn't be a tough job if you know what to look out for when buying one for yourself.
We have put together some unique qualities and factors to consider before pressing the buy button. So, here are a few tips to keep in mind before getting a good gaming chair.
Is the Chair Comfortable?
The first thing you need to consider before buying a PC gaming chair is to find out if it is comfortable. I discovered that some of the minimalist designed chairs these days don't have enough cushion to support the back of our body. They do most times offer hard backrest, which our body can't hold onto for a long time.
So always make sure you check out if the chair has a lot of Lumbar support and soft cushions to give you the needed comfort when sitting on it.
Does It Offer a Durable Design?
Another factor you want to consider in gaming chairs is how sturdy is the design. A gaming chair that is not well-built may easily break through the base and eventually fall off.
One tip I'd have you keep in mind is to ensure the wheel of the gaming chair is rubberized. This will go a long way in preventing scratches on a wooden floor or any floor.
Does the Chair Offer Excellent Support For Your Body In Different Positions?
Another thing to look for in a gaming chair is to find out if the chair can support your body in different positions. Chairs that are made with this factor in mind allow you to move around while staying with you.
They give you a lot of support on the back and your thighs. So, when you are playing your computer game you can turn the wheel, and your chair goes nowhere.
So keep an eye out for a fantastic chair that will give you that adjustability to change angles and keep your body in an excellent neutral, supported position.
Is the Sit Pan Deep Enough to Cover Most of Your Thigh?
A gaming chair that offers a seat pan that is too shallow will perch you on edge and increase the pressure on your butt. Apart from this, it can also cut off circulation to your legs.
Of course, that is the last thing any gamer would wish for.
With that said, ensure you go for a chair that comes with a seat pad that is deep enough to let your feet touch the floor.
Is the Chair Tall Enough?
For you to be comfortable and ultimately a better player, find out if the chair is tall enough for you to use the keyboard and the mouse where you are not reaching up.
I have seen some gamers who try to reach up to their keyboard because the chair they are using is not high enough or the desk is way too high.
And when this happens, it can tract all the muscles of your shoulders and cause problems in your muscles and nerves of your forearm. This will end up increasing the stress on your elbow.
So, what you need is a chair that is high enough to your hips and a little bit above your knees, but brings your elbow up to the level of the keyboard.
This is one of the reasons we recommend gaming chairs that offer you ways you can adjust the chair to a level you can use your fixed-height desk.
Does the Gaming Chair Come With A Backrest that Can Support Your Back?
Most manufacturers fail to consider this factor when producing a gaming chair. Most of the chairs we have around are fixed, and the support is too low.
So, when choosing a gaming chair, find out if the backrest supports your back at about the belt level. You'll notice that we have reviewed some brands that allow you to adjust the backrest to fit into your low back. They offer lever that helps you to position the chair to support your lower back.
Conclusion
As you know, getting the best gaming Chair isn't an easy job. Most of the famous brands on the market you might have probably heard of seem to come with a hefty price.
And this may fall in the range of $400-$500. Of course, this tag price is unfair for gamers who are on a budget and still want the best.
To solve this problem, we scoured through the world and brought the best gaming Chairs under $200 that were specifically designed with gamers in mind.
If you've been researching for a gaming chair that will support and take care of your body, now you have it with you at an incredible price point.
If you're going to spend a fair amount of time at your computer playing your game, then these are the best buy you should invest in.
We hope that this post helps you pick the best PC gaming chair under $200. If you do have any questions or suggestions about our list, let us know in the comments down below.