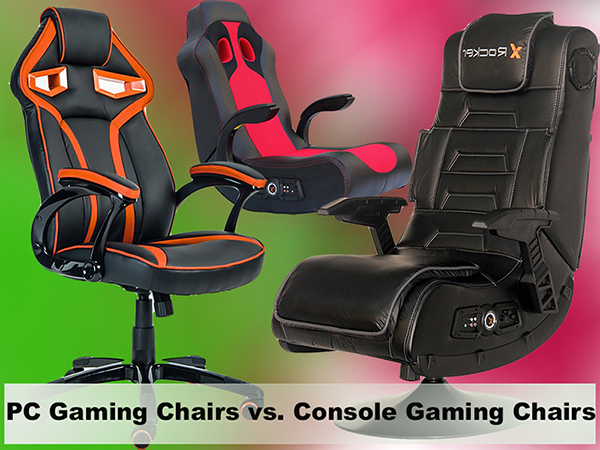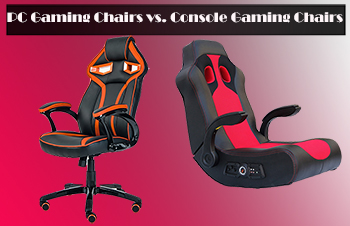 When it comes to gaming chairs, most people don't seem to get the difference between PC gaming chairs and console gaming chairs.
If you are an avid gamer, you know very well that these two chairs are very different in terms of design and extras. However, from the fact that they are all used for gaming, console gaming chairs are often mistaken to be the same as PC gaming chairs.
For this reason, we have decided to strip them down; clearly highlighting what makes them different from one another. So, without further ado, here is a detailed discussion on the difference between PC gaming chairs and console gaming chairs.
PC Gaming Chairs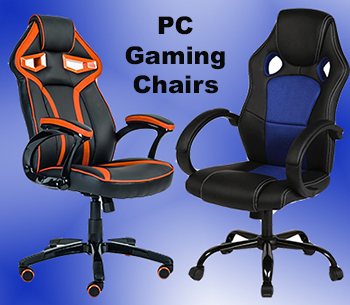 These are the most common gaming chairs that every Tom, Dick, and Harry knows about. They owe much of their design to high-back executive office chairs but are specially designed for gaming. Even though they share a lot with office chairs, the bucket-style and sports car-style give them an edge when it comes to those long gaming sessions.
PC gaming chairs offer several advantages.
First, they have recliner function that rolls back the back to different angles between 90 and 180 degrees. This makes them great for relaxing and even taking a break from the intense gaming sessions.
Another notable feature of this type of gaming chair is its ground clearance.
Unlike console gaming chairs. These ones are a bit higher and the seat is supported by a strong center pole that distributes the entire weight on caster wheels.
Furthermore, these wheels are movable and support swiveling.
Perhaps the best thing about these chairs is their versatility. They can also double up as office chairs as well as study chairs.
However, PC gaming chairs have a few shortcomings. First, the design is aimed at enhancing sitting posture and not comfort. Compared to console gaming chairs, they have a long way to go as far as comfort is concerned.
Pros
They are multifunctional courtesy of the adjustable recliner
Greatly improves sitting posture
Improved blood circulations especially in the legs
Saves more space
Highly adjustable and very easy to move around
Cons
No extra features apart
Aimed at enhancing sitting posture and not comfort directly
Console Gaming Chairs
For those hardcore gamers, console gaming chairs bring out the best comfort as far as gaming is concerned.
Console gaming chairs are specially made gaming chairs that are compatible with popular gaming consoles like PlayStation, XBox, Nintendo, Wii, and so on.
What makes these chairs very different from PC gaming chairs is their connectivity and compatibility.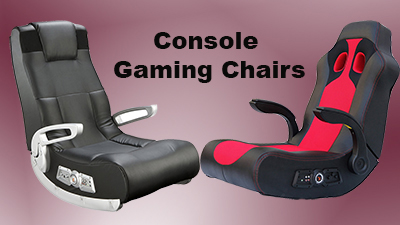 There are different types of console gaming chairs each with different or a combination of features.
There are those that come with speakers and a range of ports including RCA ports, 3.5mm audio input, HDMI, and so on. Others are equipped with wireless sound systems and even vibrations that offer and more thrilling gaming experience.
These chairs are great for those with minimal space and offer easy management of gaming equipment courtesy of the underneath storage compartments in most of them.
What I like most about them is the versatility especially if you go for one with full recliner, 180 degrees. It makes a more sturdy bed for stretching your back and even taking a nap. This is because they have lower ground clearance compared to PC gaming chairs.
There are two main types of console gaming chairs; rocker and pedestal.
The main difference between these two is ground clearance. The rocker fully rests on the floor while the other type has pedestals, hence the name.
A good example of a pedestal gaming chair is the X Rocker 51396 Pro Series Pedestal 2.1 Video Gaming Chair while the perfect example of a rocker is the Ace Bayou X-Rocker Vibe Video Game Chair with 2.1 Audio Chair Bluetooth and Arms.
On the downside, these chairs retail at very high prices but again, they offer something extra. The X Rocker 51259 Pro H3, for example, a pair will cost you up to $600. In addition to this, they are also heavier and harder to move around as they don't have wheels.
Pros
These chairs are more comfortable courtesy of a stronger base, high back, and extra padding.
Great connectivity features like headphone input, RCA, HDMI, and so on.
They also come with very intuitive features like surround sound and vibration that make gaming more interesting.
Provide a more stable rocking rhythm because of the solid base and sturdiness.
Cons
Moving them around can be quite a hassle
They are very expensive
Folding legs can be quite cumbersome and overwhelming
How PC Gaming Chairs Compare to Console Gaming Chair
As we have seen, these two types of gaming chairs have several differences. However, we are going to look at the major areas where these differences manifest themselves.
Ground Clearance
The first difference you will see in these two types of gaming chairs is the ground clearance. PC gaming chairs have a much lower ground clearance. In fact, a fully grown man can sit down comfortably with legs at 90 degrees. On the other hand, console gaming chairs rest very low on the ground. While pedestals are much higher, rockers fully rest on their bellies. The good thing with these console chairs is that they are more strong and stable especially when reclined.
So, if these chairs have been confusing you, this is a great attribute that will help you know the difference.
Console Compatibility and Connectivity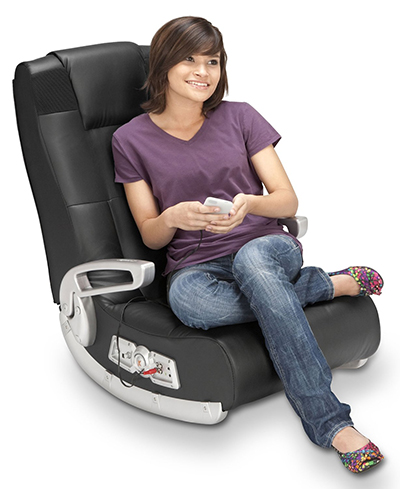 This is the main feature that makes console gaming chairs different from PC gaming chairs. While the latter only offers comfortable sitting, the former offers more; comfort and console compatibility. Top brands like X-Rocker are now building console gaming chairs that have very great features like wireless sound, bass function, headphones output, RCA ports, vibration and so on. These chairs are compatible with most consoles including PS3, PS4, xBox, Nintendo, Wii, and so on.
Bulkiness
You will also notice that while PC gaming chairs are very compact and lightweight, console gaming chairs are heavy but space saving. A PC chair has a base, seating area and a high back all in a minimalistic design. On the other hand, console chairs are very bulky and sport a blocky L design.
They also come with storage compartments and the connectivity components underneath it. All these make it heavier and bulkier than PC gaming chairs.
Rocking Function
If you love rock, then console gaming chairs will suit you best. Regardless of whether they are pedestal or lay entirely on the floor, these chairs are very stable. This guarantees a smooth and stable rocking because the weight is near the floor. This is unlike PC gaming chairs that offer very slight and unstable rocking.
PC Gaming Chairs vs. Console Gaming Chairs; which is the Best?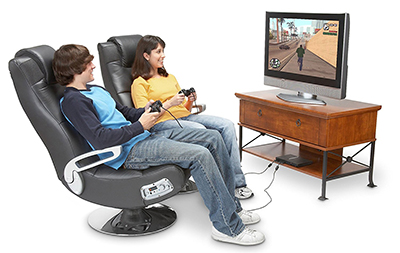 As we have seen, both PC gaming chairs and console gaming chairs offer a lot of advantages, primarily, comfort when gaming.
Besides features, these two gaming chairs are designed for specific gaming groups.
PC gaming chairs target those who want to play PC games while console gaming chairs are for console gamers.
For this reason, it is hard to say that one of them is better than the other.
However, to get the best gaming experience and thrill, there's more than just comfort. This is where console gaming chairs beat PC gaming chairs.
Console gaming chairs have the best in class features like wireless audio, LED lights, vibrations and so on for a full body experience. If you want a remarkable gaming experience, get a console gaming machine if you are okay with the budget.
On the other hand, if you are a PC gamer, a console gaming chair will not be necessary because you won't use the extra features. I would recommend that you just get a high end and comfortable PC gaming chair.